What is it?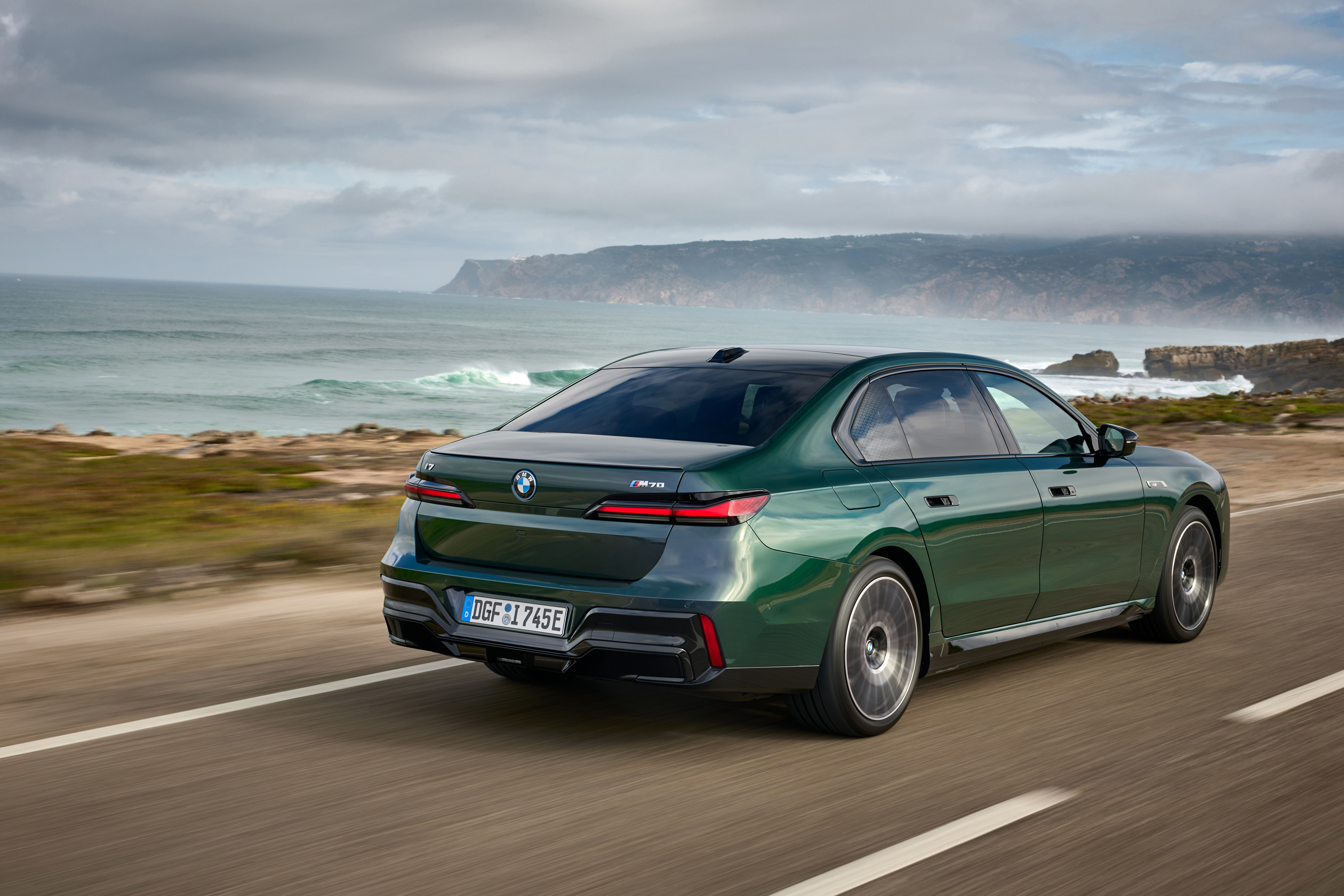 >
BMW's i7 has already cemented a place as one of the go-to luxury electric saloons, pipping the Mercedes EQS to the post as the more dynamic-to-drive EV. Large, comfortable and with a great range as standard, it's easy to see why the i7 has been proving quite popular.
But that's never enough for BMW, is it? Oh no. It always needs to push things a little further, which is why we've got this – the i7 M70. It's one of the firm's most powerful models available currently and, as we'll look at shortly, it's got a whole lot more performance than you'd expect a car like this to have.
What's new?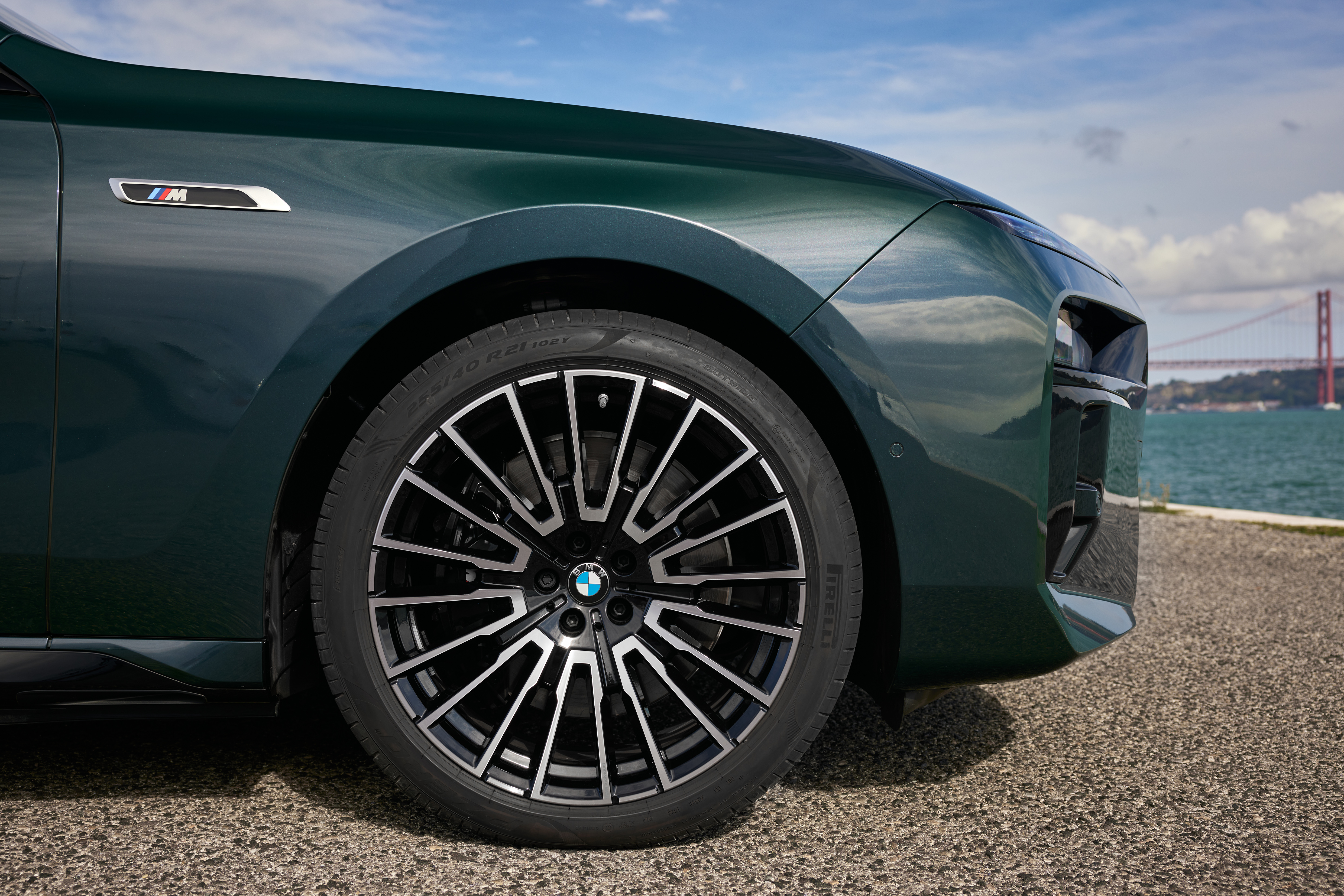 >
From the outside at least, it's the same basic i7 formula. We've got a large wheelbase to provide loads of interior space while inside there's a luxuriously finished cabin which incorporates some of BMW's latest technology, including a large curved infotainment display and the huge 'Theatre Screen' which can quickly switch the i7 into being a 2.7-tonne cinema on wheels.
But it's what's going on underneath which really makes the difference here. An uprated dual-motor electric system makes this into the most powerful battery-powered model currently offered by BMW. And remember, this is no hardcore 'M' model like the M3 or M5; this is a luxurious saloon car designed to whisk effortlessly from place to place.
What's under the bonnet?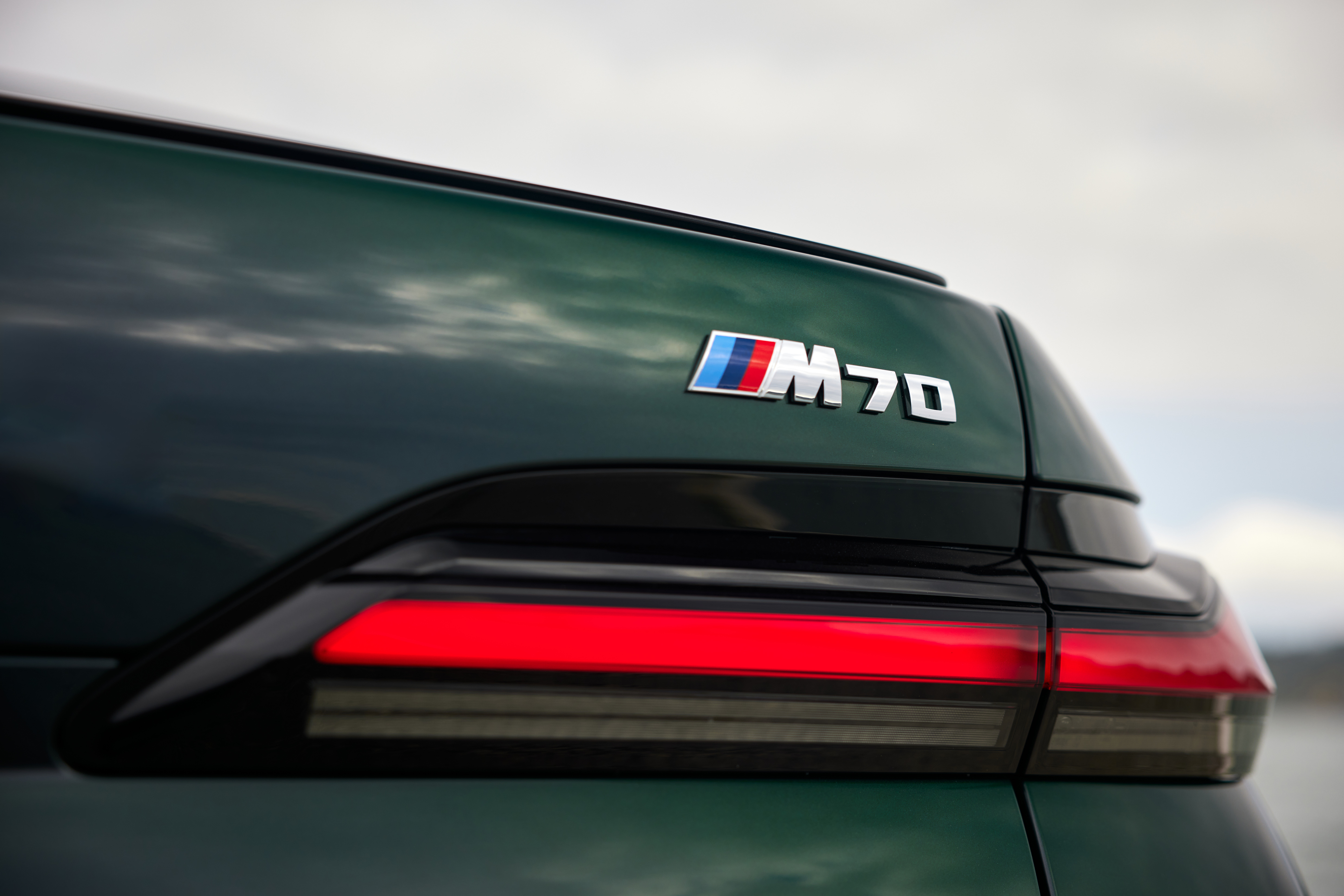 >
There's an electric motor plonked at both front and rear axles on the i7 M70 which helps to provide extra traction. Boy, does it need it too, as this setup creates a mammoth amount of torque – 1,100Nm in fact. That's more than anything you'll find in any current supercar or high-performance model, with Ferrari's V12-powered Purosangue, for example, 'only' kicking out 716Nm in comparison.
The end result is a huge amount of shove and 0-60mph can be dispatched in just 3.5 seconds. But thanks to a large 101.7kWh battery, the i7 M70 can still manage up to 348 miles between charges. Charge at the i7's top-whack rate of 195kW and a 10 to 80 per cent top-up can be conducted in 34 minutes.
What's it like to drive?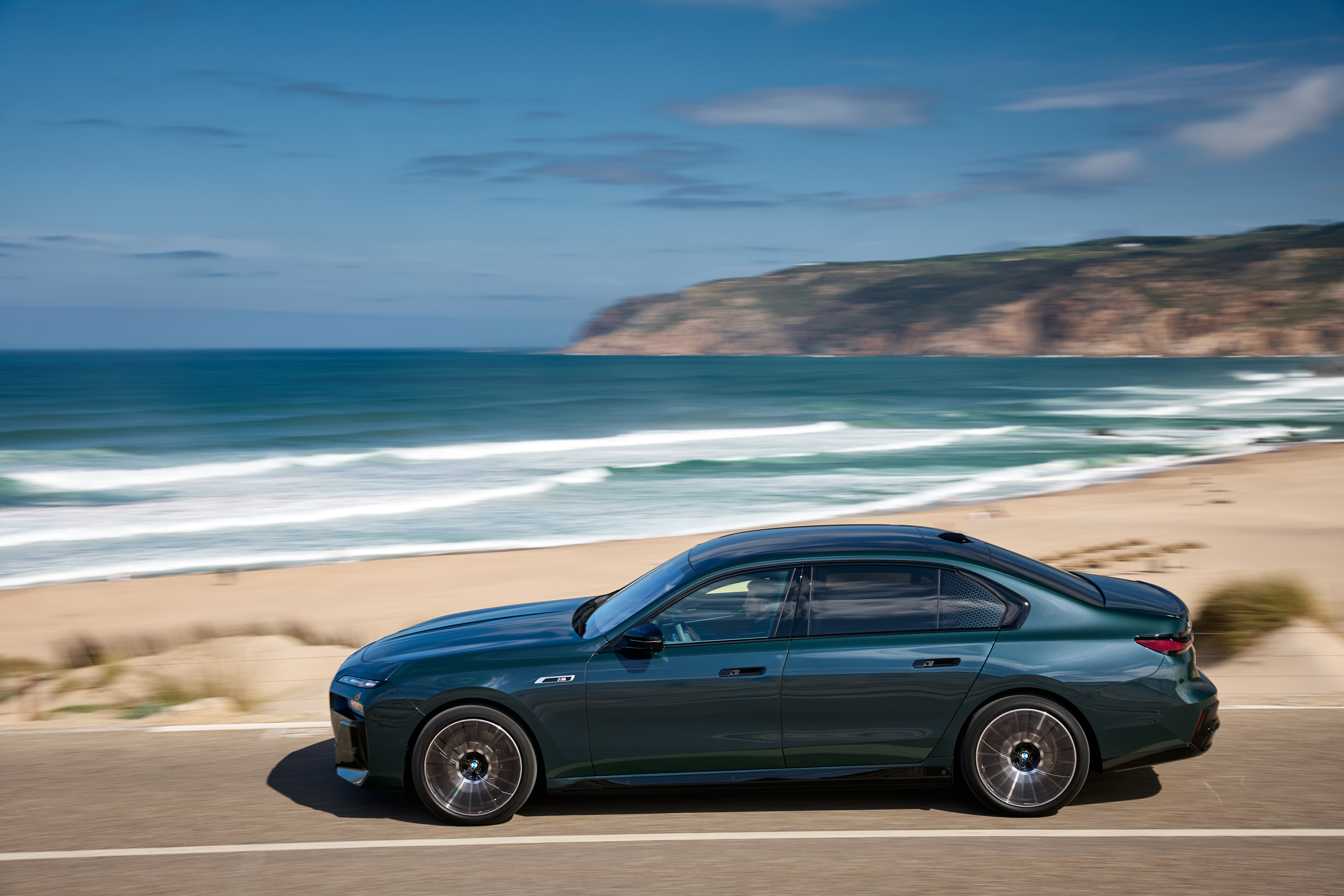 >
The acceleration that the i7 M70 delivers is nothing short of brutal. Pull the 'boost' paddle on the right of the wheel – which, as you might expect, boosts power for a short period of time – and the i7 hurtles towards the horizon with little let-up. It can make you a bit queasy if you do it repeatedly, in truth.
But therein lies the issue. Once you're done screaming away from a dead stop, you tend to drive the M70 like a 'regular' i7 to enjoy its glossy ride and great noise isolation. It's all very quiet, comfortable and refined – but then the standard i7 is, too. When you forget about the extra power of the M70, this i7 retreats to be just as excellent as the less-powerful version.
How does it look?
The i7 has always divided opinion when it comes to looks. Of course, the front end is a focal point with the ultra-large kidney grilles and slim headlights representing quite a departure from BMW's 'usual' styling direction. In this M70 version, we've got a variety of more performance-inspired design touches, such as a BMW M front grille with 'M' badges, extended side skirts and a rear diffuser that will be bespoke to the M70 model.
As with other i7 models, you can get the M70 in an eye-catching two-tone paint finish, which does give it a slightly classic appearance. You can also specify BMW's bold matte 'frozen paint', too.
What's it like inside?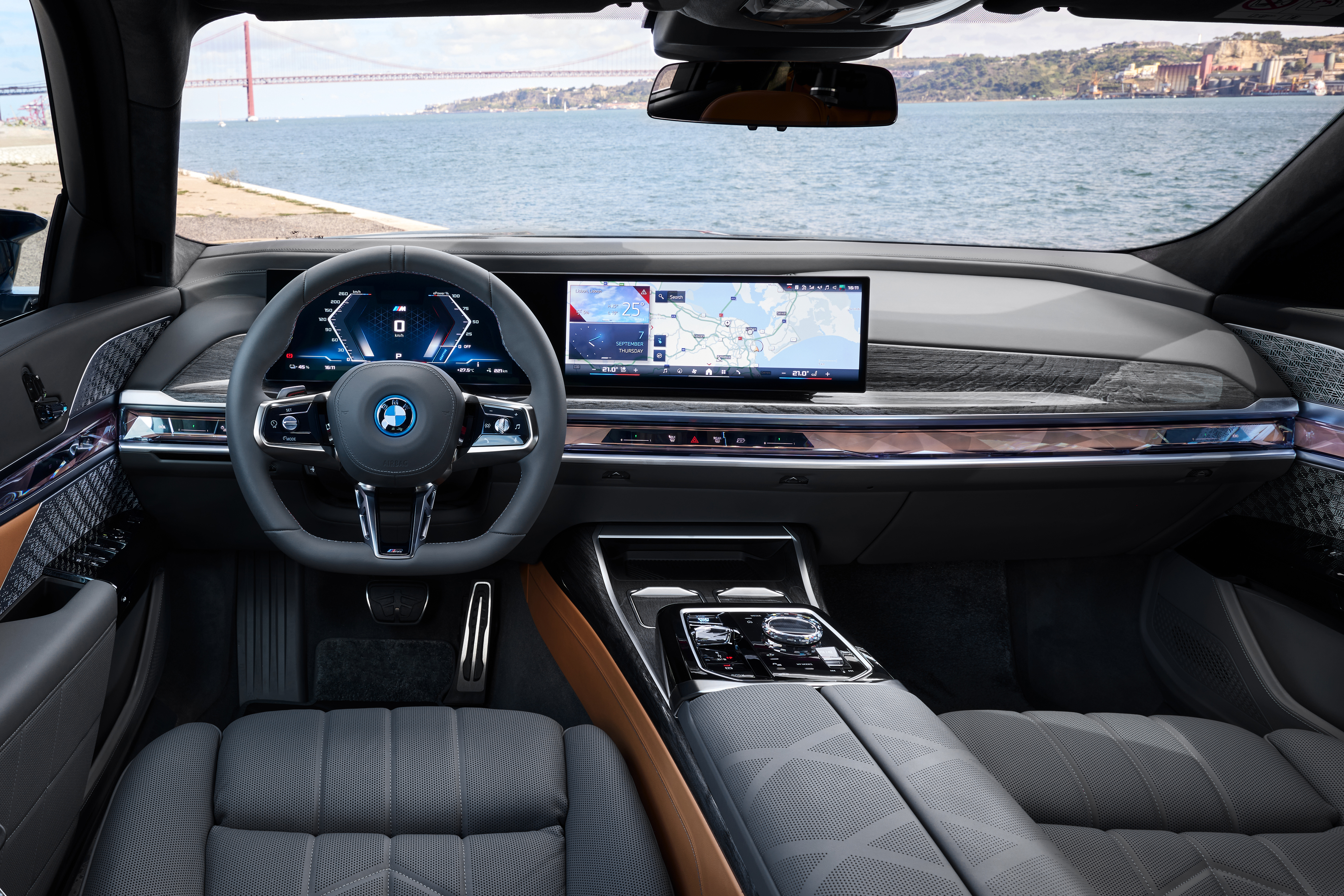 >
Sumptuous and spacious, the i7 delivers everything you'd expect from a luxurious saloon. The rear seats are the place to be, of course, with the heavily cushioned chairs that have integrated massage functions providing the ideal place to be whisked around. The huge Theatre Screen is great, too, though sometimes it's quite nice to just fold it away and enjoy the cabin without distractions.
Does that mean it's a bare-bones experience for the driver? Fortunately not, as you get the same comfortable seat up front too. However, with that cinema screen in place rearward visibility is non-existent while when the passenger seat is moved forwards to allow the rear occupant to stretch out, it's hard to see your off-side mirrors.
What's the spec like?
>
This range-topping i7, as you might expect, comes bristling with standard equipment. There's Executive-style rear seating with chairs that can be reclined to fully enjoy that full-width Theatre Screen which can show not only media and streaming services, but also mirror your laptop so you can work on the move – if you're being driven, of course.
BMW has also installed its latest Operating System 8.5 into the infotainment, making it smarter and even quicker to respond. It also brings a new 'home' screen with easier-to-use icons, as well as a 'Quickselect' function that allows you to go those most-used features without having to leave the main menu. At £161,000, the i7 M70 is the most expensive model in the range, mind you, and far more than the 'entry-level' version which costs 'just' £99,300.
Verdict
In this world of ever-increasing performance figures, the i7 M70 is a crowning glory. It's BMW's most powerful electric car – at present – and that's no small victory. At well over 2.6 tonnes it's a tremendous effort to make something this large go this quickly.
But it just clangs against what the i7 has been designed for. This isn't a car for lap times nor quarter-mile drag races – it's a comfortable and sumptuous electric saloon for taking driver and occupants to their destination in the utmost luxury – and that's something the regular i7 does just fine already.