Lamborghini has unveiled its new flagship supercar – the Revuelto.
It's equipped with the Italian firm's first plug-in hybrid V12 engine, which combines the 12-cylinder petrol engine with three electric motors that are coupled to a 3.8kWh battery. It can be charged either via a plug or directly from the engine, with the former taking around 30 minutes and the latter around six minutes to fully charge.
Combined, this setup produces 1,000bhp and results in a 0-60mph time of under 2.5 seconds and a top speed of 217mph. It'll also manage the zero to 124mph sprint in just seven seconds flat.
The exterior has distinctive Y-shape daytime running lights, while the V12 is celebrated by being fully exposed. Inside, there are many references to that exterior 'Y' design trait, while much of the cabin is centred around the driver. Lamborghini calls this its 'space-ship' design and it's this which encloses the central air vents and 8.4-inch vertical touchscreen.
Plus, there's a 9.1-inch display ahead of the passenger which mirrors the information relayed on the driver's 12.3-inch digital cockpit. There's also a clever 'swipe' function which means that driver or passenger can 'move' applications from the central screen to their respective displays.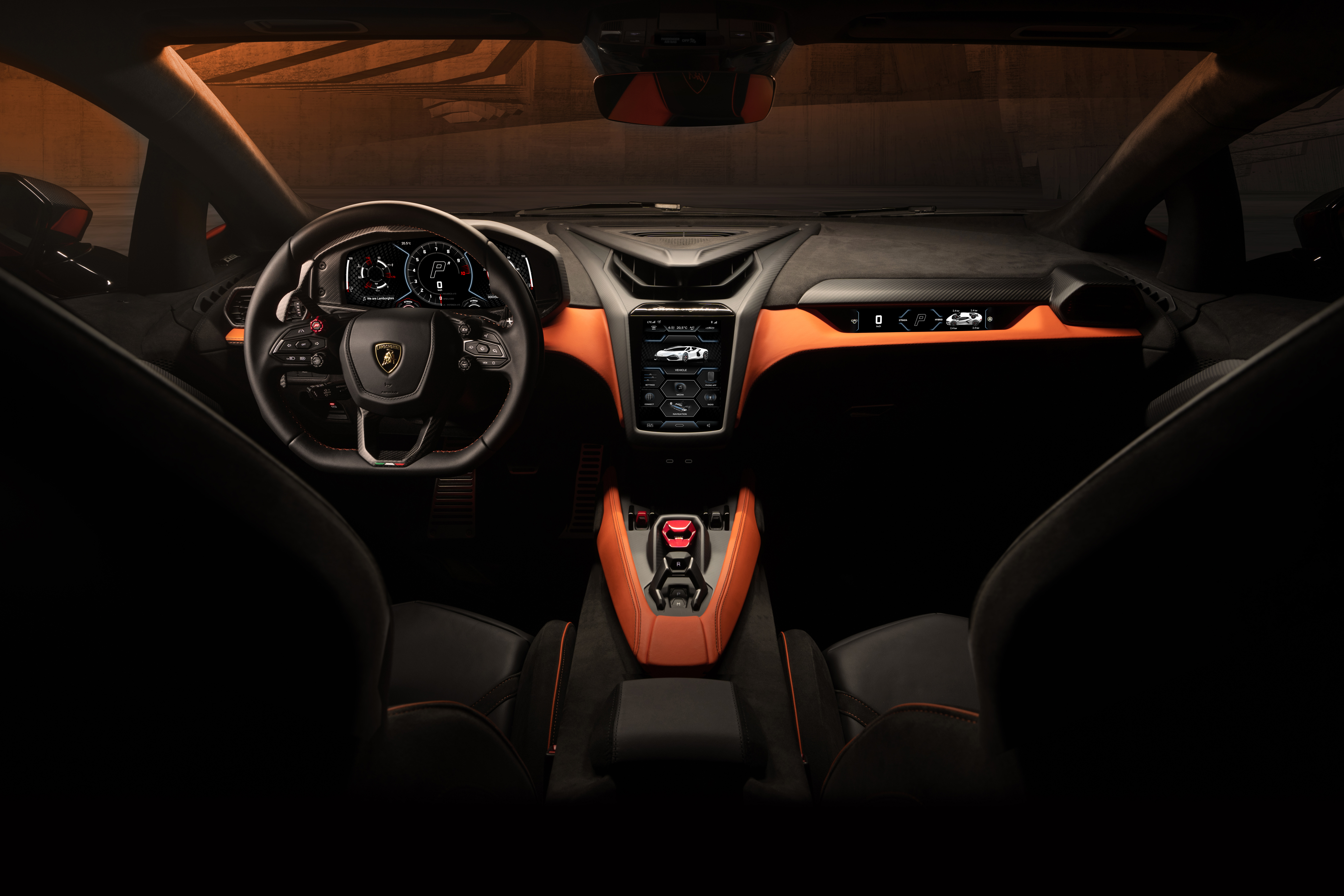 The steering wheel is also packed with functions, with buttons mounted on it to activate the indicators and lights. Four rotors change which driving mode is selected, and these can be tweaked without the need for the driver to take their hands away from the wheel.
Lamborghini says that the Revuelto is also more spacious than the outgoing Aventador Ultimae, with extra headroom and legroom. Plus, there's extra room behind the seats which is able, according to Lamborghini, to accommodate items 'up to the size of a golf bag'.
Carbon fibre is used across the dashboard, while there's also a combination of leather and a special Corsa-Tex fabric made from recycled polyester via a water-based production process.
Lamborghini has yet to announce a price for the Revuelto, but expect it to far exceed the £365,000 required for the previous equivalent Aventador.