The Little Car Company has released a new configurator which will allow potential buyers of its Bugatti Baby II to create their very own specifications while showcasing it in augmented reality.
The Baby II is a 'contemporary tribute' to founder Ettore Bugatti's original Type 35 from 1926, albeit one on a much smaller scale. Utilising an electric powertrain, the Baby II incorporates a range of high-quality touches such as working dials which have been adapted to show modern readouts. The oil gauge, for instance, now reads the remaining charge level.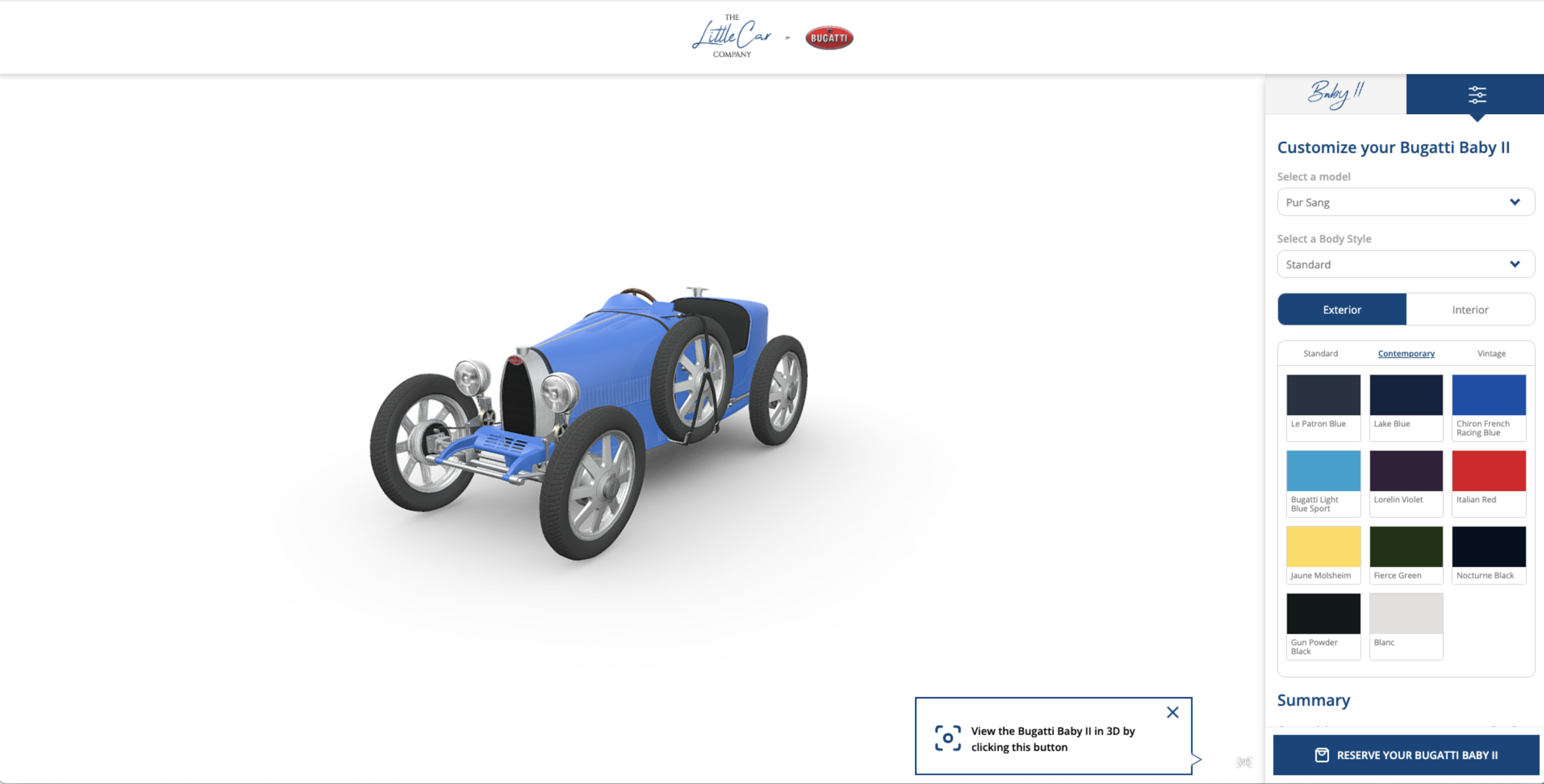 The new configurator will allow potential buyers to 'see' what their future Baby II could look like. It begins with a choice of one of three models and body styles, but this quickly expands to include a wider range of exterior and interior colours and finishes.
Buyers will also be able to use a new 3D augmented reality tool, which gives the ability to 'see' the car placed within an area they're familiar with, such as the home or office.
Ben Hedley, CEO of The Little Car Company, said: "When you get behind the wheel of an iconic car, such as the Bugatti Baby II, it's made all the much sweeter when you know your purchase has been personalised to your own specific, inimitable taste. And with the launch of our new configurator, the personalisation process that we offer our customers has been made even more immersive, detailed and bespoke."
As mentioned, three versions of the Baby II are available – Base, Vitesse and Pur Sang – with Base versions incorporating two driving modes in Novice and Expert which limits the top speed to 12mph and 30mph respectively.
Vitesse and Pur Sang models, meanwhile, include the Novice and Expert driving modes but build on this with a special Bugatti Speed Key which boosts the Baby II's top speed to 42mph.