The switchover to new emissions regulations saw a massive decline in car sales across Europe, but not all manufacturers suffered equally.
According to new figures from global automotive business intelligence experts Jato, the French PSA Group, which includes Vauxhall and Opel, defied the drop to become Europe's biggest-selling car manufacturer – while the Vauxhall Corsa became the top-selling model.
The Corsa (badged as an Opel Corsa outside the UK) saw 24,752 registrations in September immediately following the switch to the tougher WLTP (Worldwide Harmonised Light Vehicle Test Procedure) regulations. That represents a five per cent increase year-on-year.
It overtook the Volkswagen Golf, which has occupied the top spot since March 2017 but saw a massive 71 per cent decline in sales, dropping to 13th place with just 14,968 registrations.
Other models that enjoyed success were the Ford Fiesta, which saw sales of 22,478 – a 20 per cent increase year-on-year, putting it in second place – and the Toyota C-HR, which climbed into the top 25 thanks to an increase of 23 per cent and sales of 11,900, placing it 24th.
Meanwhile, the news wasn't as rosy for cars such as the Renault Clio, Nissan Qashqai and Ford Focus – which saw respective year-on-year declines of 18 per cent (21,944; third), 51 per cent (14,165; 17th) and 40 per cent (12,587; 21st).
Outside of specific models, nearly every manufacturer saw a decline in sales. The worst affected was the Volkswagen Group – sales of VW, Audi, Skoda and Seat products declined by 53 per cent, 60 per cent, 29 per cent and 33 per cent respectively, with a total sales figure of 173,425.
Meanwhile, the French PSA Group saw comparatively smaller declines of 12 per cent, five per cent and four per cent across its Opel/Vauxhall, Peugeot and Citroen brands, leaving it with European sales of 197,366 and making it the largest-selling manufacturer – knocking the Volkswagen Group off the top spot for the first time in almost eight years.
Opel/Vauxhall was the most popular individual brand, with sales of 80,920 vehicles – down 12 per cent year-on-year – and just pipping Ford's 80,813, which was a drop of 14 per cent for the Blue Oval.
Only a few brands bucked the trend and posted an increase in sales – Volvo (at 16th), Mitsubishi (23rd) and Jaguar (25th) saw registrations increase by three per cent (28,011), 19 per cent (11,642) and 29 per cent (10,408) respectively.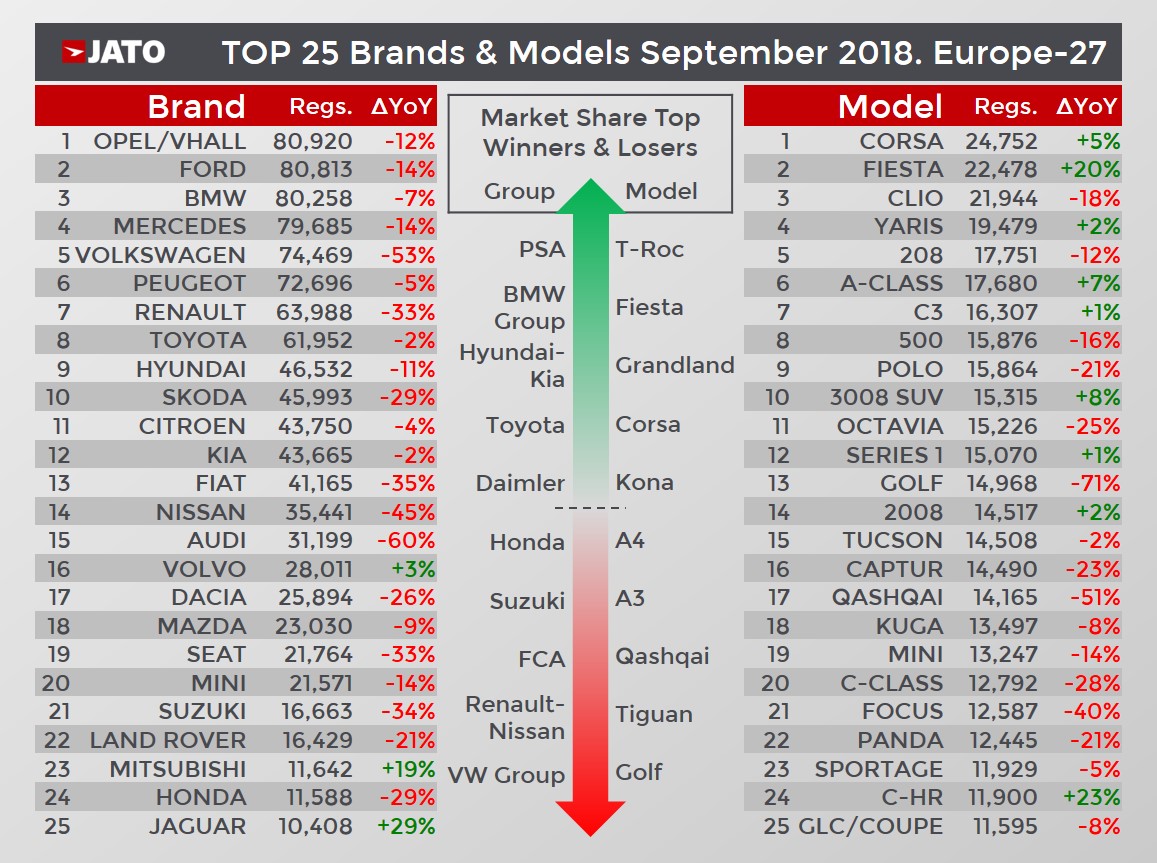 The drop in registrations comes just after the European market switched from NEDC (New European Driving Cycle) testing to WLTP as a way of classifying emissions and fuel economy on cars. The shift required all of a brand's vehicles – including every derivative of engine or trim level – to be separately tested, leaving manufacturers scrabbling to have their vehicles homologated, ie, made eligible, in time for the September 1 deadline.
Figures from Jato show that the brands with the highest proportion of models homologated for WLTP at the time of the switch posted the lowest percentage loss in sales. Many manufacturers have struggled with WLTP testing and have resorted to dropping engines, trim levels or even entire models in a bid to meet the taxing regulations.
Felipe Munoz, Jato's global analyst, said: "This is a huge drop, but it was somewhat expected across the automotive industry. We will continue to see registrations decline so long as a large portion of the market's versions remain unavailable under the new test conditions.
"The big question now is how long the drop will last, which will depend on how long it takes car makers to homologate the models they want to keep on the market."