Jack Crowley jokes about Disneyland trip as Ireland recover from big win over SA
The 23-year-old slotted a crucial late penalty against the Springboks.
Ireland fly-half Jack Crowley joked about spending his well-earned days off in Disneyland following the fairytale of sealing his country's statement Rugby World Cup win against South Africa.
Test rookie Crowley capped a thrilling 13-8 victory over the reigning champions by calmly slotting a crucial late penalty after stepping off the bench to replace captain Johnny Sexton at Stade de France.
The 23-year-old was visiting Paris for the first time and had the chance to remain in the French capital for a brief escape from reality ahead of a turning his attention to a pivotal Pool B finale against Scotland on October 7.
Crowley, who expects the Scots to be "gunning" for Ireland, could not resist a light-hearted quip at the expense of his diminutive team-mate Craig Casey and some of the senior members of Andy Farrell's squad, including 38-year-old Sexton, as he humorously imagined a group theme park visit.
"We have a few days off to recover because it has been a few intense weeks," he said.
"(I'm going to) take it easy. Disneyland Paris! We have to get a pass for Craig though. There's a few old-age pensioners as well. Yeah, maybe Disneyland, we'll see.
"We go back in on Wednesday and the preparation begins for Scotland.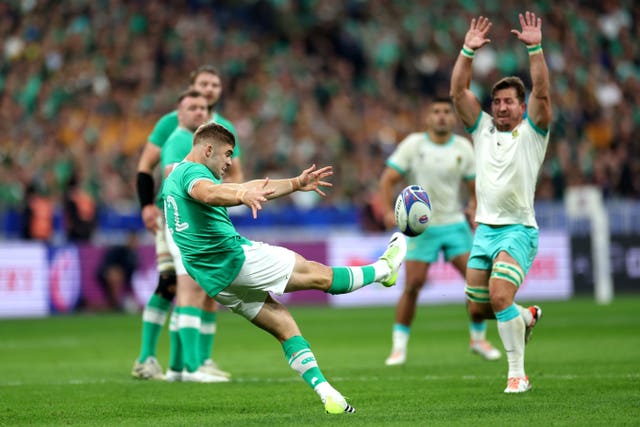 "I suppose they are going to grow throughout the competition, aren't they?
"We have come against them in the Six Nations and they have been one the toughest competitors because of the way they play.
"Our eyes are firmly on them. I'm sure they will be gunning for us."
Ireland led South Africa by just two points for the majority of a tense final quarter of Saturday's epic encounter.
In front of massive Irish support, Crowley nailed a nerveless 77th-minute kick on the occasion of his eighth cap to alleviate mounting pressure before a heroic defensive effort secured success.
The Munster player revealed team-mate James Lowe was audibly counting down the seconds on the shot clock ahead of the conversion to eat into the time the Springboks would have to hit back.
He described the physicality of a bruising contest as "through the walls", while playing down his "nice easy penalty" on an evening when the opposition's wayward goal-kicking proved costly.
Speaking of his key contribution, which came four seconds inside the permitted time, Crowley said: "(It was) pretty special.
"When you're sitting on the bench looking up at the clock as the time is dwindling away, you see the magnitude grow larger.
"It was a proper Test match. The physicality was through the walls.
"When you're coming on you've got to know the magnitude of the game and the responsibility.
"I got a nice easy penalty in front of the posts. If I'd missed that I think you'd be saying a different story to me. But that's the gig."
While Ireland have a weekend off, South Africa face Tonga on Sunday with work to do.
Crowley suggested the world's top two teams could meet again in the final at the end of next month.
"They're a World Cup-winning side because they disrupt team's plans," he said.
"They play rugby the way they want to play and that's how they won a World Cup just by doing that.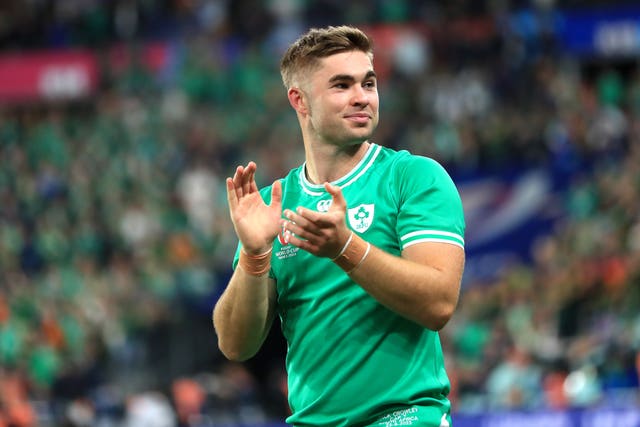 "We knew since we played them in November last year (a 19-16 win for Ireland) just what a challenge this was going to be.
"You've got to trust your plan and as a coaching staff and players we all bought into it and thankfully in the end we got the result but it's not easy.
"And I'm sure we won't see the last of them in the competition."