7 events which will make you less suspicious of Friday the 13th
Friday the 13th doesn't always have to be unlucky.
Friday the 13th is upon us, causing those who suffer from paraskevidekatriaphobia (fear of the day) to avoid doing anything remotely dangerous.
This Friday the 13th has fallen in October, meaning some are feeling doubly spooked about the whole day.
However, some incredibly positive things have happened on the supposedly ominous date. Take a look at these to ease your fears.
1. Prince Harry reached the South Pole – December 2013
The expedition was made up of people from the Commonwealth in teams.
Harry couldn't have put it better himself, saying: "A half-day on Friday and we get to the South Pole on Friday 13th, unlucky for some, lucky for us."
2. The Hollywood sign unveiled – July 1923
3. The accordion patented – January 1854

4. Gender equality in employment enshrined in US law – October 1967

5. Super Mario Bros released – September 1985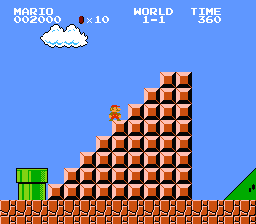 Shigeru Miyamoto designed one of the world's best-selling video games in 1985, featuring plumbing brothers Mario and Luigi. With 24 levels, the game was one of the biggest of its time and influenced many which followed it.
6. The Olympics returned home – August 2004

The ceremony passed without a hitch and records were broken throughout the games. Michael Phelps won six gold medals and canoeist Birgit Fischer became the first athlete in any sport to win two medals in each of five Olympic Games.
7. Birth of a film legend – August 1899
Sorry, we are not accepting comments on this article.