Transport Secretary swerves HS2 questions as ministers told to 'finish the job'
Former attorney general Sir Jeremy Wright said a high-speed line only from London to Birmingham would never have received sign-off from Parliament.
The Transport Secretary said he would not comment on "speculation" about HS2's Manchester leg facing the chop as senior Conservatives continue to urge ministers to "finish the job".
During a morning round of broadcast interviews, Mark Harper followed the Prime Minister's lead in refusing to be drawn on suggestions the Birmingham to Manchester leg of the high speed rail route could be axed due to cost concerns.
HS2 was in 2015 given a £55.7 billion budget for its route from London to Birmingham with a Y-shaped section to Manchester and Leeds.
But reports have suggested that Rishi Sunak has become "alarmed" over the bill after it is said to have breached the £100 billion mark, even with the Leeds element having been binned in 2021.
Mr Harper told Times Radio that "spades are in the ground" on Phase 1 of HS2 between London and Birmingham but said he was "not going to comment" on "speculation in the media" about the line potentially stopping in the Midlands.
"If the Government has anything to say, we'll say that in the usual way in due course," he added.
The Prime Minister dodged dozens of questions on the future of the second phase of HS2 during interviews this week, choosing instead to focus on his administration's investment into road and bus travel.
But senior Tories have continued to lobby Downing Street over the project, with the rail debate likely to dominate the Conservative Party conference in Manchester, which starts on Sunday.
Former prime minister Boris Johnson used his Daily Mail column on Saturday to argue that the Tory Government would be "betraying the north of the country and the whole agenda of levelling up" if HS2 to Manchester is delayed or cut.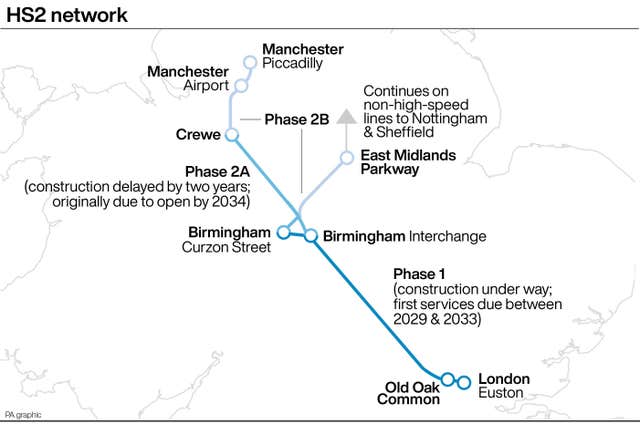 "We simply cannot afford to abandon this vision now — to panic, and throw up our hands, and say it is all too difficult," he said.
Mr Johnson said suggestions that the southern terminal could become Old Oak Common, a new station being built in the capital's western suburbs, instead of Euston in central London would leave HS2 as a "white elephant, the vanity project to end all vanity projects".
Sir Jeremy Wright, a former attorney general and culture secretary, added his voice to the mix, pressing ministers to "finish the job".
He said HS2 would never have been given approval by Parliament if it had only been intended for 225mph trains to travel between the capital and Birmingham, saying the "strategic benefits just aren't there" and that the "price of it would simply be too high".
Phase 1's budget was set at £44.6 billion at 2019 prices, with recent increases in inflation likely to have taken that higher.
Sir Jeremy's Kenilworth and Southam constituency in Warwickshire has been impacted by Phase 1 works to install the track for the new rail route.
He told BBC Radio 4's Today programme on Saturday that, with housing demolished and ancient forests having been ripped up to make way for HS2, his constituents wanted the benefits they were initially promised.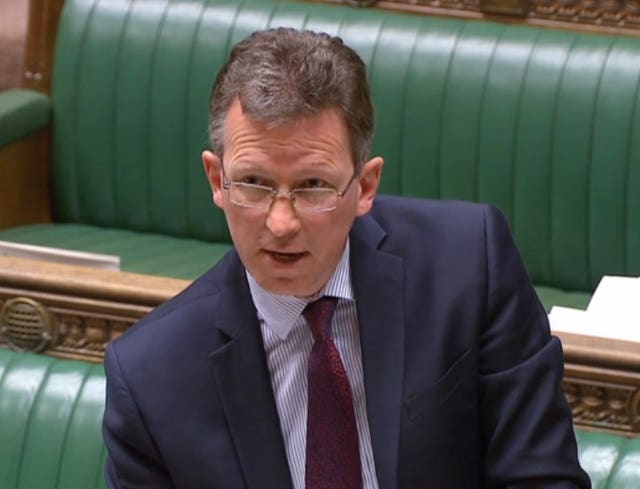 "I want the Government to finish the job," he said.
"My constituents are undergoing the pain now of the delivery of Phase 1 of HS2 and they have been told all the way through this project… that the significant local pain they will be suffering is justified by the significant national game that building a network of high speed rail lines will deliver.
"And I don't think that gain, that advantage strategically to the nation, comes from a single line that runs from London to Birmingham.
"So I think it is important, not just for my constituents but from the strategic point of view, that we complete the network at least as far as Manchester, and I hope one day beyond that.
"We need to finish it in a way that delivers its intended benefits."
Sir Jeremy said that, while some of the rising costs of HS2 had come from "bad management", other pressures had come from "delivering responsibly a major strategic transport project in a small and crowded island like ours".
The Phase 1 bill has increased due to lobbying, including from MPs, for more of the route to be tunnelled underground to avoid spoiling the landscape or being routed through communities.