Insects and other invertebrates have declined more in intensively-farmed areas over the last 30 years than in areas of low cropland, a new study has found.
Bees and spiders have been the worst affected, possibly because they rely more on semi-natural habitats for food and shelter, the researchers said.
By analysing citizen science data from 1990-2019 for 1,535 species of bees, hoverflies, ground beetles, ladybirds, true-bugs and spiders, the UK Centre for Ecology and Hydrology (UKCEH) found these animals to be declining on farmland despite the introduction of more environmentally-friendly practices.
Publishing their work in the journal Proceedings of the Royal Society B, the researchers divided Britain's rural landscape into 1km square grids and classified each as having high, low or no cropland.
They then looked at how the number of invertebrates occupying these grids changed over time and found the greater declines to be in regions with a high proportion of arable or horticultural crop cover.
Dr Francesca Mancini, who led the research, said: "Invertebrates are one of the most diverse groups in agricultural landscapes but they are also particularly sensitive to intensive farming practices.
"There have been attempts to mitigate negative impacts since the 1990s and the fundamental question has been what effect these have had.
"Despite successful conservation at individual farms where farmers have successfully implemented sustainable practices, our study shows that more needs to be done to conserve and restore invertebrate populations at a national scale."
The authors said more intensive farming practices developed since the 1940s, such as mechanisation, chemical use and cultivation of land that was previously wildflowers or hedgerows, has successfully increased food production to feed a growing population but has come at a high cost to biodiversity.
Overall, there was a 5% average decline in areas of high cropland cover over the 30-year period studied, while areas of low cropland saw declines of around 2%.
Spiders had declined more than any other species – 7% in high cropland areas compared with 3% in low cropland areas.
Bees have declined by around 4% in high cropland areas and around 1% in low cropland.
It is difficult to make comparisons with no cropland areas because they are mostly in the north and so have different climate and land use, the researchers said.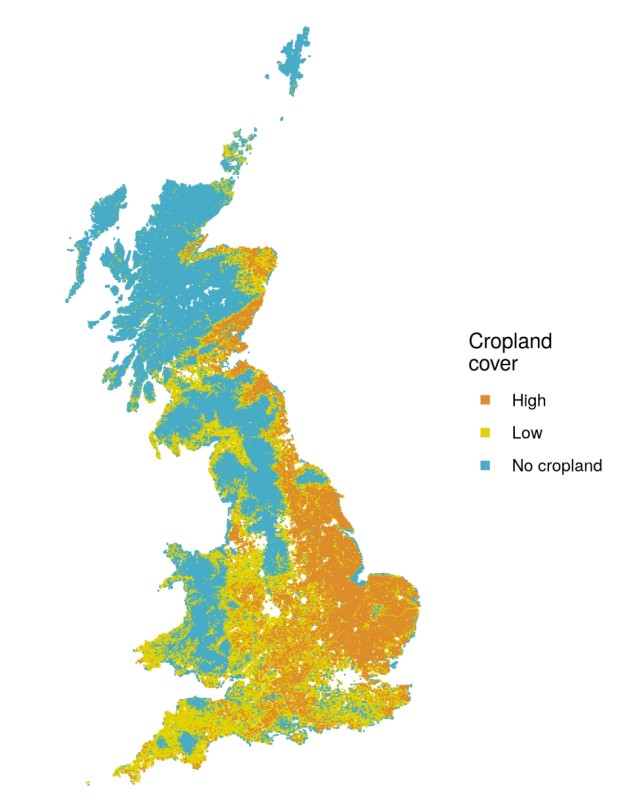 They added that there are likely to have been greater declines between the 1940s and 1990s but there is less relevant species data for that period.
It is possible to reverse this trend, Dr Mancini said, pointing to an experiment on the Hillesden estate in Buckinghamshire where 5% of the 1,000-hectare commercial farm was turned into wildlife habitat and has since seen local bird and butterfly populations increase without slowing the farm's food production.
She added: "Changes in agricultural policies and philosophy provide opportunities to restore invertebrate populations across the UK, though given current trends we are facing a significant challenge."