Strikes by railway workers continued on Friday, causing fresh travel disruption for passengers.
Members of the Rail, Maritime and Transport (RMT) union employed by train operators across England walked out in a long-running dispute over jobs, pay and conditions.
Train services were disrupted by the action, which comes almost a year after the RMT held its first strike in the same dispute.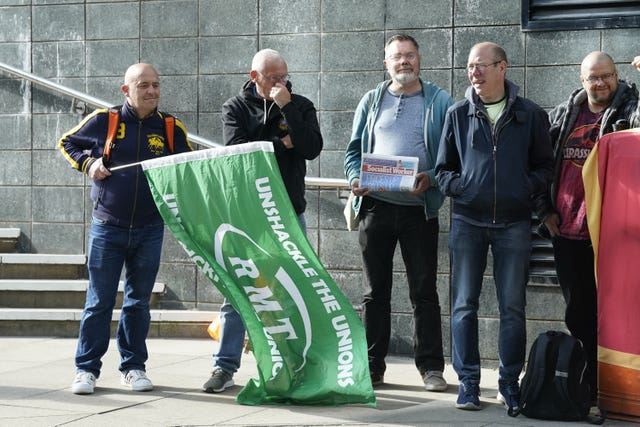 General secretary Mick Lynch insisted the strike action – which started nearly a year ago – has been a success despite the lack of a pay deal.
Speaking from a picket line outside London Euston station, he said the walkouts have prevented plans being implemented which would have negatively affected RMT members.
He said: "We've pushed them back on all the stuff they wanted to do.
"They wanted to make thousands of our people redundant, they wanted to shut every booking office in Britain, restructure our engineering workers, cut the catering service.
"So we've pushed them back on that, they haven't been able to implement any of their plans.
"What we haven't got is a pay deal, we haven't got any guarantees on our members' futures but we have stopped them doing the worst aspects of their proposals and their ideas.
"It has been a success, our members are still with us, they've had three ballots to continue with the strike action under the law.
"Other people seem to have been inspired to fight back and take action in their own industries, so it has been a success and it's put trade unions back on the map in Britain."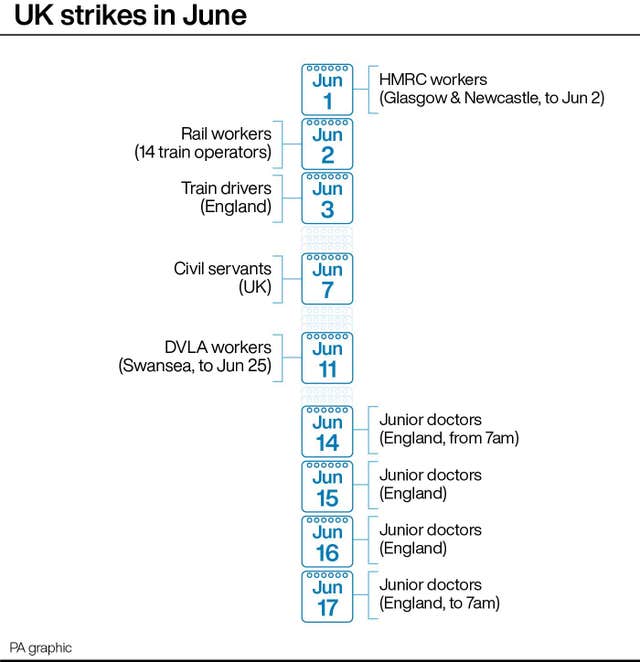 Members of the drivers' union Aslef walked out on Wednesday and will strike again on Saturday in their dispute over pay.
General secretary Mick Whelan told the PA news agency there is "no waning in enthusiasm" from train drivers to continue taking industrial action.
"We are determined to get a resolution and remain in this for the long haul.
"It is time for the Government to step back from interference which is preventing a deal – drivers, in line with other workers, deserve a pay rise after four years without one and inflation running, over the last 12 months, north of 10%," he said.
The Rail Delivery Group (RDG) said it expects that around half of the network will shut down on Friday with around 50% of normal services running.
During Aslef's strike on Saturday, around 40% of trains will run but there will be wide regional variations with some operators shut down.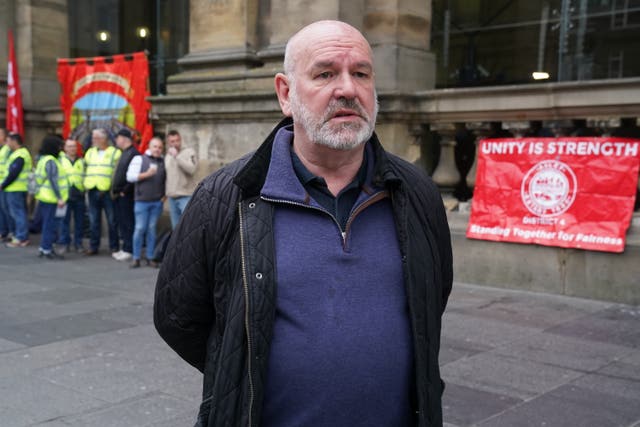 Passenger Adam Hole said he is "very frustrated" with the strikes.
The 36-year-old jeweller, from London, said at Euston station that he travels to Manchester a few times a year.
"We've had to get an earlier train and we're not sure if it's even going to be going there, to be honest," he told PA.
"I'm very frustrated, I don't know the ins and outs of it but it's frustrating for everyone else.
"Surely if they've signed up to get a certain wage and that's what they get then fair enough."
Cleaning supervisor Josue Arcadona, who was also travelling from Euston to Manchester, supported the industrial action.
The 36-year-old said: "At some point they have to fight for what they want, even though it can affect all of us. It's OK, I support them."
He added: "I think it might go on for one more year, or something like that. If they get their pay rise then good for them."
The industrial action will affect football fans travelling to London for the FA Cup Final between Manchester City and Manchester United on Saturday at Wembley Stadium.
Fans wishing to travel to the game by train from Manchester are advised not to attempt to do so on the day.
Saturday's strike will also affect more than 100,000 people travelling to the annual Epsom Derby as well as fans travelling to Beyonce's Renaissance world tour concert at Tottenham Hotspur Stadium, and cricket fans travelling to watch the England v Ireland Test match at Lord's.
A Rail Delivery Group spokesman said the strikes are "causing disappointment and frustration for tens of thousands of people", including "families who have been looking forward and have planned their half-term holidays".
He added: "We understand the impact of these strikes on individuals and businesses alike, and we can only apologise for this unnecessary and damaging disruption.
"While we are doing all we can to keep trains running, unfortunately there will be reduced train services so our advice is to check before you travel.
"Passengers with Advance tickets can be refunded fee-free if the train that the ticket is booked for is cancelled, delayed or rescheduled."
The unions say they have not been given a pay offer they can recommend to their members.
Officials say support for industrial action remains strong among workers as well as the public.
Aslef says train drivers have not had a pay rise for four years.
Both unions claim the Government is preventing the train companies from making an acceptable offer, which ministers deny.
A Department for Transport spokesman said: "These strikes have been co-ordinated by union leaders to disrupt passengers in a week which will see major events such as the first-ever all-Manchester FA Cup Final, the Epsom Derby and a number of concerts and festivals across the UK.
"Not content with impacting the hundreds of thousands of people who have looked forward to these events all year round, unions are also targeting their own members' pockets by forcing them to miss out on pay every time they strike.
"The Government has facilitated a fair and reasonable pay offer; now union leaders must do the right thing and put this to their members."