A couple whose daughter's death helped spark a review of maternity services at an NHS trust have said their concerns were just "batted away" and they were told it was "one of those things".
Jack and Sarah Hawkins were one of the first families to raise concerns over care failings at the Nottingham University Hospitals NHS Trust after the death of their daughter, Harriet, during labour on April 17 2016.
They have now called for changes to the review of maternity care at the Trust, led by Donna Ockenden, to ensure all affected families are included.
Mr and Mrs Hawkins, who were employed by the Trust as a consultant in acute medicine and senior physiotherapist respectively when Harriet was born, said there was "cover-up after cover-up" of their concerns but they later heard from several other families who had endured similar experiences.
It comes as the Trust announced on Wednesday that chairman Nick Carver will publicly apologise on its behalf at its annual public meeting on July 10, with almost 2,000 parents and staff coming forward to the Ockenden review with concerns.
Speaking at their home near Nottingham on Wednesday, Mr Hawkins said: "The hospital knew that there were issues, so why didn't we know? Why didn't the population know? Why has it been down to us to do that?"
Mrs Hawkins added: "We'd worked for the Trust, we believed in the Trust, and it was so disturbing that these people that we called our friends and colleagues were just ignoring us and trying to cover it up.
"I don't know how they slept at night."
After an unproblematic pregnancy, the parents were unconcerned that the Trust was delivering their first child before being told that Harriet died from an infection.
But their clinical backgrounds caused them to doubt this, with Harriet later found to be perfectly healthy and to have died as a result of a mismanaged labour which spanned six days and included 13 contacts with the Trust.
An internal investigation found no fault by the NUH but an independent external review found 13 significant individual failings in Harriet's care, with the Trust admitting negligence in 2018 and the couple settling a claim out of court.
Harriet was then buried in early 2019, having remained in a hospital mortuary since her death.
"I was in labour for six days and no one helped me," Mrs Hawkins said.
"As two senior clinicians we knew that they'd got it wrong, so we started saying straight off, you've got this wrong.
"We were just batted away, we were told it was just one of those things."
The couple also claimed that during their attempts to prove negligence, a bereavement midwife from the Trust called to say "It's time for you to start looking after your daughter", and a medical director asked them if they "can consider moving her to a more suitable environment", which they said felt like the Trust trying to remove evidence of failures.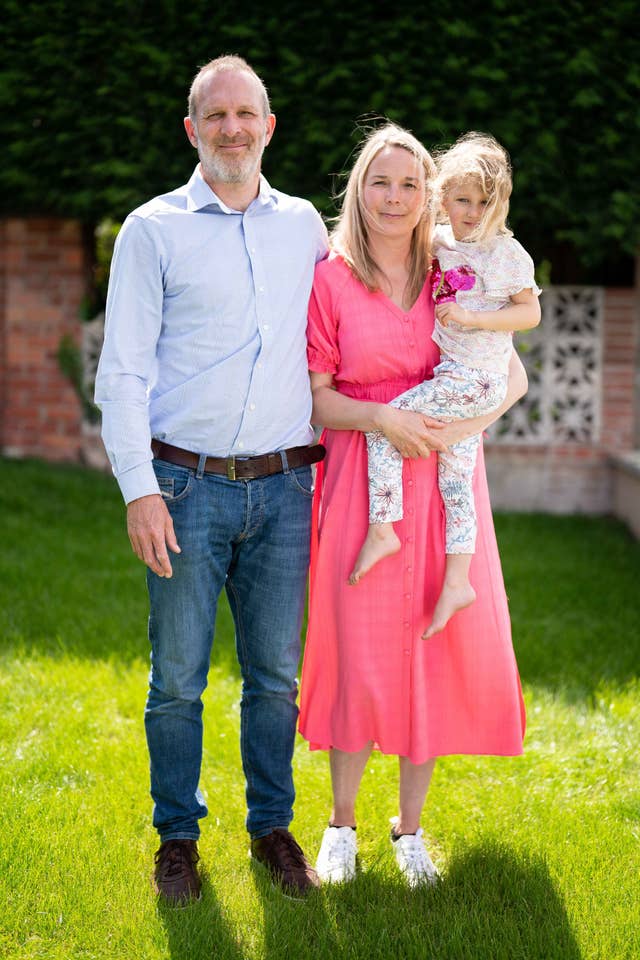 Mr and Mrs Hawkins, now aged 53 and 40 respectively, have never returned to work since Harriet's birth but have since welcomed a daughter, Lottie, now three.
They said the launch of the Ockenden Review made them feel "validated" but that they are only "cautiously optimistic" that a culture of "victim-blaming" will change following its report.
Mr Hawkins said: "I have significant reservations. I think it's very difficult to change a culture, and some of the things we have heard from inside the Trust, just in the last few days, are frightening."
Several families, including the Hawkins, attended a closed meeting on Tuesday chaired by Donna Ockenden and also attended by Anthony May, the trust's chief executive.
Families raised concerns that some were put off from contributing to the review, as currently it is the Trust's responsibility to contact parents who may have been affected and pass on responses to Ms Ockenden's team.
Mr and Mrs Hawkins claim some families are so traumatised by their experiences they cannot bring themselves to open the letters sent by the Trust, which are on NUH Trust headed paper.
This has led to calls for the existing "opt-in" approach to be changed to one of "opt-out", where all families affected are automatically eligible.
The opt-out system was used in Ms Ockenden's previous review of maternity services at the Shrewsbury and Telford NHS Trust, and led to a 95% response rate, whereas Ms Ockenden said on Wednesday that currently only around a quarter of eligible white women had contacted the review in Nottingham, and even fewer black and Asian women.
This, she said, showed that "the method that we have used to date to reach out across the communities just doesn't seem to be working", and could prevent the Trust learning "in the way that it should".
Mrs Hawkins said: "People have mental health issues like PTSD, and they can't read past the headline.
"They won't open their mail because they've had such bad experiences."
Mr Hawkins added: "We're not surprised that this has not been the success that it should have been. The solution is simple – do exactly the same as what they did at Shrewsbury and Telford.
"Every bit of information is useful."
In a statement, Mr May said: "We are absolutely committed to open dialogue with the families and last night we listened very carefully to all they had to say.
"We will now take time to reflect and make sure we can follow up all the points raised.
"I continue to learn a great deal from meeting women and their families and last night was an important opportunity for me to say sorry for any harm and distress caused by failings in our services.
"We continue to support Donna Ockenden's independent review because we know how important it is for our learning and local people. We are in regular dialogue with Donna's team and we are determined to improve our services.
"I know this is an unsettling time for women and families using our maternity services. If anyone has concerns or questions about their care, I encourage them to speak to their midwife or consultant."