Letby wrote sympathy card to baby's grieving parents, murder trial told
Nurse Lucy Letby, originally from Hereford, denies murdering seven babies and attempting to murder 10 others at the Countess of Chester Hospital.
Nurse Lucy Letby wrote a sympathy card to the grieving parents of a baby girl she is said to have murdered, her trial heard.
The defendant took a photograph on her mobile phone of the card ahead of the youngster's funeral.
Letby, 33, is accused of killing the premature-born infant, known as Child I, in the early hours of October 23 2015, which the Crown say was the fourth attempt to take her life.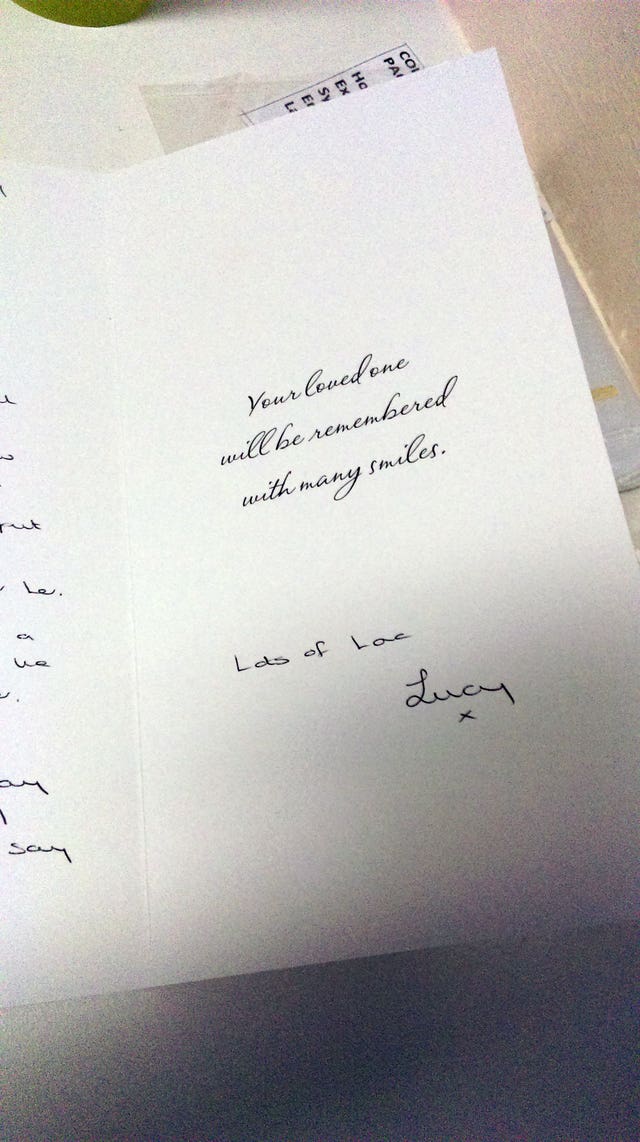 On Thursday, Manchester Crown Court was told Letby captured a photograph of the card on the morning of November 10 after she finished a night shift – hours before Child I's funeral.
She wrote: "There are no words to make this time any easier.
"It was a real priviledge (sic) to care for (Child I) and get to know you as a family – a family who always put (Child I) first and did everything possible for her.
"She will always be a part of your lives and we will never forget her.
"Thinking of you today and always – sorry I cannot be there to say goodbye.
"Lots of love Lucy x."
The card contained the printed message: "Your loved one will be remembered with many smiles."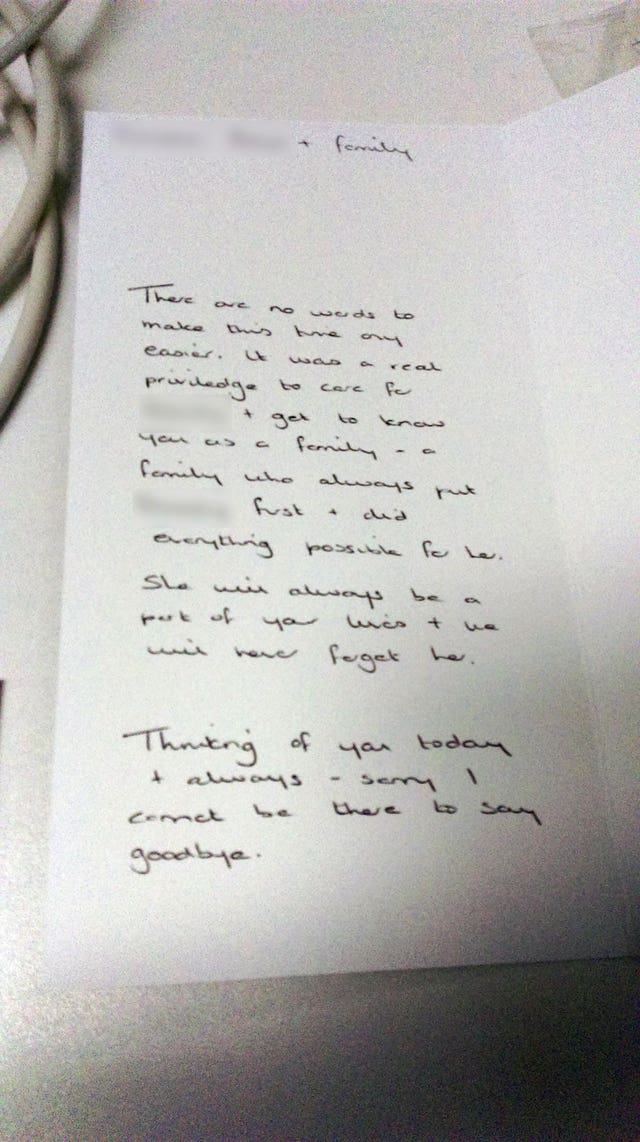 Opening the prosecution case in October, Nick Johnson KC said the defendant later told detectives it was "not normal" for a nurse to send such a card.
She added it was the only time she had done it – but it was "not often the nurses got to know a family as well", he told the court.
Giving evidence, nurse Ashleigh Hudson said she was responsible for the care of Child I on October 22/23 and thought the youngster appeared "very stable" at the beginning of the shift.
Ms Hudson responded to cries from the youngster's incubator in nursery room 1 at just before midnight but could not settle her.
She told junior prosecutor Simon Driver: "It was the type of cry I had not myself experienced her make before.
"It was very loud. It was relentless, almost constant. There was no stopping or starting, no fluctuating and constantly very loud."
Letby came to her assistance when she shouted for help, Ms Hudson said.
She said doctors were then "crash bleeped" when there was no initial response from Child I who later quickly recovered after being placed on a ventilator.
She said she was near to room 1 at 1.06am when she was alerted by either a monitor alarm sounding or Child I crying again.
She told the court: "I re-entered the nursery at which point Lucy was already there trying to comfort her, trying to settle her."
Ms Hudson said Letby had her hands in the incubator and was offering a dummy but crying Child I was "not interested".
She went on: "My concern was this cry was the same and she was going to have another episode.
"That's when I said something along the lines of 'she is going to do it again, it's the same cry'.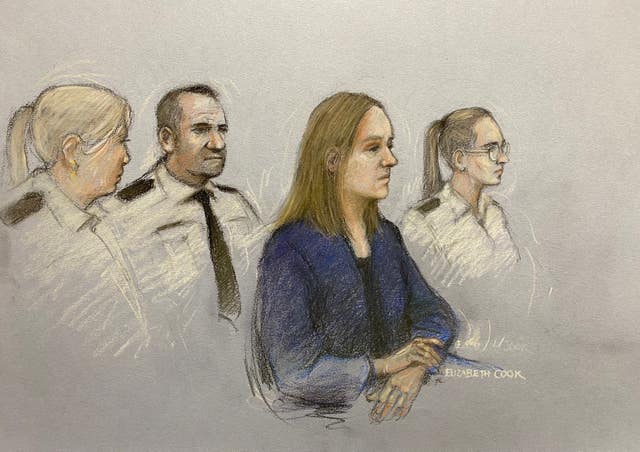 "I think Lucy was trying to reassure me and she said she just needs to settle."
She said Child I's heart rate and blood oxygen levels "began to drift down" and she ran through the double doors of the adjoining labour ward theatre to fetch a doctor.
A prolonged period of resuscitation attempts from medics followed – lasting up to an hour – before Child I was pronounced dead at 2.30am.
Miss Hudson said Child I's crying and behaviour prior to the second collapse "seemed to mimic" the first deterioration before midnight.
Mr Driver asked: "What was the nature of the sound of that cry?"
Miss Hudson replied: "It was loud. It was almost like a repetitive noise. Relentless.
"From my interpretation it would indicate distress. The cause of that, I can't be sure."
She said the cry was "markedly different" to the noise Child I made when hungry.
On the afternoon of October 23, Letby messaged a colleague: "Dr Gibbs (consultant) was great, we tried everything. Just don't think she was strong enough this time.
"Sad isn't it."
Another nursing colleague later messaged: "Yeah they (Child I's parents) weren't happy she has to have post mortem x."
Letby replied: "Hmm I can understand that but I think it's of benefit to know x."
The prosecution say the defendant made earlier bids to deliberately harm Child I on September 30, October 13 and 14.
Child I was transferred from the Countess of Chester Hospital to Wirral's Arrowe Park Hospital on October 15 where she improved before she returned on October 17.
Letby was absent from work from October 17 until the night of Child I's fatal collapse, the court heard.
The defendant, originally from Hereford, denies murdering seven babies and attempting to murder 10 others at the Countess of Chester's neo-natal unit between June 2015 and June 2016.
The trial continues on Friday.