Nearly three in five Britons think the Government is more to blame for the ongoing pay row with nurses lasting so long, a new poll suggests.
Some 57% of people said the UK Government is more at fault for the length of the industrial dispute with nurses, compared to just 9% who said nurses are more at fault.
The Ipsos poll of 1,080 British adults, carried out earlier this month, also found that a quarter of people felt both sides are at fault.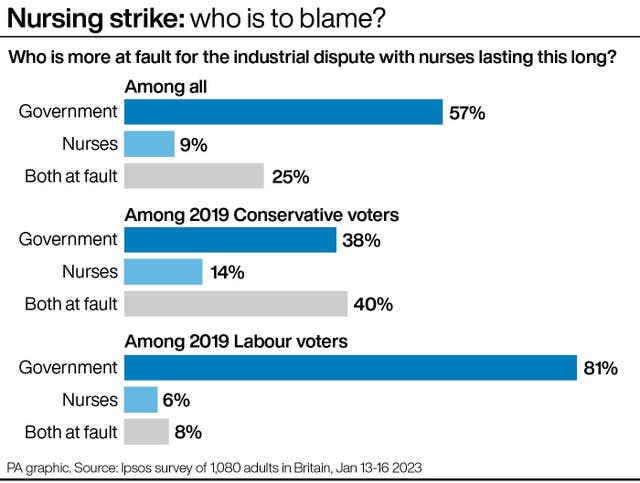 The new figures come as nursing staff from more than 55 NHS trusts will take part in industrial action on Wednesday and Thursday after two days of action in December.
The Royal College of Nursing (RCN) said two more, bigger strikes will be held next month, while the GMB union is expected to announce further ambulance worker strike dates.
Thousands of operations and appointments are expected to be cancelled during the two consecutive days of strike action, with the health service likely run a bank holiday-style service in many areas.
The RCN has agreed to staff chemotherapy, emergency cancer services, dialysis, critical care units, neonatal and paediatric intensive care.
The Ipsos poll, shared exclusively with the PA news agency, also found that people were more sympathetic to NHS patients, nurses and ambulance workers compared to health worker unions, NHS management and the UK Government.
Some 90% of people said that based on what they knew or had heard about the strikes, they had a great deal or fair amount of sympathy for NHS patients, followed by 82% for nurses and 80% for ambulance workers.
This compared to 61% who said the same about the unions representing nurses and ambulance staff, 46% for NHS management and 26% for the UK Government.
The survey found that the proportion of people very or fairly concerned about the ability of the NHS to provide safe care for people during the nurses' and ambulance workers' strikes stood at 80% and 82% respectively in January, unchanged from the previous month.
The NHS is reminding patients to attend all their usual appointments unless they have been contacted, and to seek urgent care even while strikes are ongoing.
NHS England urged patients to use services "wisely" by going to NHS 111 online but continuing to call 999 in a life-threatening emergency.
Some 45% of people surveyed in January said they strongly or tend to support the planned strikes by nurses and ambulance strikes, both down slightly from 50% and 47% respectively in December.
But it is still a higher proportion than those who strongly or tend to oppose the planned industrial action, with 30% of people quizzed in January saying they were against nurses and ambulance workers striking.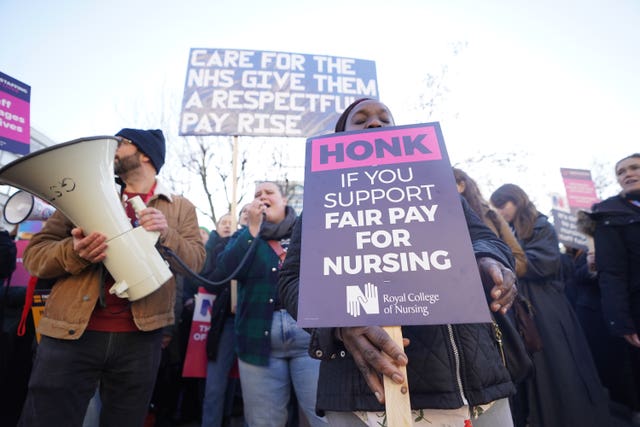 The Ipsos poll shows that opposition to the strikes has also fallen month to month, with the proportion opposed to nurses strikes down from 34% and ambulance staff down from 37% since December.
Meanwhile, the survey shows Britons are most supportive of junior doctors and teachers going on strike, with fewer people supporting civil servants and barristers.
Nearly half of the people quizzed (47%) said they strongly or tend to support junior doctors going on strike, with 41% supporting teachers.
But only 30% of people said they support civil servants going on strike, while 26% supported barristers.