Real wages continue to fall at fastest rate since 2009, figures show
Data from the Office for National Statistics showed that real wages fell 3.9% in September to November compared to the year before.
The gap between pay rises and the soaring cost of living remained at record highs in the three months to November, figures have shown, laying bare the struggles facing millions of families across the UK.
Data from the Office for National Statistics (ONS) showed that real wages fell 3.9% in September to November compared to the year before.
The real wage figure works out how much better or worse off people are after taking into account consumer prices index inflation (CPI).
It is the same fall as registered in October's figures, and is the joint highest drop in real earnings since the three months to April 2009, when they dropped by 4.5%.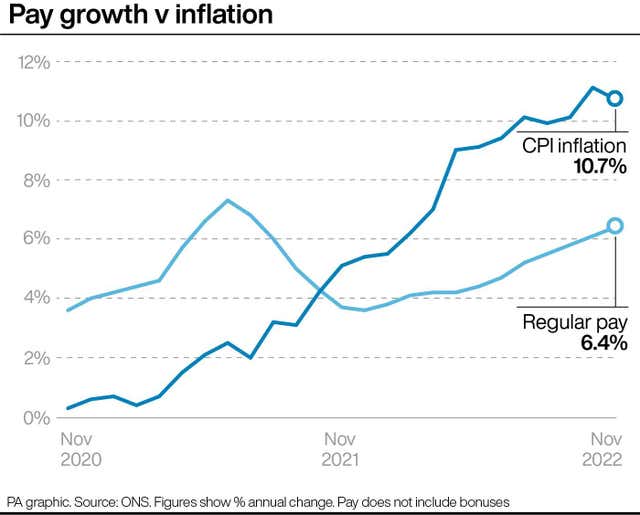 Pay rose by 6.4% in the three months – 7.2% in the private sector and 3.3% for public sector workers.
ONS director of economic statistics, Darren Morgan, said: "The real value of people's pay continues to fall, with prices still rising faster than earnings.
"This remains amongst the fastest drops in regular earnings since records began."
It came as figures showed that the UK unemployment rate hit 3.7% in the same three months, unchanged from the three months to the end of October, but up from 3.5% compared to the period between June and August.
The change compared to August was driven largely by an increase in people looking for work, as the proportion of people in employment remained unchanged during the period.
Those who are not in employment or looking for work do not count towards these figures.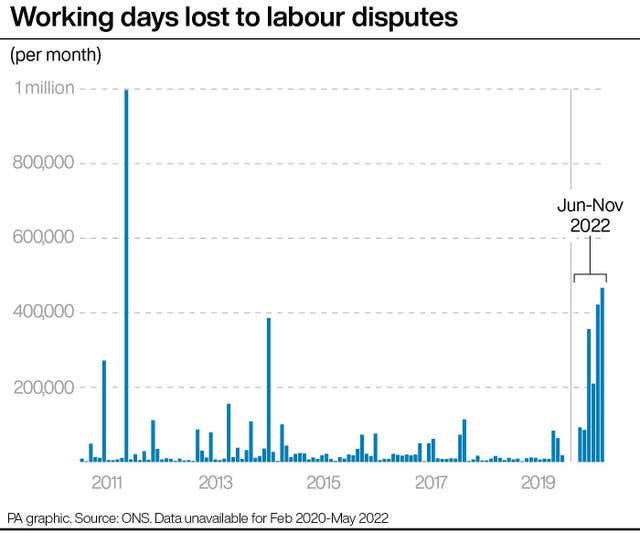 "In the most recent three months, employment levels were largely unchanged on the previous three months," Mr Morgan said.
"However, unemployment rose, driven by more young people who have only recently become unemployed, meaning overall there was a small increase in people actively engaged in the jobs market, whether working or looking for work."
The proportion of those considered "economically inactive" dropped by 0.1 percentage points to 21.5%, largely driven by 16 to 24-year-olds and those aged 50 to 64.
It comes as people try to find ways to deal with the ballooning cost of living.
To try to avoid real-term pay cuts, many workers abandoned their workplaces to strike in November. The 467,000 working days lost to labour disputes was the highest since November 2011.
Chancellor of the Exchequer Jeremy Hunt said: "The single best way to help people's wages go further is to stick to our plan to halve inflation this year.
"We must not do anything that risks permanently embedding high prices into our economy, which will only prolong the pain for everyone."
Shadow work and pensions secretary Jonathan Ashworth said: "Today's figures show the Tories are totally bereft of ideas when it comes to tackling the cost-of-living crisis, growing the economy and supporting people into work.
"Real wages are plummeting, almost two-and-a-half million people are out of work because of sickness, and far too many people – especially the over-50s – aren't getting the support they need to either stay in work or to go back to work."
Trades Union Congress (TUC) general secretary Paul Nowak said: "Workers have been losing hundreds of pounds from their annual pay over the last year.
"But in the public sector, Conservative ministers are dragging their heels on meaningful negotiations. That's why staff have had no choice but to use their right to strike to defend their pay.
"The Conservative Government will not resolve pay disputes by rushing in new laws that attack the right to strike.
"The best way to settle disputes is around the negotiating table – and with credible pay offers that protect workers from rising prices."