Tony Christie has said he wants people to sing, play records in their home or in their ears and "just keep the music going" because it is part of the remedy to dementia.
The singer, best known for his hit (Is This The Way To) Amarillo, has recorded a version of Thank You For Being A Friend alongside a host of "famous bands and world stars" on behalf of Music for Dementia, with organisers planning a mass sing-a-long for Thank You Day in July.
The song, originally recorded by American singer-songwriter Andrew Gold in 1978, was rerecorded as the soundtrack to hit comedy The Golden Girls.
Christie, who said he "accidentally" revealed his dementia diagnosis in January while live on Channel 4's Steph's Packed Lunch, told the PA news agency: "We're still putting people on the track, we've got lots of big names on there – they're all from famous bands and we've got a few more big names, world stars, who're doing their bit on it.
"So when it's finished in a few weeks' time, it's going to be unbelievable.
"In the studio you're meeting world class superstars, and they come in they're so normal and no big headed-ness, they come in and say, 'what do you want me to do'. They just did what they were told to do by the producers, no complaints, all nice people.
"A couple of them did say that they came on (to the song) straightaway because they've got a father, wife or a son or daughter who've got the symptoms of dementia so they wanted to be part of it so that their family were not ashamed of it."
Music for Dementia said more than 460,000 people have signed up to sing the song together at 3pm on Sunday July 2 which will beat the current UK record of 293,000 people, with the backing track and sheet music freely available to download.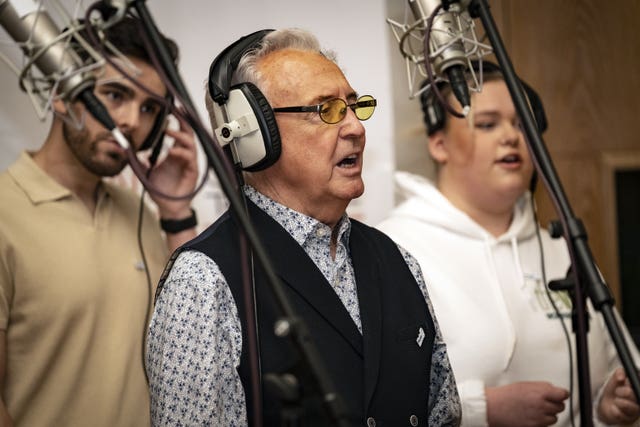 Christie, who also had the hits I Did What I Did For Maria and Avenues And Alleyways, also recorded the track at British Grove Studios with five carers who represent Britain's army of unsung heroes who are "looking after these poor people".
"They're the ones that should be thanked, (the song is) for the carers because they're doing the work and they're not getting thanked. It's very hard work that they're doing," the 80-year-old said.
Christie said, when he was first diagnosed with dementia, the doctor told him he was "very lucky" because he was in the "right business" to help him fight the disease as "singing music and playing music is one of the things that slows it down".
He continued: "The big message is to keep playing the music, keep singing, just keep the music going. Music is the greatest thing in the world. I make my living from it, I'm very lucky that it's helping me no end.
"It helps everybody if they can play records, in ears, play at home, keep listening to music, it's part of the cure.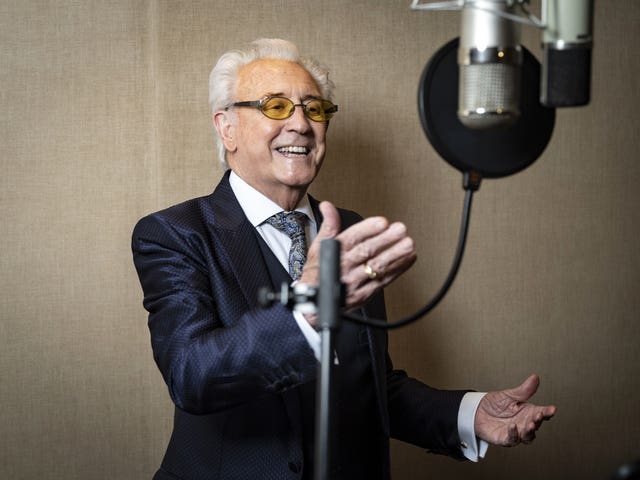 "Music has been my life. I've been singing since I was a little boy. My dad used to play piano in the lounge. When my grandparents came over, they were Irish and they were in ceilidh bands.
"My grandfather was a squeezebox player, I've got it in my house now and my grandmother was a fiddler, violinist, very well known.
"So when they came over to my parents' house, my dad would sit at the piano, put me on a stool and I used to sing, and my grandparents used to give me six pence. That's when I decided, I think I was be about five or six years old, I can make a living doing this."
Christie, who uses a screen on stage as a "back up" to remind him of lyrics to his songs to ensure he doesn't "spoil the show" for fans, said since announcing his dementia diagnosis members of the public have started thanking him when they see him.
He added: "I've known so many people, family as well, who have it. I've never felt ashamed, I've never felt ashamed of them. A lot of people did and that's very sad that they tried to hide it.
"Since I came out, which I did by accident on Steph's Packed Lunch – she brought it out of me – and ever since then I've been stopped in the streets and in the shops by people saying thank you for what you did, this helped our family, there's no shame any more for having it. So I'm really proud of that.
"My advice is do not be ashamed of it. There's nothing to be ashamed of. It's a thing that happens to a lot of people. I'm not ashamed of it."