Fawlty Towers set for revival with John Cleese and his daughter
The original show, written by Cleese and Connie Booth, ran on BBC2 for two series in 1975 and 1979.
Classic sitcom Fawlty Towers is to be revived with John Cleese returning to write and star alongside his daughter Camilla Cleese.
The original show, written by Cleese and Connie Booth, ran on BBC2 for two series in 1975 and 1979.
It followed the unfortunate exploits of highly-strung Torquay hotelier Basil Fawlty, played by Cleese, and his wife Sybil, portrayed by Prunella Scales, as they tried to keep their hotel and marriage afloat.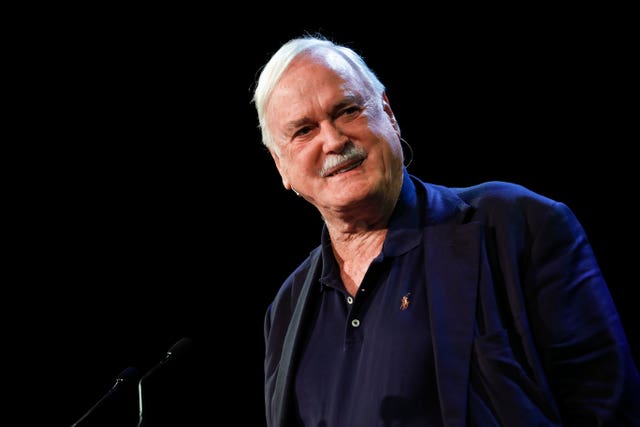 In 2019, the show was named the greatest British sitcom of all time by a panel of television experts for Radio Times magazine.
On Tuesday, Castle Rock Entertainment announced it had closed a deal with actor and writer John Cleese to bring back the television series.
The new series will explore how the dramatic and cynical Basil navigates the modern world.
It will also see Basil and a daughter he has just discovered is his, team up to run a boutique hotel.
Actor Rob Reiner, his wife and actress Michele Reiner, director and producer Matthew George and Derrick Rossi will act as executive producers on the series.
Cleese said: "What I like about Matt is that, unlike many producers, he really 'gets' the creative process.
"When we first met, he offered an excellent first idea, and then Matt, my daughter Camilla, and I had one of the best creative sessions I can remember.
"By dessert we had an overall concept so good that, a few days later, it won the approval of Rob and Michele Reiner.
"Camilla and I look forward enormously to expanding it into a series."
Producer George said that meeting John and Camilla was one of the "great thrills" of his life, adding: "I'm obsessed with Fawlty Towers and the legendary characters he created.
"I've watched the first two seasons so many times I have lost count. I dreamed of one day being involved in a continuation of the story. Now it's come true."
Rob Reiner said: "John Cleese is a comedy legend. Just the idea of working with him makes me laugh."
Aside from Fawlty Towers, Cleese is best known as one of the original members of the Monty Python comedy troupe.
The group produced a number of surreal sketch shows and films including Monty Python And The Holy Grail, Monty Python's Life Of Brian and Monty Python's The Meaning Of Life.
The actor also revealed last year he was joining GB News after being told it is a "free speech channel".
When announcing the move on BBC Radio 4's Today Programme, he said: "The BBC have not come to me and said, 'Would you like to have some one-hour shows?'.
"And if they did, I would say, 'Not on your nelly', because I wouldn't get five minutes into the first show before I'd been cancelled or censored."
Today presenter Amol Rajan replied at the time: "Well, we've given you five minutes today and I can promise you you haven't been censored yet."