Donald Trump denounces case as 'scam' as civil fraud trial opens
The New York attorney general's suit accuses Trump and his company of deceiving banks, insurers and others by habitually lying about his wealth.
The fraud lawsuit that could cost Donald Trump control of some of his most prized properties has gone to trial, with New York state lawyers vowing to hold him accountable, while he denounced the case as a politically motivated "scam".
The civil case, brought by New York attorney general Letitia James, accuses the business mogul-turned-politician and his company of deceiving banks, insurers and others by habitually misstating his wealth in financial statements.
"They were lying year after year after year," Kevin Wallace, a lawyer in Ms James's office, said in an opening statement as Trump sat at the defence table.
The former president looked straight ahead, arms crossed, facing away from the screen that showed details of Mr Wallace's presentation.
Defence lawyer Christopher Kise, in his opening, said the financial statements were true, and suggested the proof was in Trump's business career.
"He has made a fortune, literally, being right about real estate investments," Mr Kise said.
Trump showed up voluntarily for the trial, with his control over Trump Tower and other major property holdings in jeopardy.
"This is a continuation of the single greatest witch hunt of all time," the Republican said as he approached the courtroom, reiterating claims that Ms James, a Democrat, is trying to thwart his return to the White House.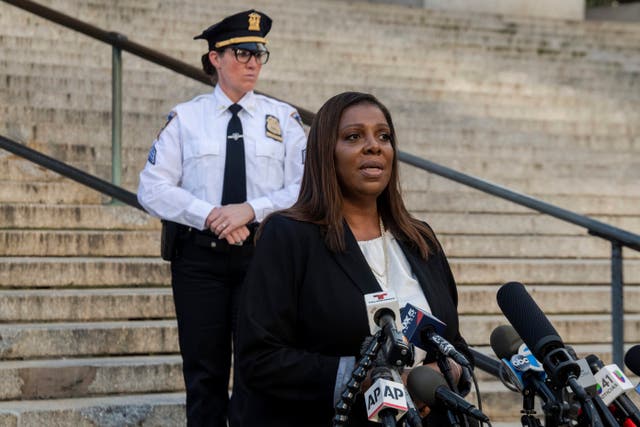 "It's a scam. It's a sham," he said. He called the case "an attempt to hurt me in an election" and added: "I don't think the people of this country are going to stand for it."
Trump looked away from Ms James as he passed her on the way into court, with a disgusted look on his face. Meanwhile, his campaign immediately began fundraising off the appearance.
Judge Arthur Engoron has already ruled that Trump committed fraud in his business dealings. That ruling last week, if upheld on appeal, could force Trump to give up New York properties including Trump Tower, a Wall Street office building, golf courses and a suburban estate.
Trump has called it a "a corporate death penalty" and insisted the judge is unfair and out to get him.
It is a non-jury trial, so Judge Engoron will decide on six other claims in the lawsuit.
Ms James is seeking 250 million dollars (£206 million) in penalties and a ban on Trump doing business in New York.
Before the trial started on Monday, she reiterated her position that Trump for years engaged in "persistent and repeated fraud".
"No matter how powerful you are, and no matter how much money you think you have, no one is above the law," she said on her way into the courthouse.
In her office's opening statement, Mr Wallace placed Trump at the centre of the alleged financial fudging: "Every estimate was determined by Mr Trump."
Trump, the Republican front-runner in the 2024 presidential race, has denied wrongdoing. He says Ms James and the judge are undervaluing such assets as his Palm Beach resort, Mar-a-Lago, and that it did not matter what he put on his financial statements because they have a disclaimer that says they should not be trusted.
Trump is not expected to give evidence for several weeks.