Former US president Donald Trump on Saturday blasted his historic federal indictment as "ridiculous" and "baseless", in his first public appearance since the charges were unsealed.
He said the 37 felony counts were an attack on his supporters, as he tried to turn legal peril into political advantage.
Speaking at the Georgia Republican convention, Mr Trump cast his indictment by the department of justice as an attempt to hurt his chances of returning to the White House as he campaigns for a second term in office.
"They've launched one witch hunt after another to try and stop our movement, to thwart the will of the American people," Mr Trump said, later adding: "In the end, they're not coming after me. They're coming after you."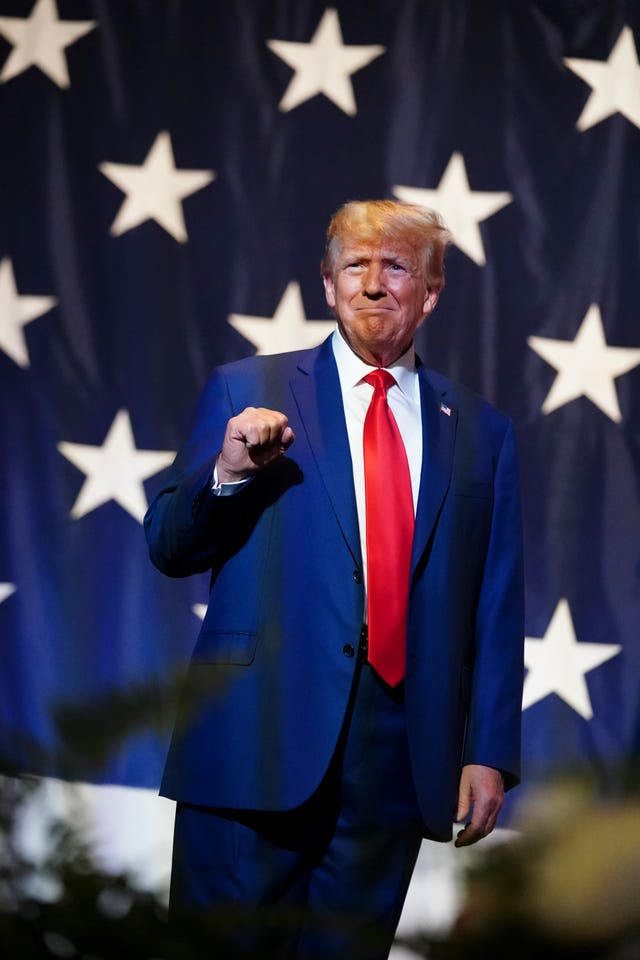 The strategy is a well-worn one for Mr Trump, who remains the front-runner for the 2024 Republican nomination despite his mounting legal woes.
He planned to speak to a Republican audience in North Carolina later in the day.
The indictment unsealed on Friday charged him with 37 felony counts in connection with his hoarding of classified documents at his Mar-a-Lago estate in Florida.
Mr Trump is accused of wilfully defying justice department demands to return classified documents, enlisting aides in his efforts to hide the records and even telling his lawyers that he wanted to defy a subpoena for the materials stored at his residence.
The indictment includes allegations that he stored documents in a ballroom and bathroom at his resort, among other places.
The most serious charges carry potential prison sentences of up to 20 years each, but first-time offenders rarely get anywhere near the maximum sentence and the decision would ultimately be up to the judge.
For all that, Mr Trump anticipated a hero's welcome at the party conventions in Georgia and North Carolina.
"Trump is a fighter, and the kinds of people that attend these conventions love a fighter," said Jack Kingston, a former Georgia congressman who supported Trump's White House campaigns in 2016 and 2020.
Mr Trump said his political enemies had launched "one hoax and witch hunt after another" and claimed the charges against him were politically motivated.
"The ridiculous and baseless indictment of me by the Biden administration's weaponised department of injustice will go down as among the most horrific abuses of power in the history of our country," Mr Trump told Georgia Republicans.
About 100 supporters, some waving "Witch Hunt" signs, showed up to the Columbus airfield to greet him as he arrived.
Jan Plemmons, 66, wearing an oversize foam "Make America Great Again" hat, called the federal charges "absolutely ridiculous" and said she was ready to campaign with Mr Trump.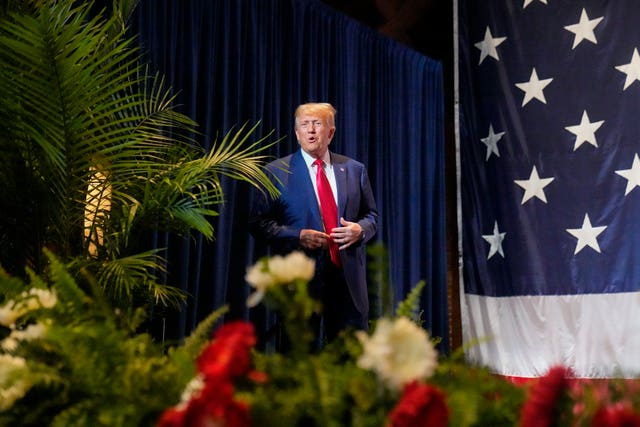 Michael Sellers, 67, said it was "criminal what they're doing to him".
The indictment arrives at a time when Mr Trump is continuing to dominate the primary race.
Other candidates have largely attacked the justice department, rather than Mr Trump, for the investigation.
But the indictment's breadth of allegations and scope could make it harder for Republicans to rail against these charges compared with an earlier New York criminal case that many legal analysts had derided as weak.
The federal charging document alleges that Mr Trump not only intentionally possessed classified documents but also boastfully showed them off to visitors and aides.
The indictment is built on his own words and actions as recounted to prosecutors by lawyers, close aides and other witnesses, including his professing to respect and know procedures related to the handling of classified information.
The indictment includes 31 counts that pertain to the wilful retention of national defence information. The others relate to alleged conspiracy, obstruction and false statements.
Mr Trump will make his first federal court appearance on Tuesday in Miami.
He was charged alongside valet Walt Nauta, a personal aide whom prosecutors say moved boxes from a storage room to Mr Trump's residence for him to review and later lied to investigators about the movement.
A photograph included in the indictment shows several dozen file boxes stacked in a storage area.
The case adds to deepening legal jeopardy for Mr Trump. In March, he was indicted in New York in a hush money scheme stemming from payouts made to a porn actress during his 2016 campaign, and he faces additional investigations in Washington and Atlanta that also could lead to criminal charges.
But among the various investigations he has faced, the documents case has long been considered the most perilous threat and the one most ripe for prosecution.