A thick, hazardous haze that is disrupting daily life for millions of people across the US and Canada, blotting out skylines and turning skies orange, could last into the weekend.
With weather systems expected to barely budge, the smoky blanket billowing from wildfires in Quebec and Nova Scotia and sending plumes of fine particulate matter as far away as North Carolina and northern Europe should persist into Thursday and possibly the weekend.
That means at least another day of a dystopian-style detour that has chased baseball players from ball parks, actors from Broadway stages, delayed thousands of flights and sparked a resurgence in mask wearing and remote work – all while raising concerns about the health effects of prolonged exposure to such bad air.
The weather system that is driving the great Canadian-American smokeout – a low-pressure system over Maine and Nova Scotia – "will probably be hanging around at least for the next few days", US National Weather Service meteorologist Bryan Ramsey said.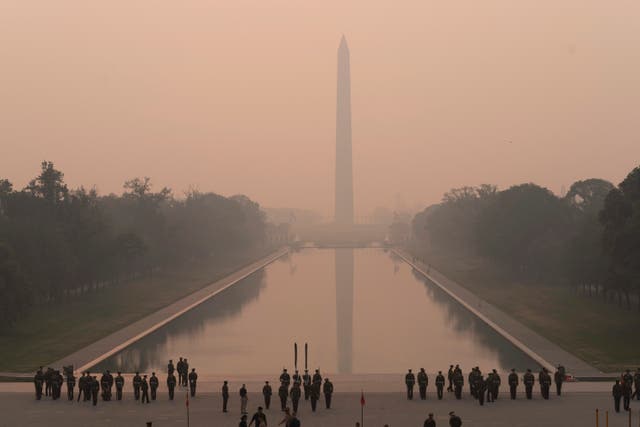 "Conditions are likely to remain unhealthy, at least until the wind direction changes or the fires get put out," Mr Ramsey said.
"Since the fires are raging – they're really large – they're probably going to continue for weeks. But it's really just going to be all about the wind shift."
Across the eastern US, officials warned residents to stay inside and limit or avoid outdoor activities again on Thursday, extending Code Red air quality alerts in some places for a third straight day as forecasts showed winds continuing to push smoke-filled air south.
The smoke has moved over Greenland and Iceland since June 1, and was expected to reach Norway on Thursday, the Norwegian Climate and Environmental Research Institute said, but was not expected to be a health concern.
In Washington DC, the roads were unusually clear as many stayed home and about half the people on the streets wore their pandemic-era masks.
The local DC government cancelled all outdoor activities at public schools and local senior centres, closed all public parks, suspended work by city road construction and paving crews, and delayed waste collections.
The poor air quality also forced the closing of the National Zoo, a popular tourist attraction in the nation's capital.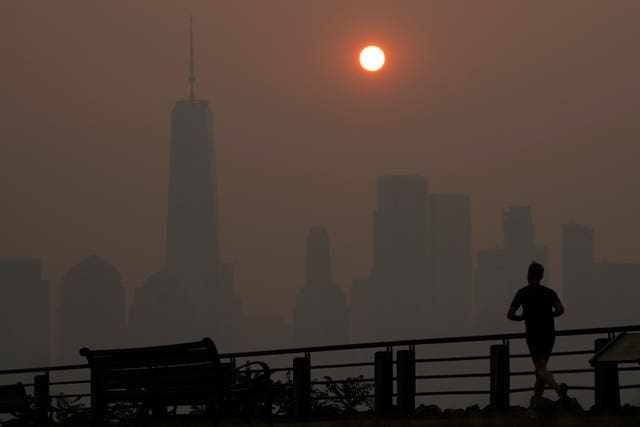 Zoo officials said they were taking the action "for the safety of our animals, our staff and our guests".
In suburban Philadelphia, officials set up an emergency shelter so people living outside can take refuge from the haze.
New York governor Kathy Hochul said at a briefing on Thursday in Albany that "this continues to be a public health crisis", with the worst air quality since at least the 1960s.
"This is not over. We might get a little respite, but I don't want people to let down their guard and to become complacent about this because we have to be prepared for the winds to shift. This is the unknown," Ms Hochul said.
The message seemed to be getting through.
Ms Hochul said state officials have not noticed a spike in people going to accident and emergency, though there were a few hospitals in New York City reporting more patients coming in.
The city's public schools announced they were going to remote instruction on Friday.
More than 400 blazes burning across Canada have left 20,000 people displaced.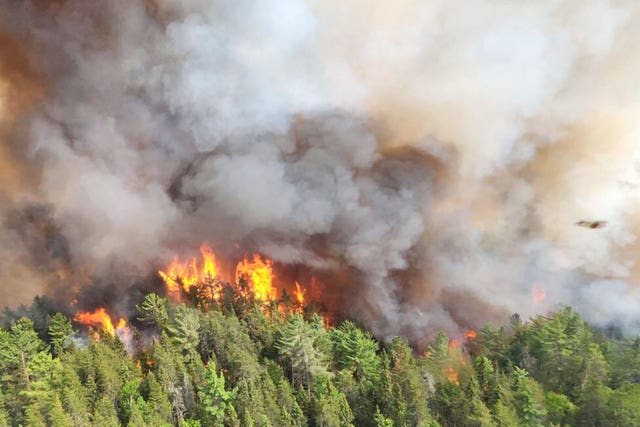 The US has sent more than 600 firefighters and equipment to Canada.
Other countries are also helping.
Canadian Prime Minister Justin Trudeau spoke to President Joe Biden by phone on Wednesday.
Mr Trudeau's office said he thanked Mr Biden for his support and that both leaders "acknowledged the need to work together to address the devastating impacts of climate change".
Canadian officials say this is shaping up to be the country's worst wildfire season ever.
It started early on drier-than-usual ground and accelerated quickly.
Smoke from the blazes has been flowing into the US since last month but intensified with recent fires in Quebec, where about 100 were considered out of control on Wednesday.
"I can taste the air," Dr Ken Strumpf said in a Facebook post from Syracuse, New York, where the sky took on the colourful nickname of the local university: Orange.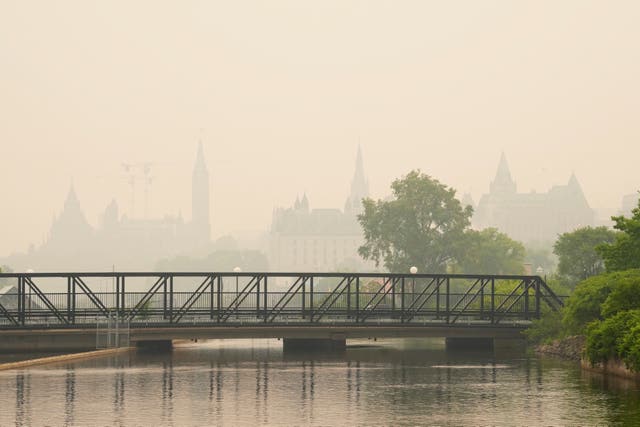 The smoke was so thick in Canada's capital, Ottawa, that office towers just across the Ottawa River were barely visible.
In Toronto, Yili Ma said her hiking group cancelled a planned hike this week, and she was forgoing the restaurant patios that are a beloved summer tradition in a nation known for hard winters.
"I put my mask away for over a year, and now I'm putting on my mask since yesterday," Ms Ma lamented.
Eastern Quebec got some rain on Wednesday, but Montreal-based Environment Canada meteorologist Simon Legault said no significant rain is expected for days in the remote areas of central Quebec where the wildfires are more intense.
In the US, federal officials delayed some flights bound on Thursday morning for New York's LaGuardia Airport, Newark, New Jersey, and Philadelphia because smoke was limiting visibility.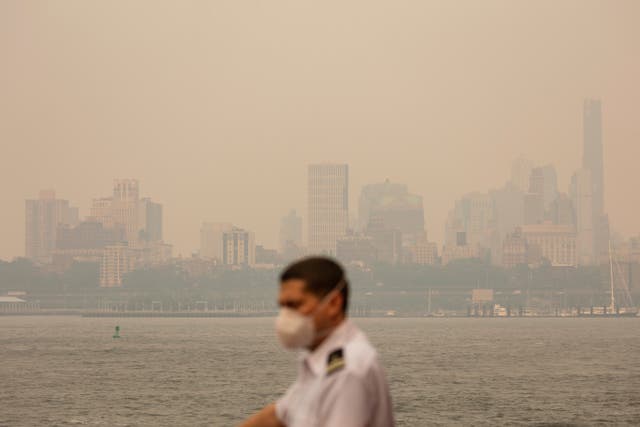 The Federal Aviation Administration said in a statement it is likely it will need to take steps to manage the flow of air traffic into Washington, DC, and Charlotte, North Carolina, as well.
Major League Baseball's New York Yankees and Philadelphia Phillies had their games postponed.
On Broadway, Hamilton and Camelot cancelled Wednesday performances and Prima Facie star Jodie Comer left a matinee after 10 minutes because of difficulty breathing.
The show restarted with an understudy, show publicists said.
It was not to be at Central Park's outdoor stage, either.
Shakespeare in the Park cancelled its Thursday and Friday performances of Hamlet, saying 'tis not nobler in the mind to suffer the slings and arrows of wretched air.