Tornadoes have torn through parts of the American South and Mid West, killing at least 10 people, shredding homes and shopping centres and collapsed the roof of a theatre during a concert.
Emergency responders across the region counted the dead and surveyed the damage on Saturday morning after tornadoes touched down into the night, part of a sprawling storm system that also brought wildfires to the southern Plains and blizzard conditions to the Upper Mid West.
The dead included four in the small town of Wynne, Arkansas, Cross County Coroner Eli Long told KAIT-TV. Other deaths were reported in Alabama, Illinois, Indiana and the Little Rock area of Arkansas.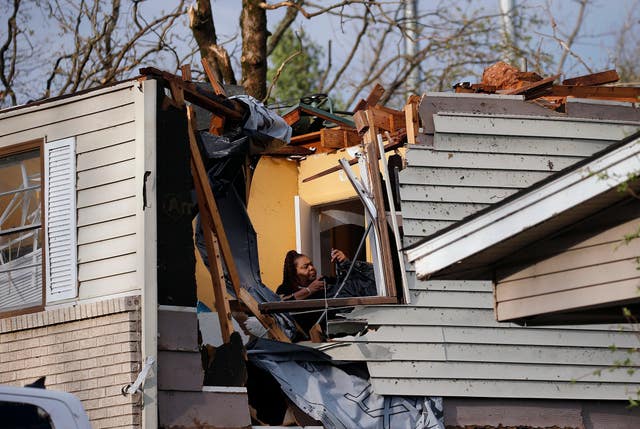 Wynne City councillor Lisa Powell Carter said the town about 50 miles west of Memphis, Tennessee, was without power and roads were full of debris.
The storms also killed three people in Sullivan County, Indiana, emergency management director Jim Pirtle said in an email. Some residents were missing in the county seat of Sullivan, near the Illinois border about 95 miles south west of Indianapolis.
At least one person was killed and more than two dozen hurt, some critically, in the Little Rock area, authorities said.
In Belvidere, Illinois, the roof of the Apollo Theatre collapsed during a tornado, killing one person and injuring 28.
The venue's Facebook page said the bands scheduled to perform were Morbid Angel, Crypta, Skeletal Remains and Revocation.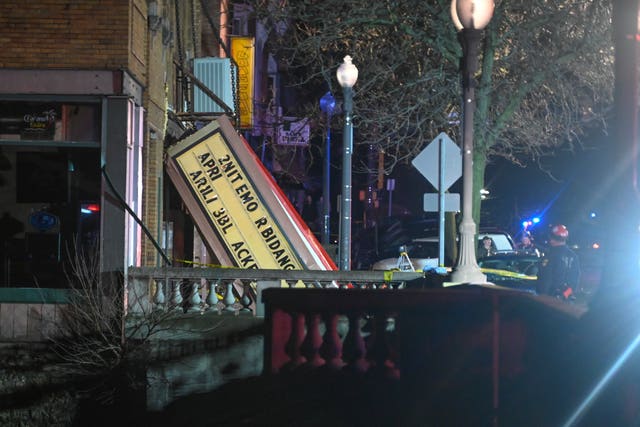 Fire Chief Shawn Schadle said 260 people were in the venue. Responders also rescued someone from a lift and had to deal with downed power lines outside the theatre.
Police Chief Shane Woody described the scene after the collapse as "chaos, absolute chaos".
A tornado also killed a woman and critically injured three other people in Madison County, Alabama, emergency services worker Don Webster told WAFF-TV.
The tornado in Little Rock tore first through neighbourhoods in the western part of the Arkansas capital and shredded a small shopping centre. It then crossed the Arkansas River into North Little Rock and surrounding cities, where widespread damage was reported to homes, businesses and vehicles.
In the evening, officials in Pulaski County announced a confirmed fatality in North Little Rock.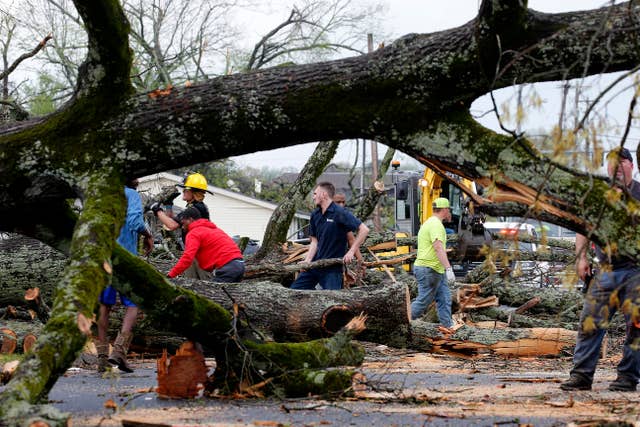 Governor Sarah Huckabee Sanders activated 100 members of the National Guard to help local authorities respond throughout the state.
The police department in Covington said on Facebook that the west Tennessee city was impassable after power lines and trees fell on roads when the storm passed through on Friday evening.
Authorities in Tipton County, north of Memphis, said a tornado appeared to have touched down near the middle school in Covington and in other locations in the rural county.
Tipton County Sheriff Shannon Beasley said on Facebook that homes and structures were severely damaged.
Tornadoes also caused sporadic damage in eastern Iowa. One veered just west of Iowa City, with video showing toppled power poles and roofs ripped off an apartment building in the suburb of Coralville and significantly damaged homes in the city of Hills.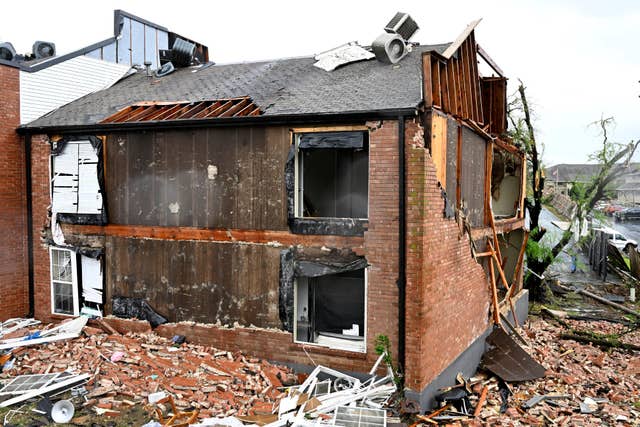 Nearly 90,000 customers in Arkansas lost power, according to poweroutage.us, which tracks outages. Outages were also reported in Iowa, Missouri, Tennessee, Wisconsin, Indiana and Texas.
In Illinois, Ben Wagner, chief radar operator for Woodford County Emergency Management Agency, said hail broke windows on cars and buildings in the area of Roanoke, north east of Peoria. More than 109,000 customers had lost power in the state on Friday night.
There were more confirmed twisters in Iowa, wind-whipped grass fires in Oklahoma, and blizzard conditions in the Upper Mid West as the storm system threatened a broad swath of the country home to 85 million people.
Fire crews battled several blazes near El Dorado, Kansas, and some residents were asked to evacuate, including about 250 primary school children who were moved to a high school.