Five Labour mayors across UK join forces to urge Sunak to stay on track with HS2
Mayor of London Sadiq Khan and his four fellow Labour leaders say they have been 'inundated' with concerns about the Government's trajectory.
Five Labour mayors have warned that failure to deliver in full on HS2 would "leave swathes of the North with Victorian transport infrastructure that is unfit for purpose".
Labour mayors Sadiq Khan, Andy Burnham, Tracy Brabin, Oliver Coppard and Steve Rotheram gathered in Leeds on Wednesday to issue a joint plea to the Prime Minister not to cut HS2 further.
Ahead of the meeting, they issued a shared statement to express dismay at the prospect of the UK Government scrapping the rail project's northern leg.
The joint statement revealed the five mayors have been "inundated" with concerns from constituents about the potential "economic damage that will result from any decision not to proceed with HS2 and Northern Powerhouse Rail (NPR) in full".
The statement said: "Investment in transport infrastructure is a huge driver of economic growth – creating jobs, increasing productivity and opening up new business opportunities. HS2 and NPR will deliver this right across our regions.
"This government has said repeatedly that it is committed to levelling up in the Midlands and North. Failure to deliver HS2 and NPR will leave swathes of the North with Victorian transport infrastructure that is unfit for purpose and cause huge economic damage in London and the South, where construction of the line has already begun."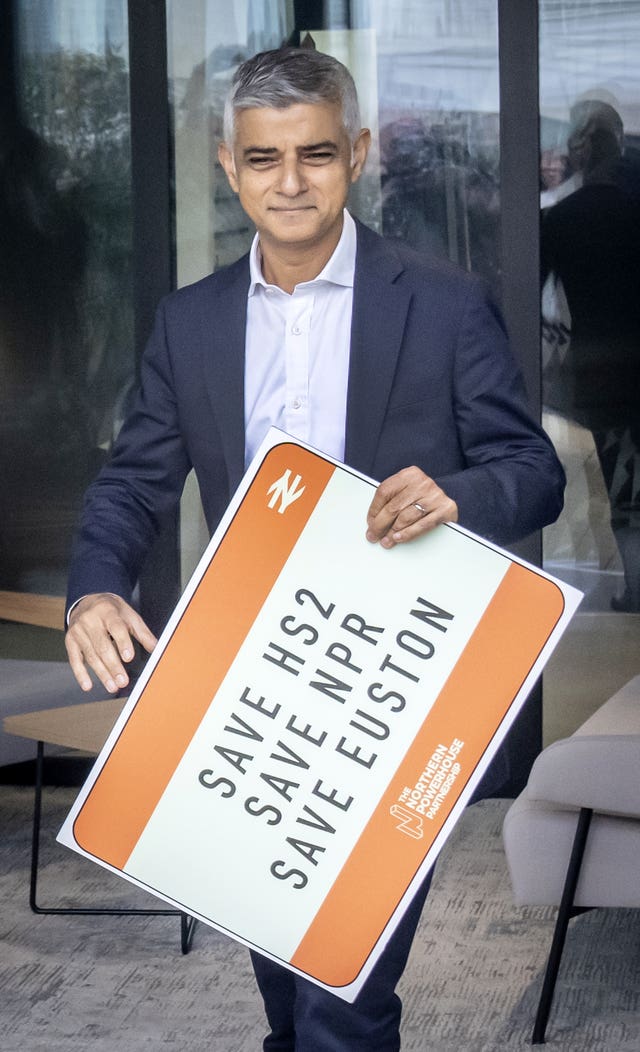 Mr Khan, the Mayor of London, said that the Government "has to" listen to the concerns of local mayors.
"Not just what we're saying as cross-party mayors from across the country, but business leaders, communities and others as well," he told Sky News.
The meeting came as ministers continue to face questions about the fate of the high-profile and expensive project, amid a political backlash over reports the Government is weighing axing the Birmingham-Manchester leg of HS2 amid soaring costs.
Culture Secretary Lucy Frazer insisted on Wednesday that Rishi Sunak and Chancellor Jeremy Hunt would "listen to a wide variety of voices" on the issue.
The five mayors have urged the Northern Powerhouse Rail project to be delivered in full to ensure "not only North-South but West-East connectivity between Liverpool and Hull, via Manchester Airport", which they say must be a non-negotiable.
The five-way statement added: "The UK does not need a new line that only goes from Birmingham to Old Oak Common, which is six miles from central London.
"This does nothing for the North of England. The full Y-shaped HS2 plan was designed to deliver economic benefit right across the country not only between the North and London but between Leeds, Sheffield, Manchester and Birmingham. All of these gains look set to be lost if media reports this week are to be believed."
On top of the meeting with the northern mayors, Mr Khan is also expected to speak at a Transport for the North board meeting about the benefits of the project for London and the South East.
Mr Sunak may now put back announcing a decision until the autumn statement in November.
Some have been concerned that details coming this week would cast a shadow over the Conservatives' party conference, which starts on Sunday in Manchester.
There have been indications the Prime Minister could announce a string of regional transport improvements in an effort to limit the political fallout, including bringing forward Northern Powerhouse Rail between Manchester and Leeds.
Downing Street has said there is precedent to delaying aspects of the high-speed rail scheme because of "affordability pressures", pointing to high inflation.
In October, the Government estimated the cost of the Manchester leg at up to £71 billion.
In June, it reported that £22.5 billion had already been spent on the initial leg to Birmingham, and approximately £2.3 billion had been allocated to subsequent phases, encompassing expenses related to both labour and land.
All these figures were calculated using 2019 prices, and they would have substantially increased due to inflation, reflecting rising costs of materials and wages.