UK says it is 'not practical' to give Ukraine British fighter jets
Downing Street said it would take too long to train Kyiv's forces on the 'extremely sophisticated' warplanes.
Rishi Sunak believes it is "not practical" to provide Ukraine with British fighter jets but he has pledged to accelerate support to enable "decisive gains" against Russian invaders.
Downing Street said training Volodymyr Zelensky's forces on "extremely sophisticated" Typhoons and F-35s would take too long, but it does not oppose allies sending their own jets.
After completing a review, the Prime Minister told his Cabinet on Tuesday that a "prolonged stalemate" in the war in Ukraine "would only benefit Russia" and its President Vladimir Putin, according to No 10.
He said they must seize an "opportunity to accelerate UK support" to give Ukraine "the best chance of success and make the most of the window of opportunity where Russian forces were on the back foot".
Meanwhile, former prime minister Boris Johnson is in Washington DC to make the case for sustaining support to Ukraine.
Mr Sunak's predecessor-but-one said in a statement: "My mission is to demonstrate that Ukraine will win – and that there is no conceivable case for delay in further supporting the Ukrainians to win this year.
"We should have no fear of escalation when it comes to the provision of weaponary (sic)."
In Tuesday's Cabinet meeting, Defence Secretary Ben Wallace shared US estimates that 180,000 Russian troops have been killed or injured in the year-long invasion. That is compared to around 15,000 killed during the decade-long war in Afghanistan.
The Kremlin has also lost two-thirds of its tanks, Mr Wallace said, according to Downing Street's account of the Cabinet meeting.
A national security official said Russian forces are suffering from equipment and munition shortages and have seen "significant attrition among some of their most capable fighting forces and officer corps".
Other Western officials were more cautious in their casualty estimates, suggesting both sides have lost more than 100,000 killed and wounded – with the Russians sustaining a higher proportion of fatalities.
"The Russians have been attacking and that means they have suffered more fatalities than the Ukrainians have," one official said.
The Prime Minister said his new strategy will be accompanied by "greater diplomatic efforts and planning work" with Ukraine "on how to rebuild" once the conflict is over.
But it does not include sending the advanced fighter jets Kyiv is demanding, which No 10 said was not discussed at Cabinet.
Mr Sunak's official spokesman said: "The UK's Typhoon and F-35 fighter jets are extremely sophisticated and take months to learn how to fly. Given that, we believe it is not practical to send those jets into Ukraine."
He said the "length of time" in training is the limiting factor rather than opposition to supplying Ukraine with the lethal weaponry – and he did not rule out support for allies to supply jets.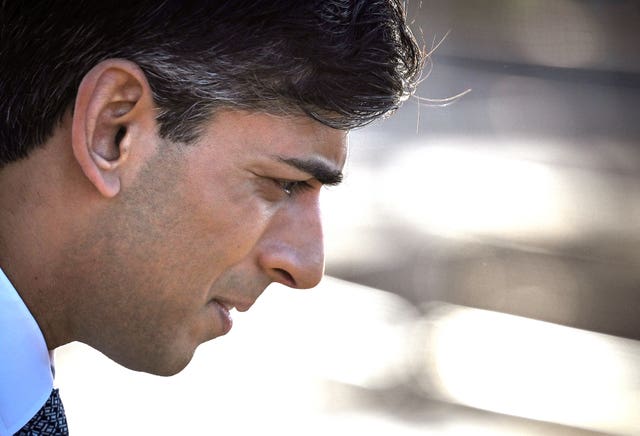 US President Joe Biden said on Monday he is not transferring warplanes to Kyiv despite the requests.
After undertaking what was dubbed a Goldman Sachs-style review, Mr Sunak decided a "simple war of attrition" would not benefit Ukraine, given Russia's advantage in numbers.
The Prime Minister's spokesman said he believes that "we, working with allies, should accelerate our support to help maximise the opportunity we think there is this year to ensure Ukraine can make decisive gains in this ongoing conflict".
He said the Challenger 2 tanks Britain is sending Ukraine will arrive "fairly shortly".