Union workers protesting against an anti-strike bill called it a "horrific attack" on workers' rights and said the Government is acting like "a dictator".
Organising themselves through the campaign Enough is Enough, members of various unions gathered outside Business Secretary Grant Shapps's constituency office in Welwyn Garden City on Saturday.
They want the Government to scrap its plans to pass legislation that would restrict their right to strike by imposing minimum service levels.
Mr Shapps introduced the Strikes (Minimum Service Levels) Bill to Parliament last week, which is due to be debated on Monday during its second reading.
James Broach, a university teacher, UCU member and Labour councillor, said: "I think it's important to stand up for the frontline workers who have been such a lifeline to this country for many years and are getting completely shafted by the Government in terms of any pay offers and deals and they deserve so much more.
"And the fact that you've got new legislation coming to Parliament very soon saying if you go on strike you could be at risk of losing your job is horrendous, it's not a matter that is becoming of a country like the UK.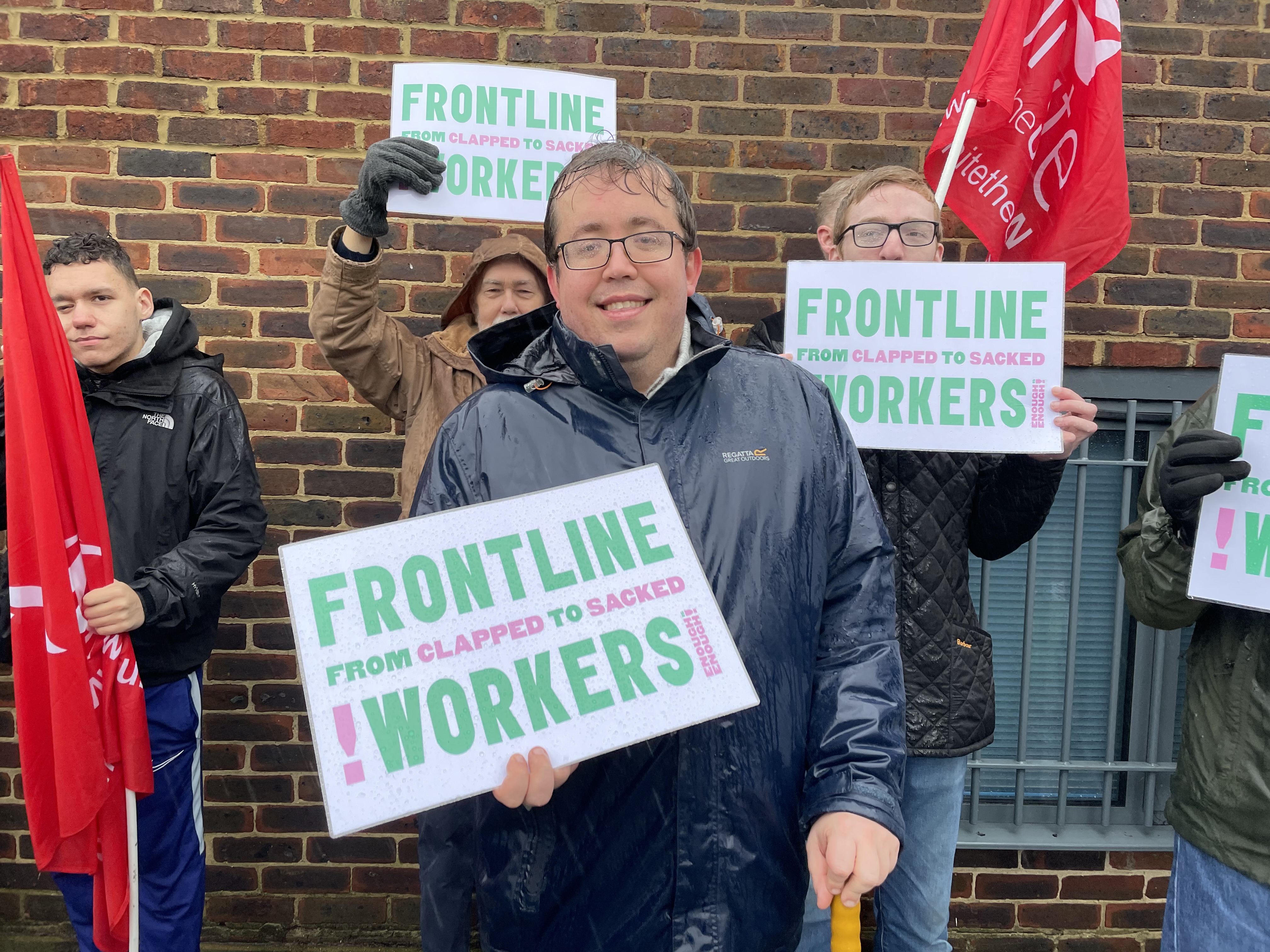 "To go from losing a day's pay to potentially losing your livelihood, that's a horrific attack on workers' rights to stand up and fight for themselves.
"The fact that the Government thinks they can legislate their way out of it and just say, 'We'll sack you if you don't go and do your job', and some of these rules around these minimum service levels, which I suspect will be set at a conveniently high level to stop as many workers striking as possible, it sickens me.
"It's the behaviour you would expect from a dictator. If someone like Putin came up with that kind of legislation, you wouldn't be surprised necessarily to see it coming out of that kind of regime, but for it to come out of a British Prime Minister's mouth, I'm shocked."
Members of Enough is Enough have also organised protests outside the offices of Conservative MPs Chris Green in Bolton, Ian Levy in Blyth Valley and Damien Moore in Southport.
A larger protest has been organised outside Parliament on Monday and a petition opposing the new legislation has gained nearly 160,000 signatures.
Labour has said it would scrap the Strikes Bill when it next comes to power.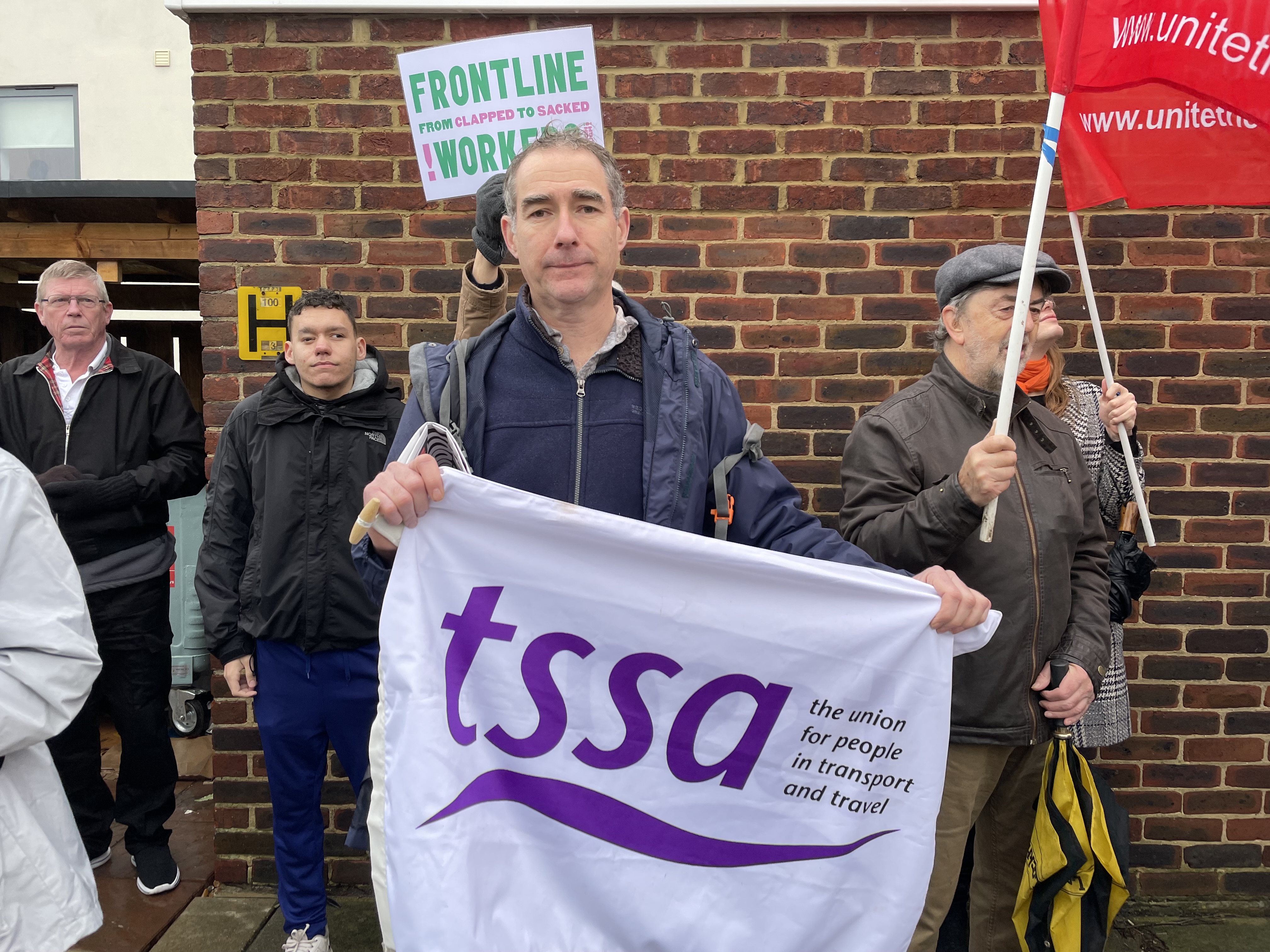 Dave Barnes, who works for Network Rail and is a national rep for TSSA, said unions could be sued and workers sacked if they fail to uphold minimum service levels.
He said: "The minimum service level will be a specification which is not yet declared and so there could be any scope, and what it would mean would be that the employer would be obligated to determine who needs to work in order to cover that minimum service level and then would require named individuals to then be mandated that they have to come into work on a strike day.
"So you could vote for industrial action that you want to withdraw your labour and your employer will say that you, not your colleague but you, have to come into work to break that strike and your union will be compelled to make sure you do come into work and break that strike."
He also said that companies already use non-union staff to maintain services on strike days, adding: "Network Rail for instance was making a payment of 200% of your normal salary, plus a day off in lieu for contingent workers to cover for the roles of strikers.
"So when they're saying they've got no money for a decent pay rise, they have no limit of money that they'll make available for contingent workers to cover a strike.
"We don't believe it's about money, it's not about efficiency, not about looking after the public services, it's about withdrawing the right to strike."
A Government spokesperson said: "We must keep the public safe, which is why we are introducing minimum service and safety levels across a range of sectors to ensure that lives and livelihoods are not lost."