Driving with a dog comes with its own set of requirements. There's safety, of course, but also the need to try and keep as much of the grubbiness that comes with a four-legged friend away from the soft, expensive parts of a car's interior.
Now my usual method is to deploy as many blankets as possible across the back seats and central armrest in an effort to make things both as comfortable and protected as possible. Thankfully our dog doesn't shed, but that doesn't stop her from trying to transfer as much of the beach into whichever car I'm in at the time.
So when Skoda asked if I wanted to give a new range of dog-friendly accessories for its Enyaq a crack, I couldn't say no. It's a multi-faceted approach, too, with a clever 'hammock' for the rear seats, a chunky harness-mounted seatbelt, a dog guard for the back and rubber boot mat. Our dog sits in the back seat – she likes to be part of the action – so it's the hammock and harness that'd be the most-used part of the kit.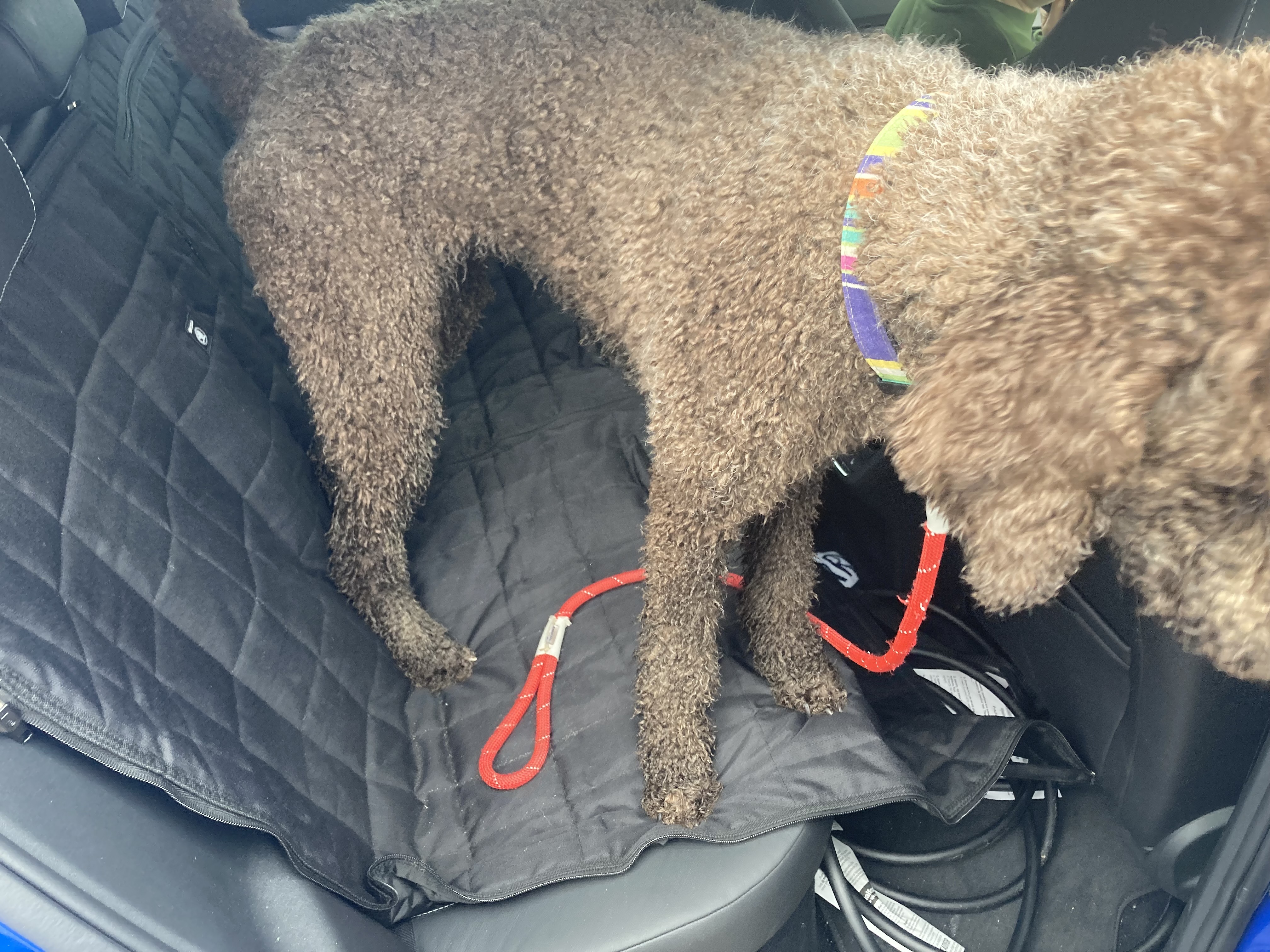 It's a nicely robust 'hammock' with a non-slip type material which both means the dog has got a bit of purchase but also ensures that all of that grit, sand and detritus doesn't shift onto other areas of the carpet. I usually let her jump in first (as you can see from the photos) and then get her buckled up. I should add that you can attach the front of the hammock to the front, creating a full 'sling' in the process, but I just prefer to have it protecting the rear seats and leaving the view out of the front uninterrupted.
The Enyaq's actually ideal for her as it's got plenty of space in the back and a decent amount of headroom. Lavish, I know, but there are also heated seats in the back of the car which, I imagine, must be quite nice if you've spent a morning diving through waves.
The rubber boot mat is also excellent as you don't have to worry about putting wellies or boots on it – you can always just brush it out when you're done or hose it down. To be honest, even without a dog I'd opt for the rubber boot covering as it's just so useful and means you don't have to be afraid about using a boot properly. I'm always a little worried about marking an uncovered load area, so with this, there's zero drama.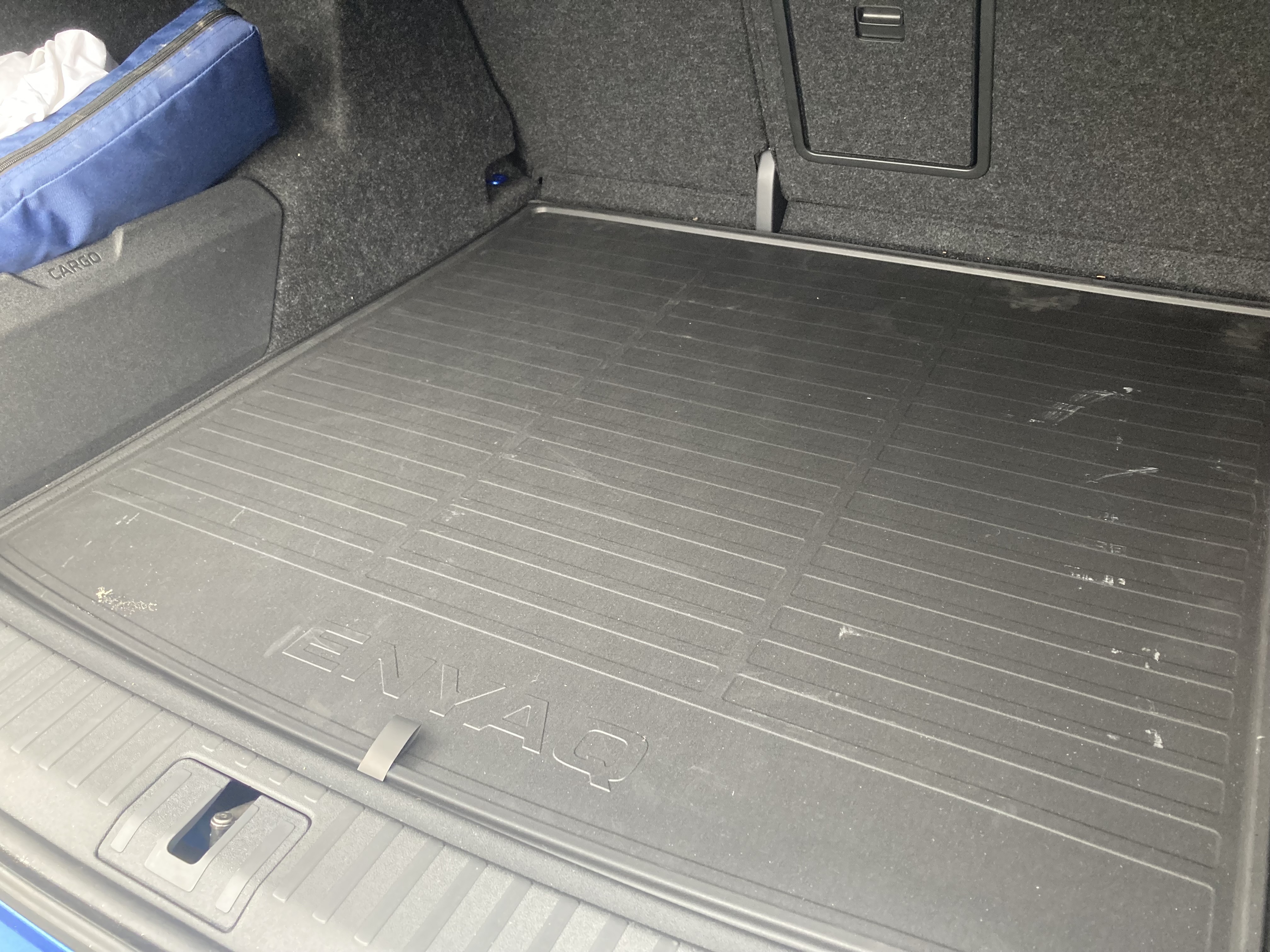 I've also noticed that she seems a little calmer in an EV. It might all be a bit of a placebo – or I've got myself into thinking that she's quieter in the Enyaq – but it seems as though the absence of any kind of engine or exhaust noise means she's not quite as on edge as usual. She's not the best of passengers, but an EV seems to make things a bit better.
Outside of dog transportation duties, the Enyaq has had a really busy couple of weeks. It's been up and down to the airport a number of times and I'm still really confused as to the lack of charging provision around Heathrow. It's one of the world's biggest travel hubs and yet has next to no chargers. In my mind, a big bank of slow chargers at each parking area would be ideal, yet there's nothing.
Even a recent trip to Purple Parking found that all of the BP Pulse charge points installed nearby were completely dead. I ended up parking, flying to and from my destination, and then spending an extra 30 minutes after landing adding some charge to my car. It feels like airport parking should be primed for giving people slow, but useful charges while they're away, but there seems to be zero interest in this.
That said, when I'm not ranting about airport charging provision, the Enyaq is still soldiering on as an excellent daily driver. I've totted up some of my charging expenses and a month's worth of top-ups at a local slow charger have come in at around £70. Considering each full charge costs around £13 – and gets about 240 miles – I'd say that's pretty decent value. I'm also finding that the app is far more reliable than it used to be and lets me easily activate the climate control and heated seats remotely without any issue.
I've still got a little bit of time left with the Enyaq, so I'm looking forward to seeing how its range improves as the weather – hopefully – warms up.