What is it?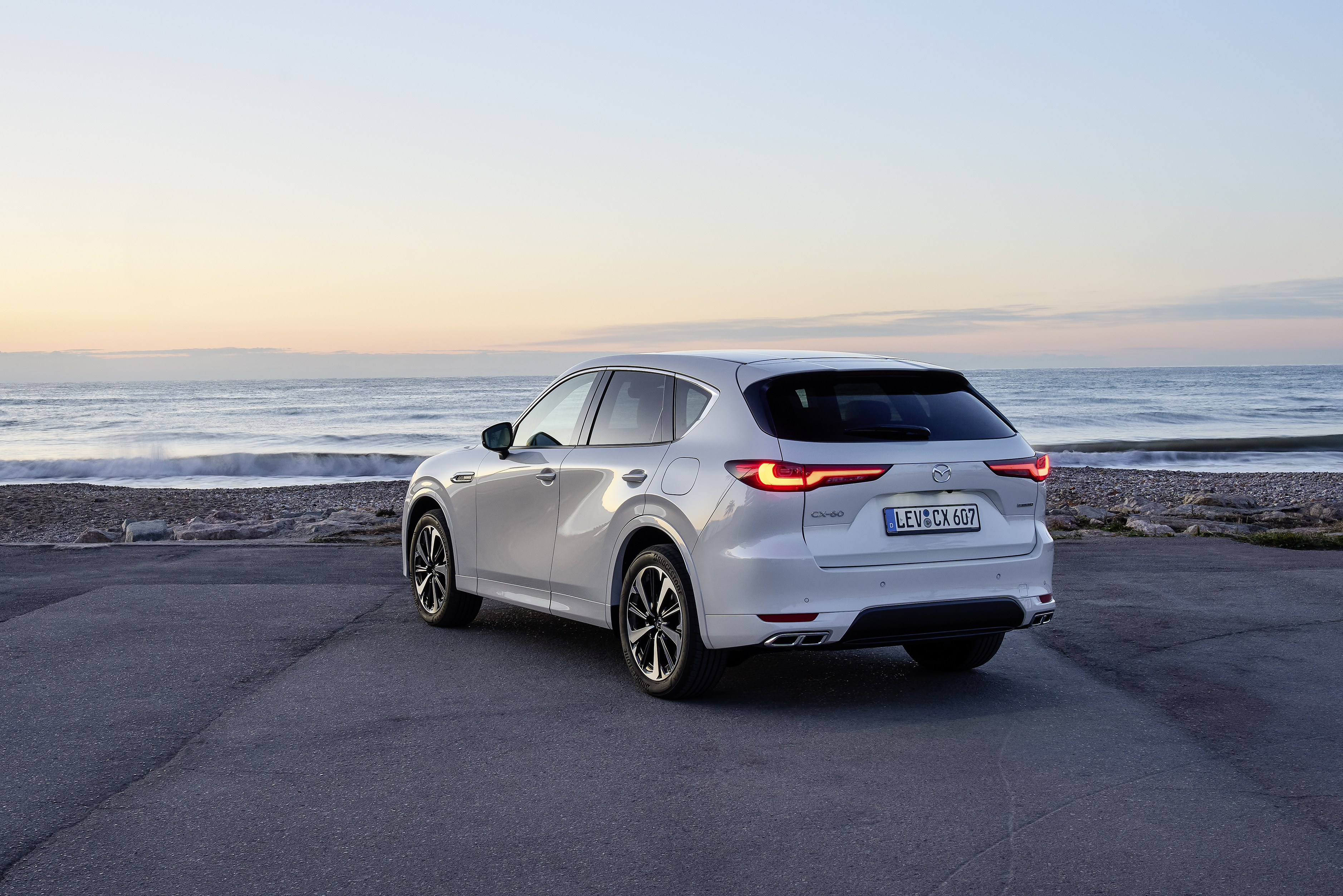 There's no hiding the fact that sales of new diesel cars have truly fallen off a cliff in recent years. Not helped by Volkswagen's Dieselgate scandal, and many governments' seemingly anti-diesel policies, models powered by this fuel didn't even make up 10 per cent of UK new car registrations in 2022, and electric has long overtaken it.
Several car firms have already removed diesel entirely from their car line-ups – Renault and Jeep, for example – due to its dwindling popularity. Not Mazda, however, which has gone to the effort of creating a completely new diesel engine for its CX-60. But is it any good, or does it just feel a bit behind the times?
What's new?
The CX-60 was introduced last year as Mazda's new flagship SUV. Debuting with the Japanese firm's plug-in hybrid powertrain, there were high expectations for it but it fell somewhat flat, with its hybrid setup feeling unrefined and having a particularly poor ride.
There's high hope that Mazda can address those issues with its new diesel engine, known as e-Skyactiv-D. At a time when manufacturers are downsizing engines, Mazda has done the absolute opposite – this new engine being a 3.3-litre inline-six unit; far larger in capacity than all its competitors.
What's under the bonnet?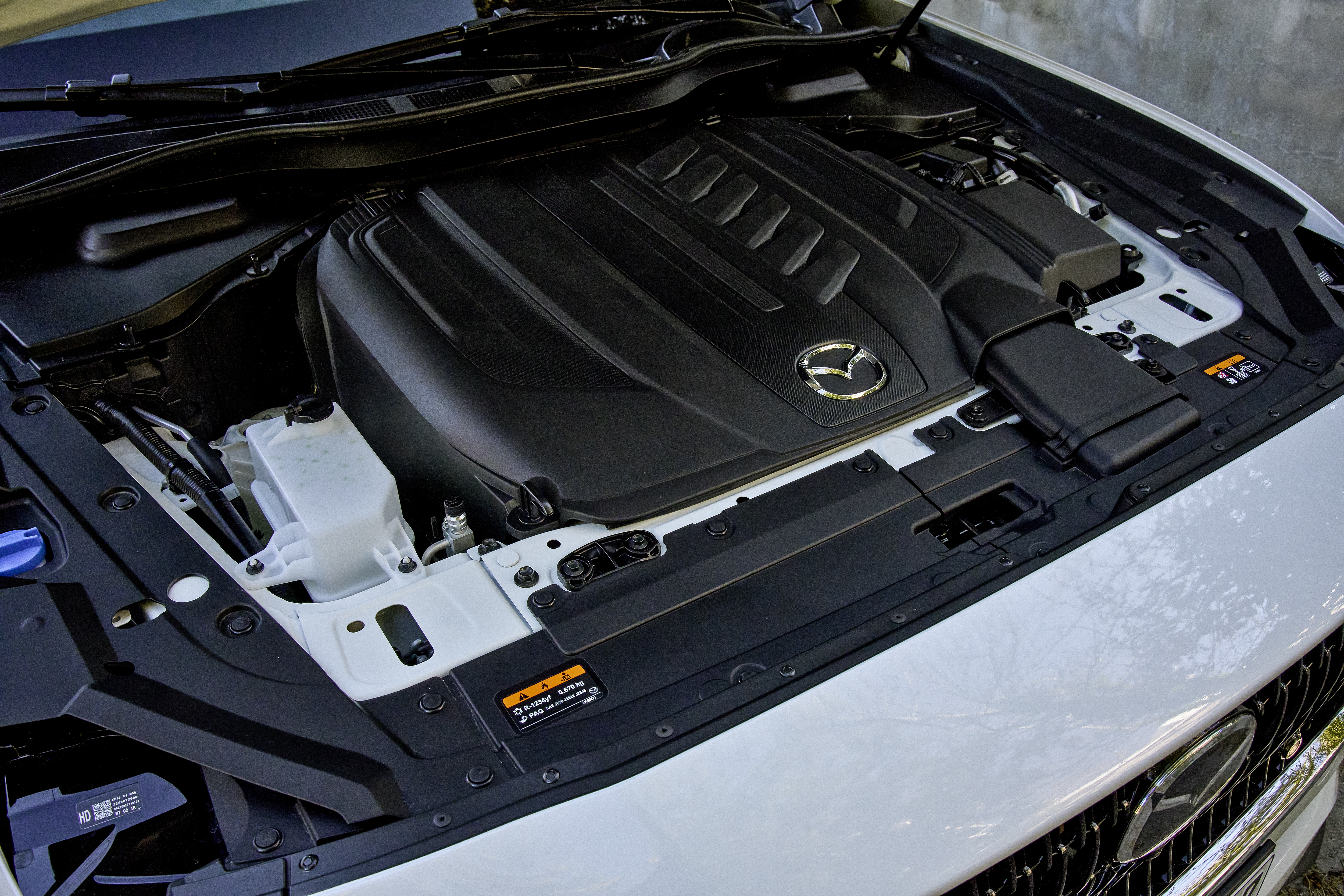 The CX-60 is a rather large car, and that huge bonnet helps to accommodate the longitudinally-placed 3.3-litre six-cylinder engine. There will be two power outputs offered – one with 197bhp and 450Nm of torque, with drive sent to the rear wheels, and a 251bhp version offering 550Nm of torque and all-wheel-drive. Both are paired to an eight-speed automatic gearbox too.
Here we're trying the less powerful model, though it's still able to manage 0-60mph in 8.2 seconds and hit a 132mph top speed. For an engine of this size, and in something as big as the CX-60, it's impressively efficient. Mazda claims 56.5mpg and 129g/km CO2 emissions. On our economy-focused test run, we saw 60mpg – an astonishing figure.
What's it like to drive?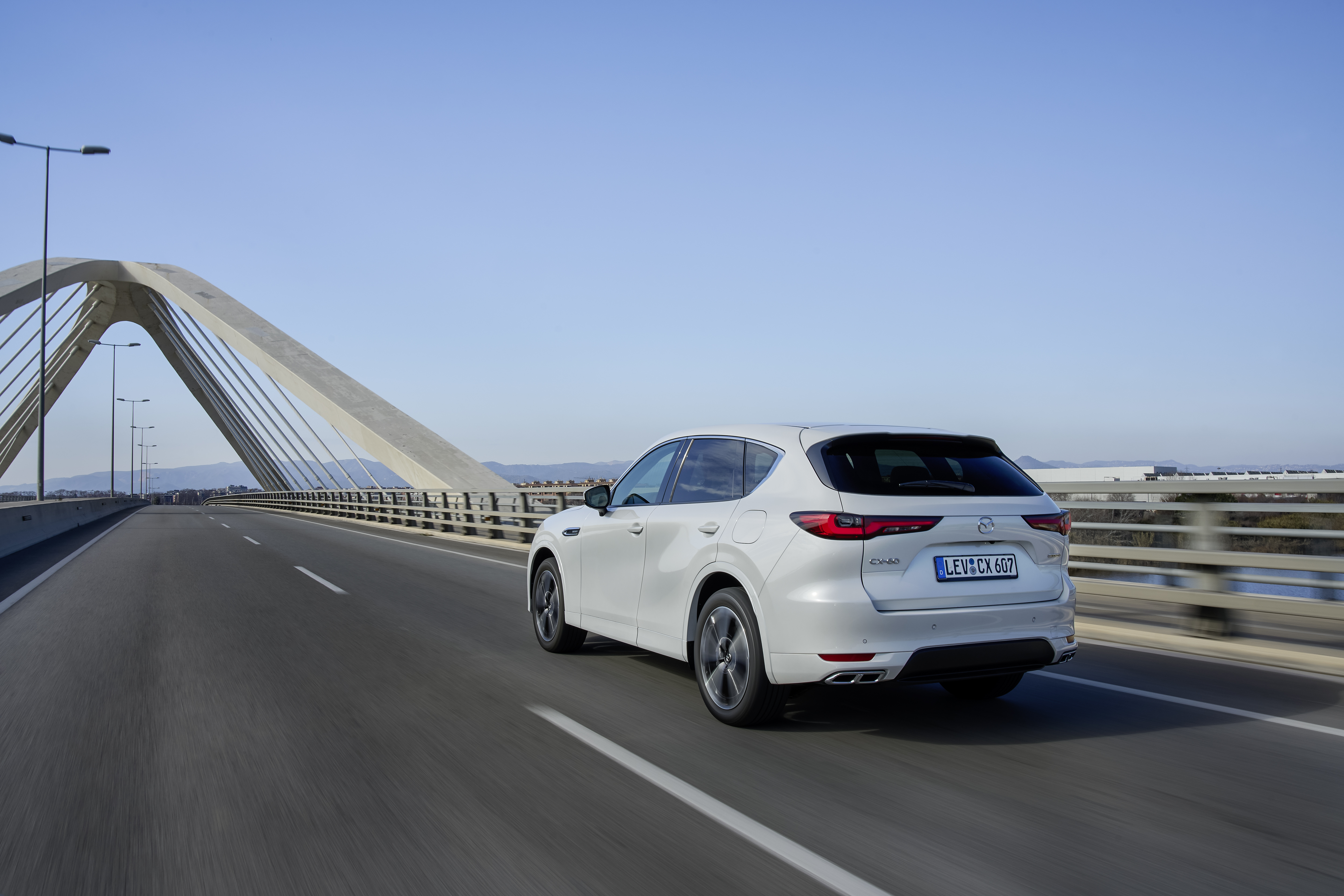 Mazdas are known for being excellent to drive, but the plug-in hybrid left us feeling quite deflated. We're pleased to report things are much more positive with this diesel, with the engine feeling a much better fit, even in this less powerful version. It also offers more than enough pace in day-to-day driving, and is refined and accompanied by a pleasant noise – especially in 'Sport' mode, though some of it is pumped quite convincingly through the speakers.
We'll reserve full judgement until we can try a diesel CX-60 on the UK's potholed roads, but it seems to ride far better than the hybrid, feeling more settled and planted – likely helped by the 150kg weight-saving. We suspect it may still prove a touch firm, at least when compared to rivals like the Audi Q5 and Volvo XC60, however. It also handles well for a large SUV, though it certainly feels its size when driving on narrow roads.
A special mention has to go out to the mild-hybrid system, which is particularly quick to switch the engine off when coasting, and is a key contributor to its fuel efficiency.
How does it look?
Mazda has successfully adapted its design language into its largest car ever sold in Europe, and to our eyes at least the CX-60 is a very smart thing to look at. You've got the brand's trademark front end, where the headlights run into the chrome (or gloss black) housing around the grille, while there are some brilliantly sculpted angles down the side of the CX-60.
There are subtle 'Inline 6' badges on the front wings, as well as a small 'e-Skyactiv D' logo on the rear boot lid. But, unsurprisingly, we're a bit past the days when you'd find a massive 'diesel' badge slapped on the back.
What's it like inside?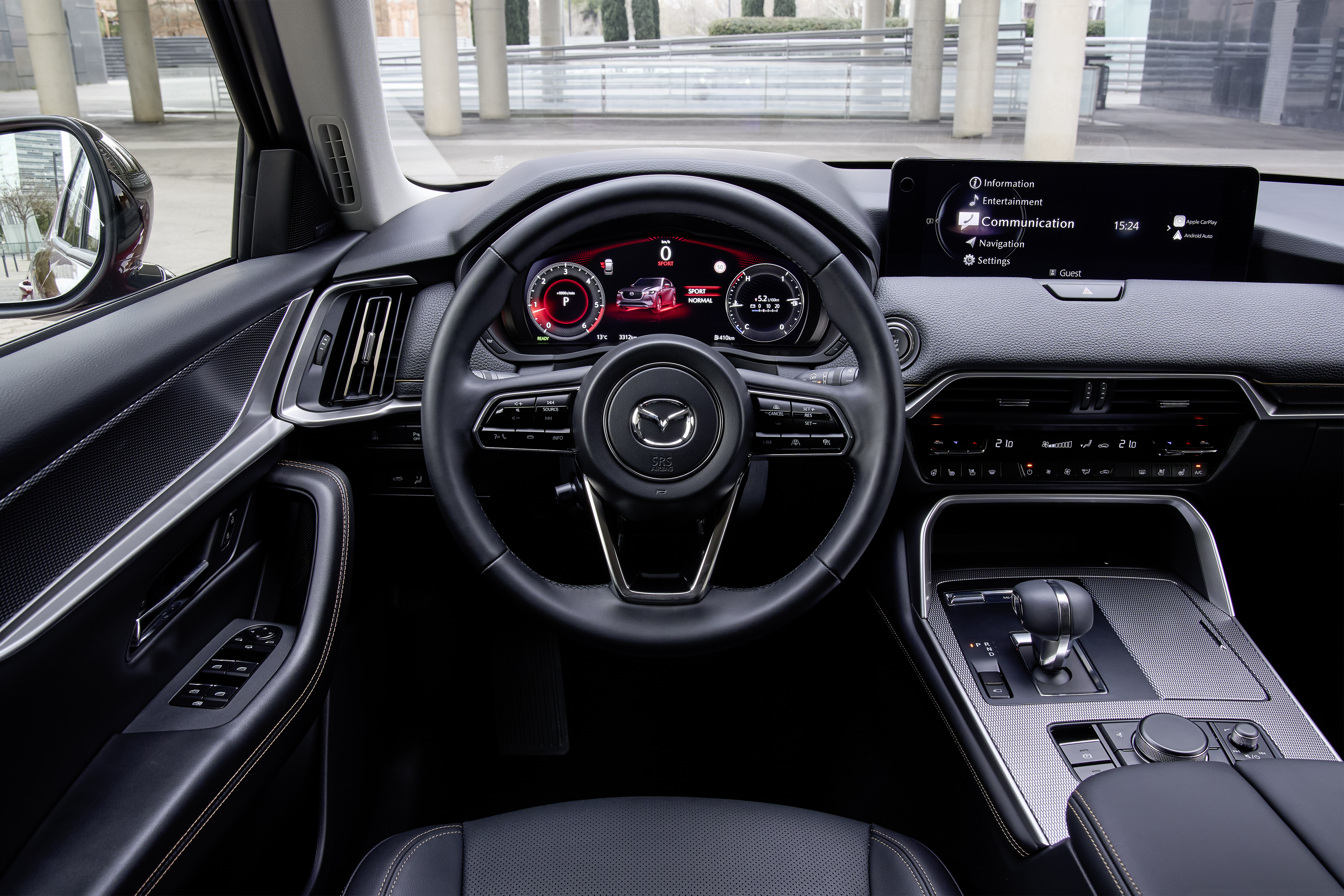 Even on the plug-in hybrid, one area where we couldn't find fault with the CX-60 is its interior. It's the same story here as this Mazda's interior is undoubtedly the firm's best – and that's high praise considering the quality of the firm's cabins in recent years.
There's a large central display controlled by a rotary dial in the middle, and it's a method that's far less distracting and easier to use than wrapping everything up in a touchscreen. The quality and ergonomics throughout are excellent.
In terms of boot space, the CX-60 offers a generous 570 litres, though rear space isn't quite as plentiful as you'd hope for something this size, and in truth doesn't feel much bigger than Mazda's smaller CX-5 in this respect.
What's the spec like?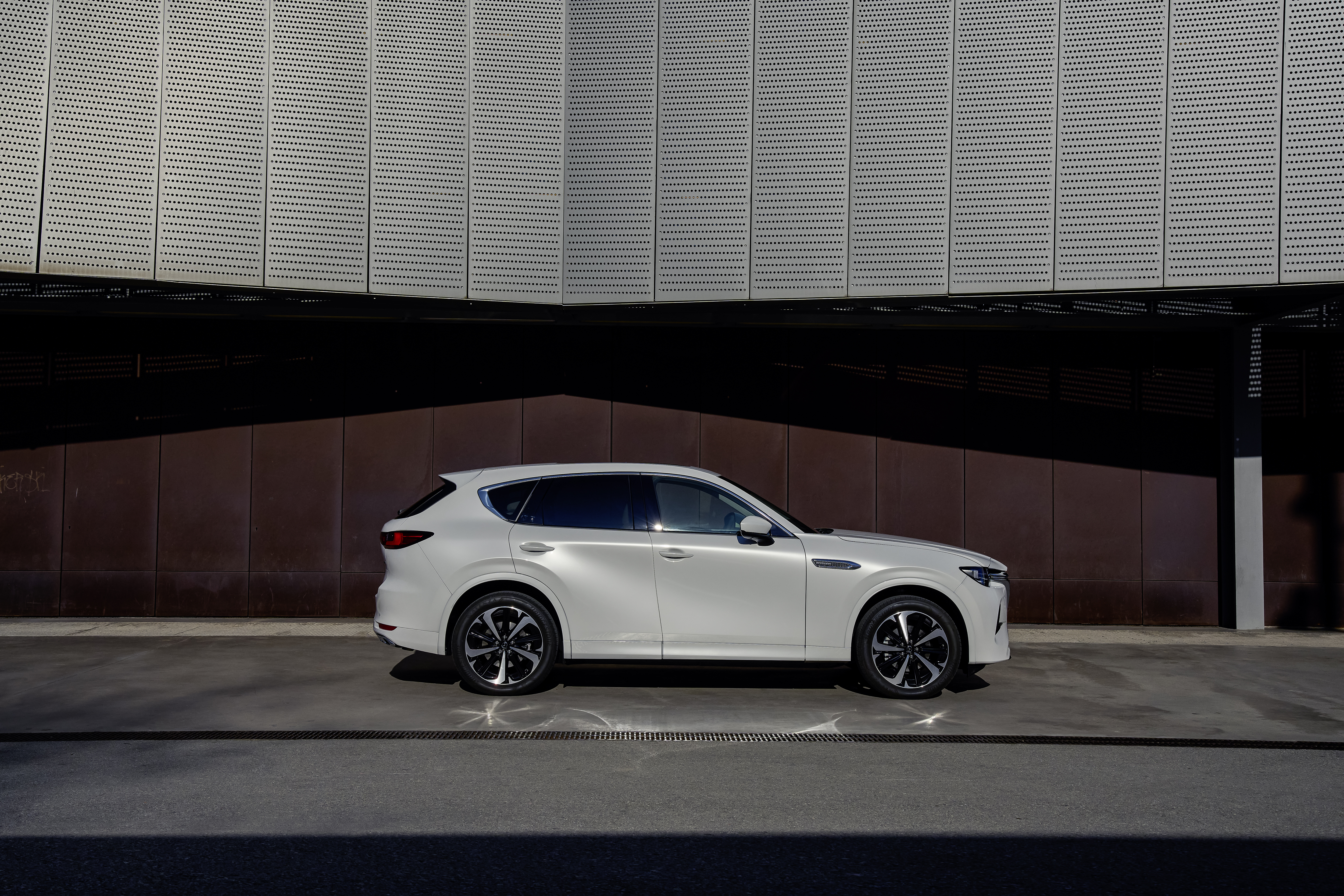 In the interest of honesty, our particular CX-60 test car was a version that won't be sold in the UK, as in the 197bhp version, you're limited to the entry-level Exclusive-Line, rather than the Homura we tried out.
That said, the entry-level trim still gets a lot of equipment, including an electric boot, heated front seats and a 12.3-inch multimedia display with wireless Apple CarPlay and Android Auto. Prices for it start from £42,990, with the more powerful 251bhp version coming in at £45,630. For comparison, the cheapest CX-60 plug-in hybrid comes in at £45,420.
Upgrade to the Homura and it brings gloss black styling, along with ventilated front seats and a 12-speaker Bose sound system, while the Takumi adds a panoramic sunroof and white Nappa leather seats.
Verdict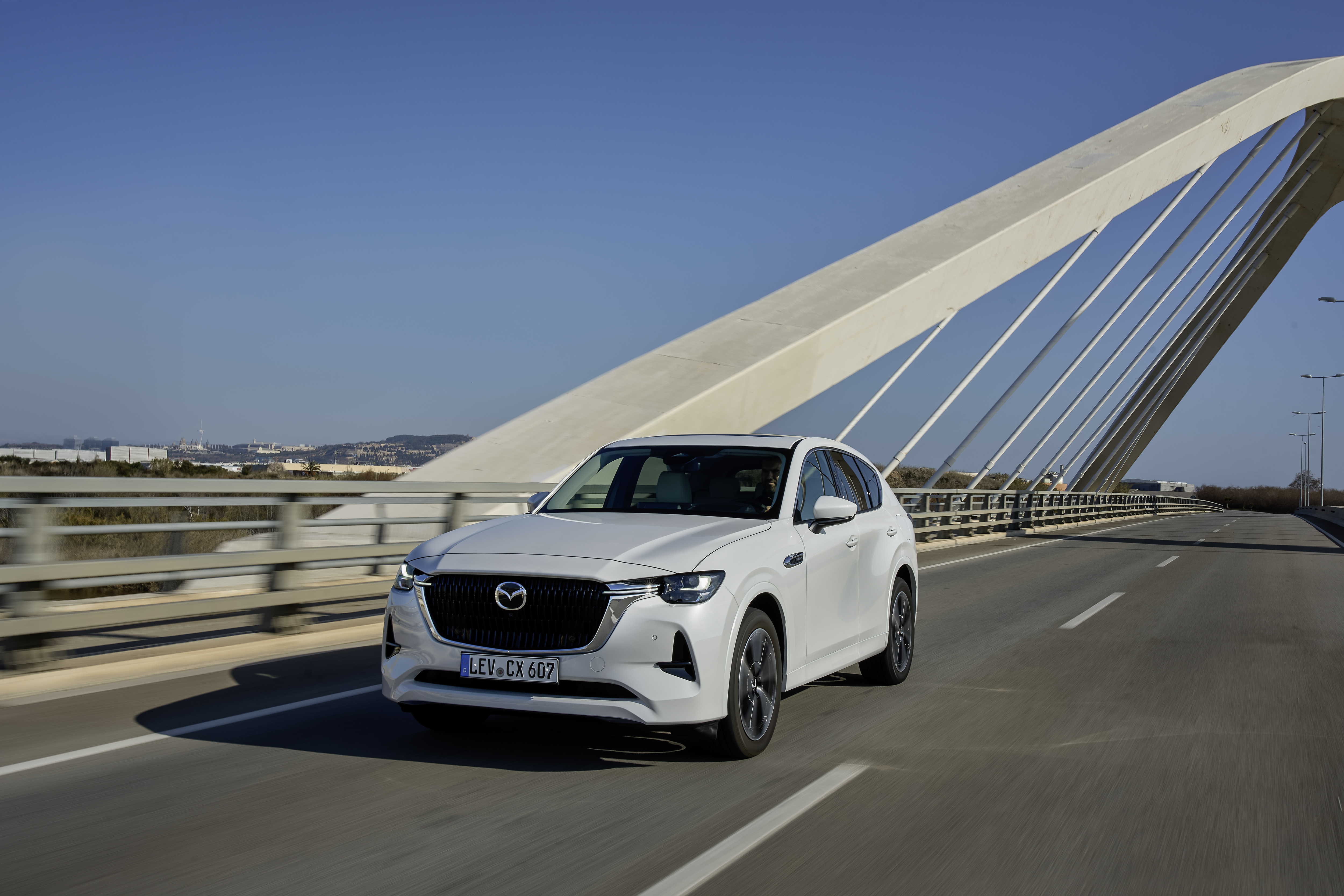 Mazda doesn't follow other brands in the fact it doesn't seem to be committed to full-blown electrification just yet. It might seem a bit behind everyone else at times, but there is the acknowledgment that not everyone is ready for (or wants) a hybrid or EV.
Those such buyers, especially of the large SUV variety, may well be drawn to the CX-60, and they're unlikely to be disappointed. This is a superb new engine that shows there's still life in diesel power, even if it might not be trendy to say so. Offering impressive efficiency, a stunning interior and generous equipment levels, we certainly prefer it to the plug-in hybrid, and just hope the ride won't prove too brittle when we try it back in the UK.