First Drive: Is the Mercedes EQE the electric saloon of the moment?
The EQE is one of the latest electric models to enter the Mercedes range. Jack Evans has been finding out what it's like.
What is it?
>
Mercedes sure isn't hanging around when it comes to its electric vehicles. Things kicked off with the EQC in 2019, but we've soon seen the arrival of the EQS saloon and now this, the EQE. It's effectively the smallest battery-powered saloon that you can get with a three-pronged star on the front, acting as an electric alternative to the ever-popular E-Class.
The EQE is equipped with the same kind of next-generation technology you get in the tip-top EQS, too, but it's smaller and a little more user-friendly as a result. We've been finding out what it's like.
What's new?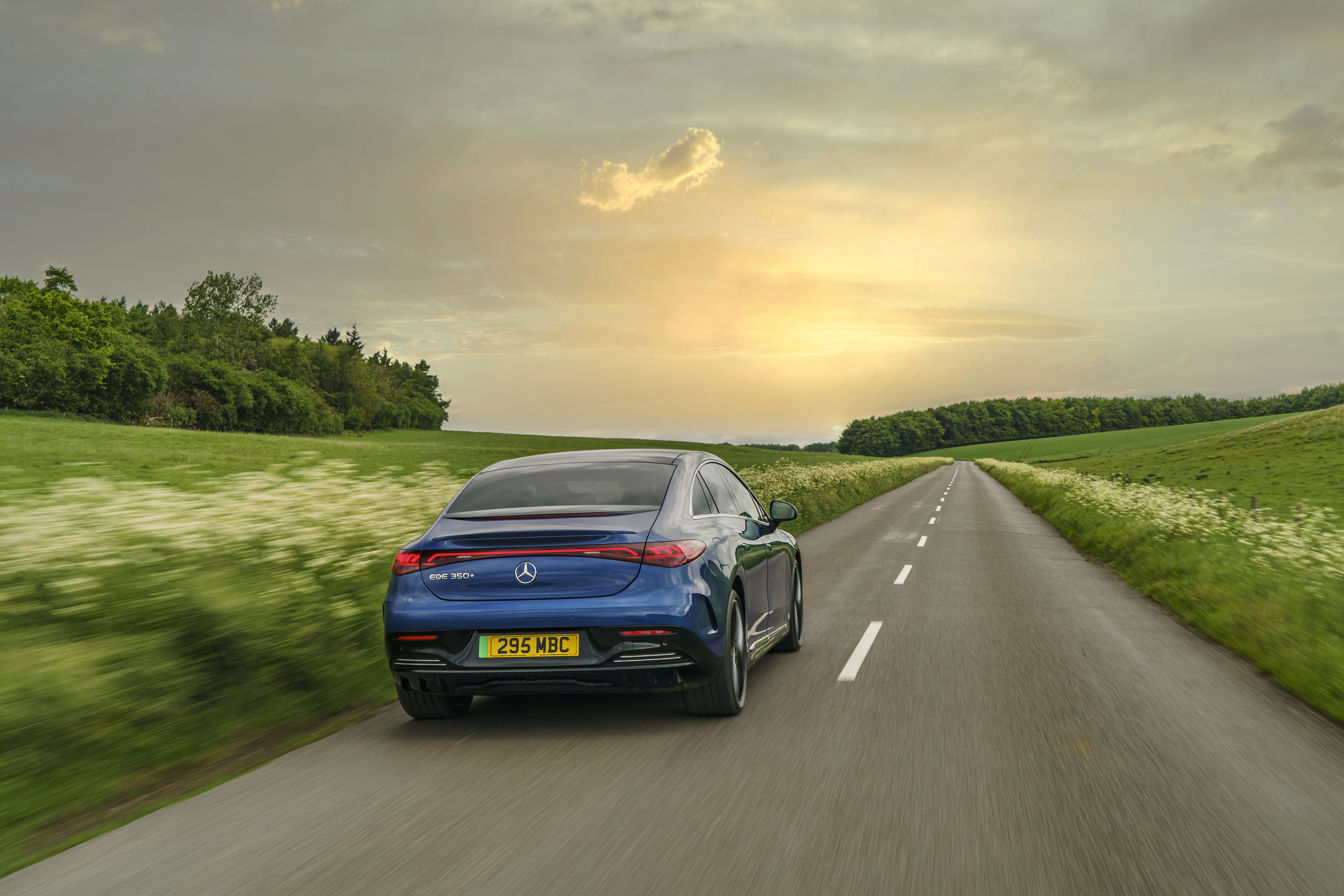 >
From the outside at least, you can see the direction that Mercedes is going. The EQE really is a 'baby' EQS, with curved sections and a very aerodynamically-efficient design overall. But more on that later. Inside, we've got space for five people and, because of the car's flat floor, a little more legroom than you might expect from a car of this size.
It's also kitted out with rapid charging capability so that a 10 to 80 per cent charge can be conducted in as little as 32 minutes when hooked up to a suitably speedy charger.
What's under the bonnet?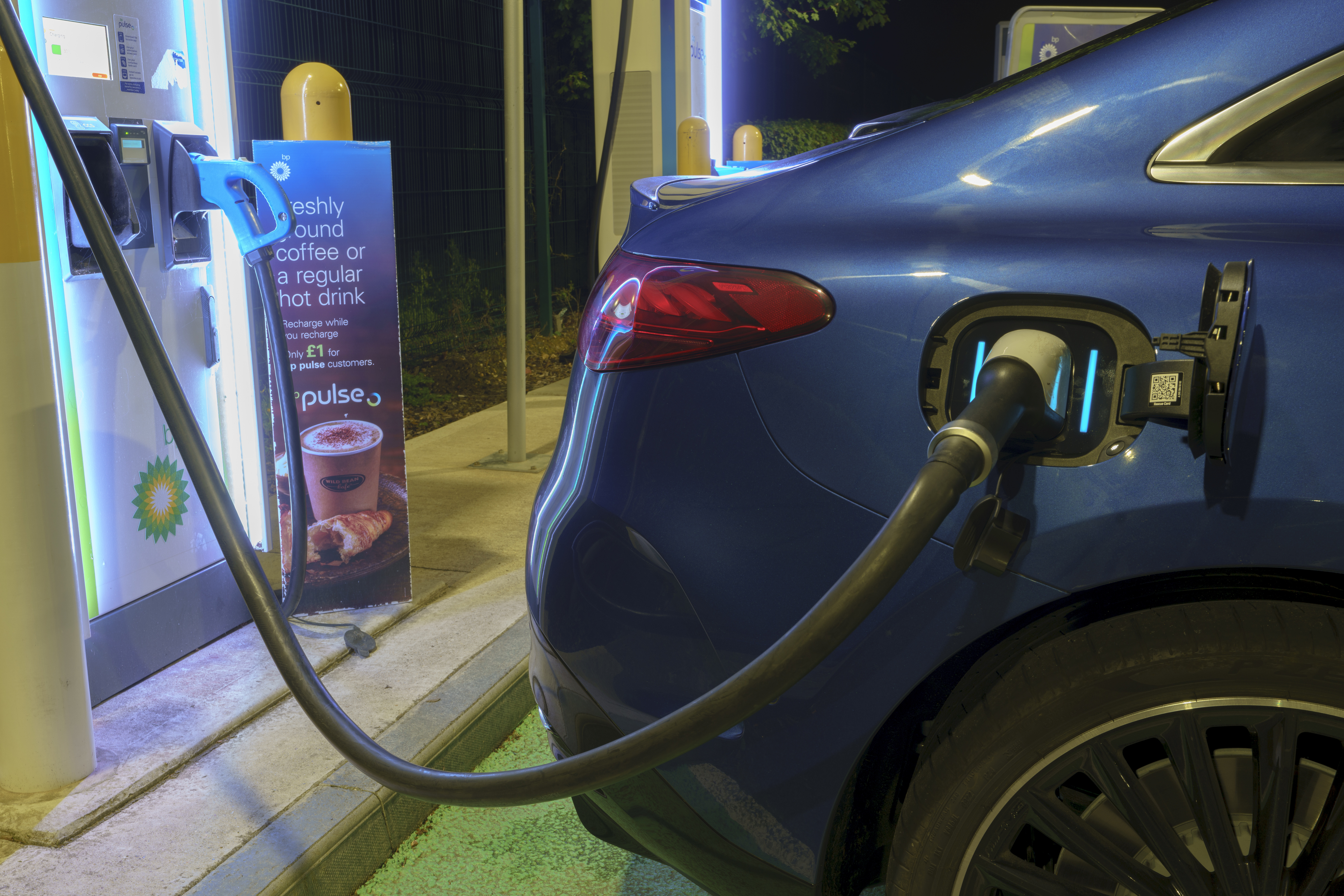 >
The EQE will be available with a variety of powertrain options, but the one we're checking out utilises a single electric motor which sends 288bhp and 565Nm of torque to the rear wheels. Mercedes quotes a 0-60mph time of 6.2 seconds, too, alongside a top speed of 130mph.
Courtesy of a 90kWh battery, the EQE is accompanied by a claimed range of between 356 and 394 miles, putting it towards the top-end of current EVs when it comes to outright distance between trips to the plug.
What's it like to drive?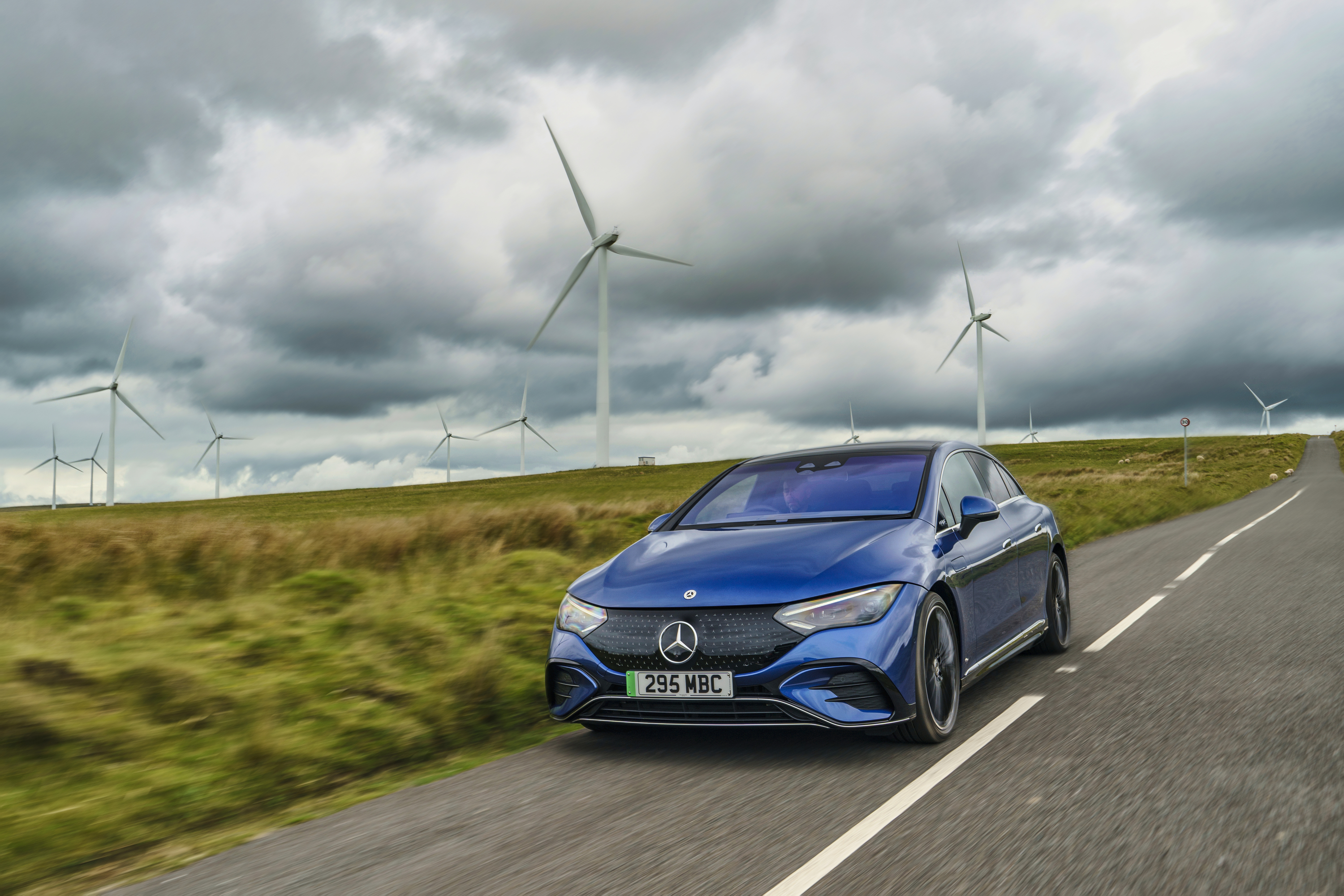 >
Mercedes has definitely managed to filter down some of that whisper-quiet quality that you get in its S-Class to the EQE. The absence of any kind of powertrain rumble means that EVs are naturally susceptible to squeaks and rattles being more noticeable, but there's none of this here.
The electric motor is smooth and responsive, while the fitment of air suspension on our test car made for a super-soft ride, too. On the motorway, the EQE feels nicely refined and only low levels of road and wind noise are noticeable. You're also able to activate a special sound which plays on the outside of the car when travelling at slower speeds, too; it's quite space-age and definitely ensures that the EQE makes an entrance.
How does it look?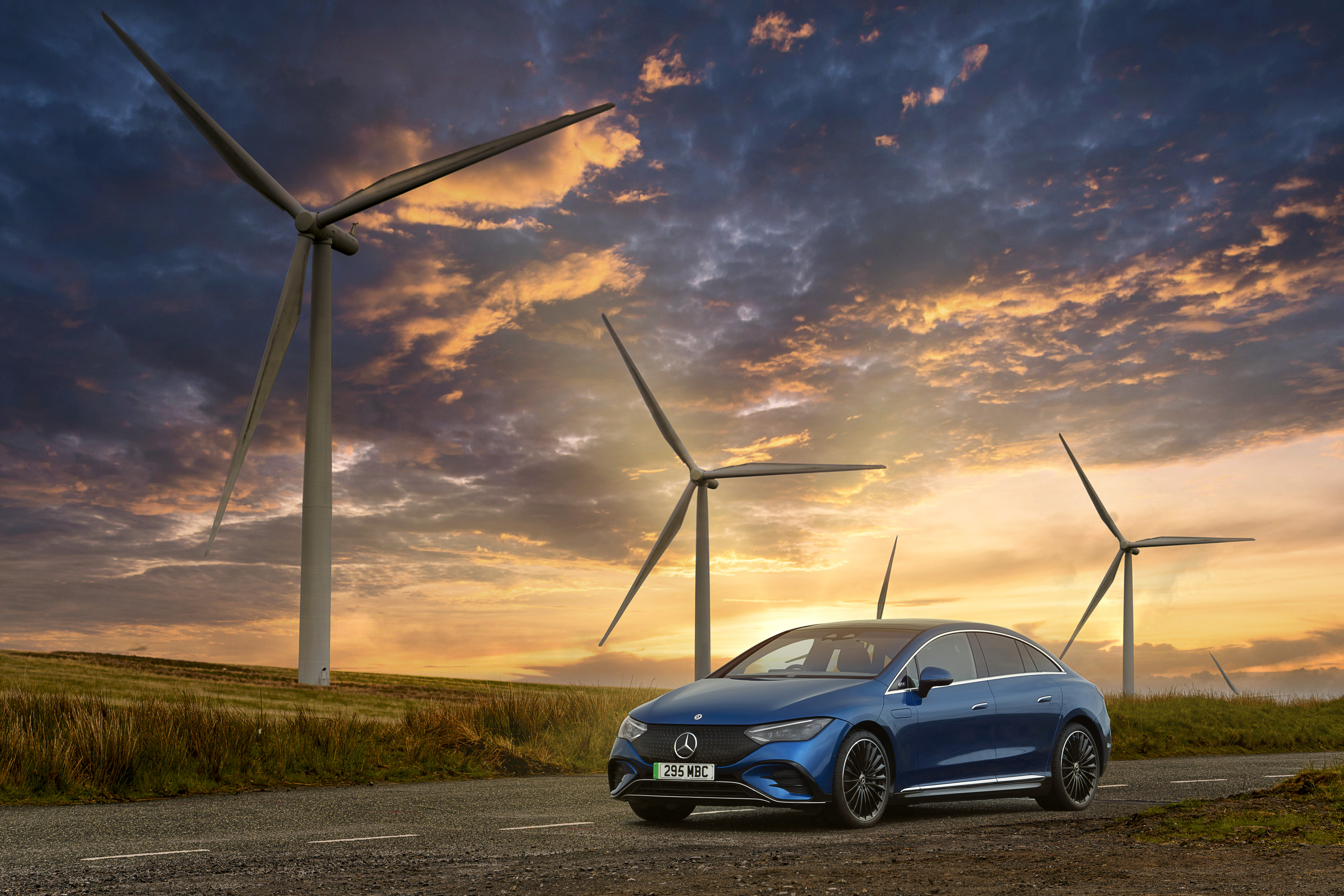 >
We're still a little on the fence about the EQE's looks, much as we were with the larger EQS. Because the car's design is so dictated by aerodynamics, it's free from any noticeable styling elements such as grilles, or even cut-outs. This pebble-like look separates it from the rest of the Mercedes range and doesn't have an awful lot to tie it to some of the firm's classic models. You could be hard-pressed to tell it's a Mercedes from certain angles, in truth.
That said, styling is always down to the individual. It does look futuristic, that's for sure, and definitely makes you aware that it isn't a conventionally-powered car.
What's it like inside?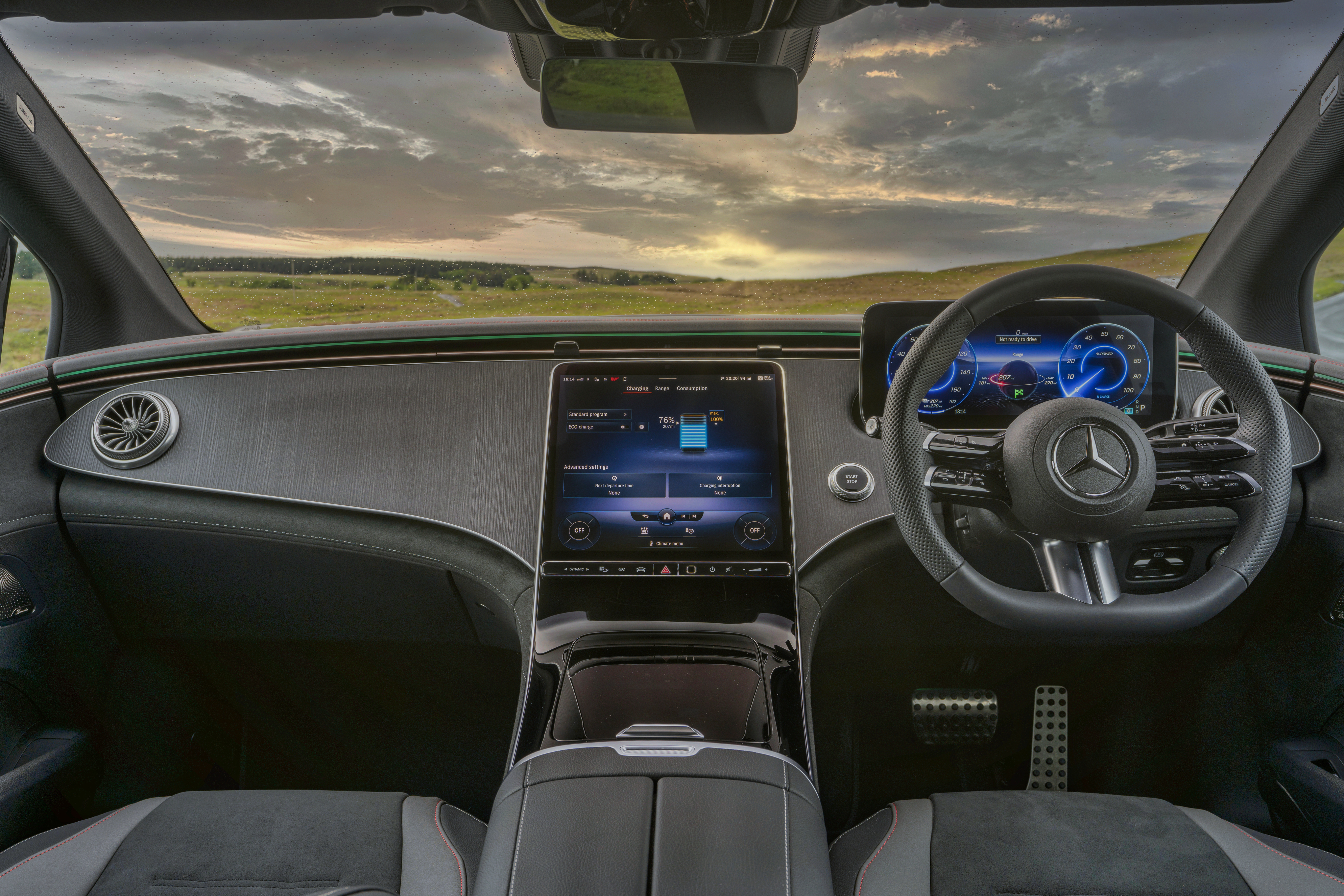 >
Thanks to its clever EV-bespoke underpinnings, the EQE is able to offer far more space than you might expect. Rear-seat legroom is good, as a result, though headroom may prove to be a little tight for taller passengers. There are plenty of USB-C charging points, too, so there shouldn't be too many arguments about who gets to top-up their smartphone in the back seats.
In terms of boot space, the EQE is able to offer up to 430 litres with the seats in place or 895 litres with them down. It's quite a bit less than you'll find in the BMW i4 – one of the EQE's main rivals – which brings 470 and 1,290 litres respectively.
What's the spec like?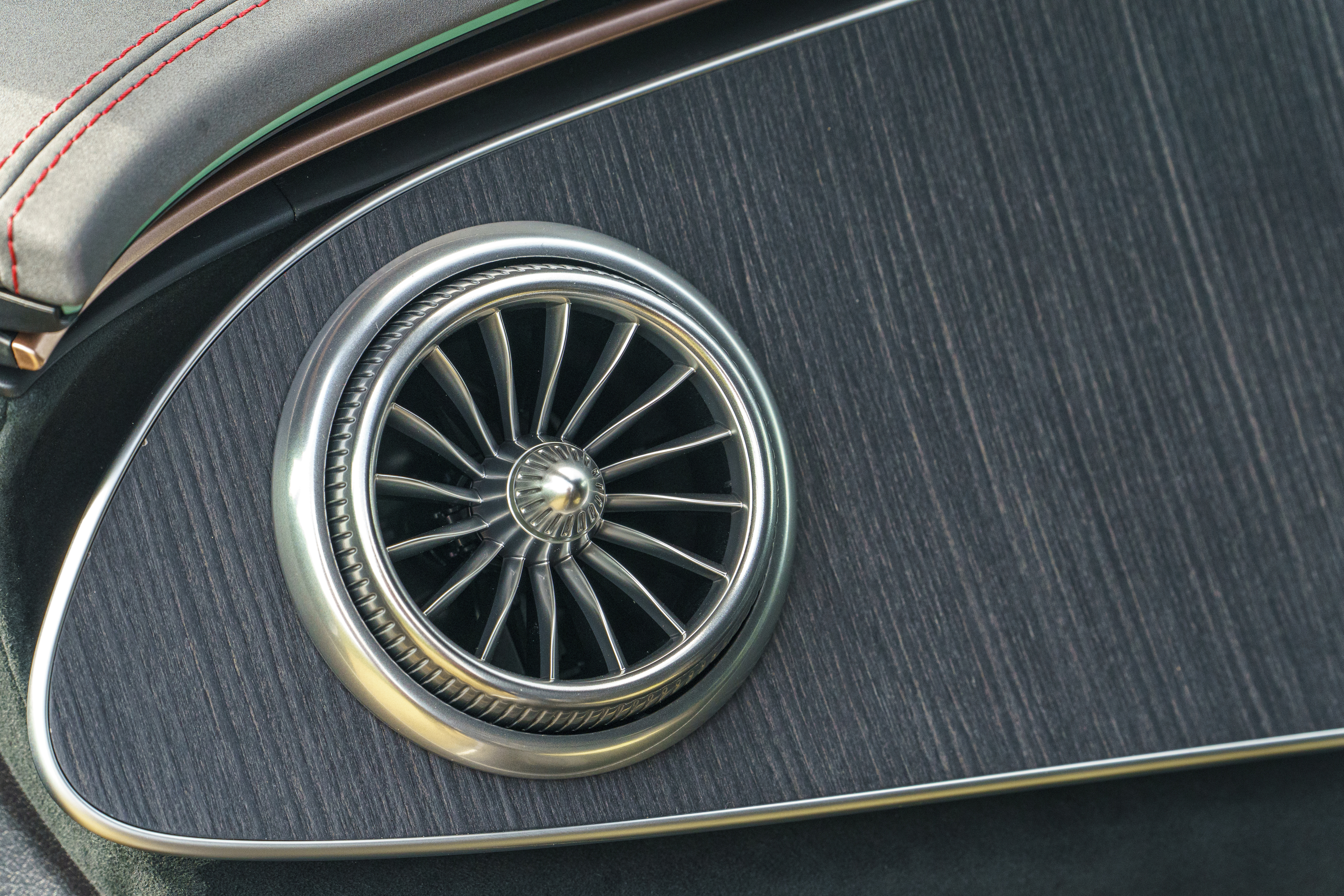 >
Prices for the EQE kick off from £76,450 here in the UK, with entry-level AMG Line cars getting plenty of standard equipment including a full sports styling package, 19-inch alloy wheels and a panoramic roof. Heated seats and privacy glass are among the sizeable list of included features, too.
Our car, in Exclusive Luxury specification, bumped the price up to £89,354 after options, but added features such as 20-inch alloy wheels, heated rear seats and a heated steering wheel. All cars have a 12.8-inch media display as standard, however, which is one of the largest about. It's packed full of functions and connectivity options but, when coupled with a lot of interior lighting, can prove to be a little distracting at night.
Verdict
The EQE feels like a natural next step in the Mercedes electrified journey. It's comfortable, refined and quiet, while it also brings the kind of performance you'd expect. It's more expensive than an equivalent E-Class, that's for sure, but then it does feel more premium and upmarket both inside and out.
Though its looks may be up for discussion, you can't fault the EQE's on-board tech nor the way it manages to deliver a similar experience to the one you'd get from a much larger – and more expensive – model.