What is it?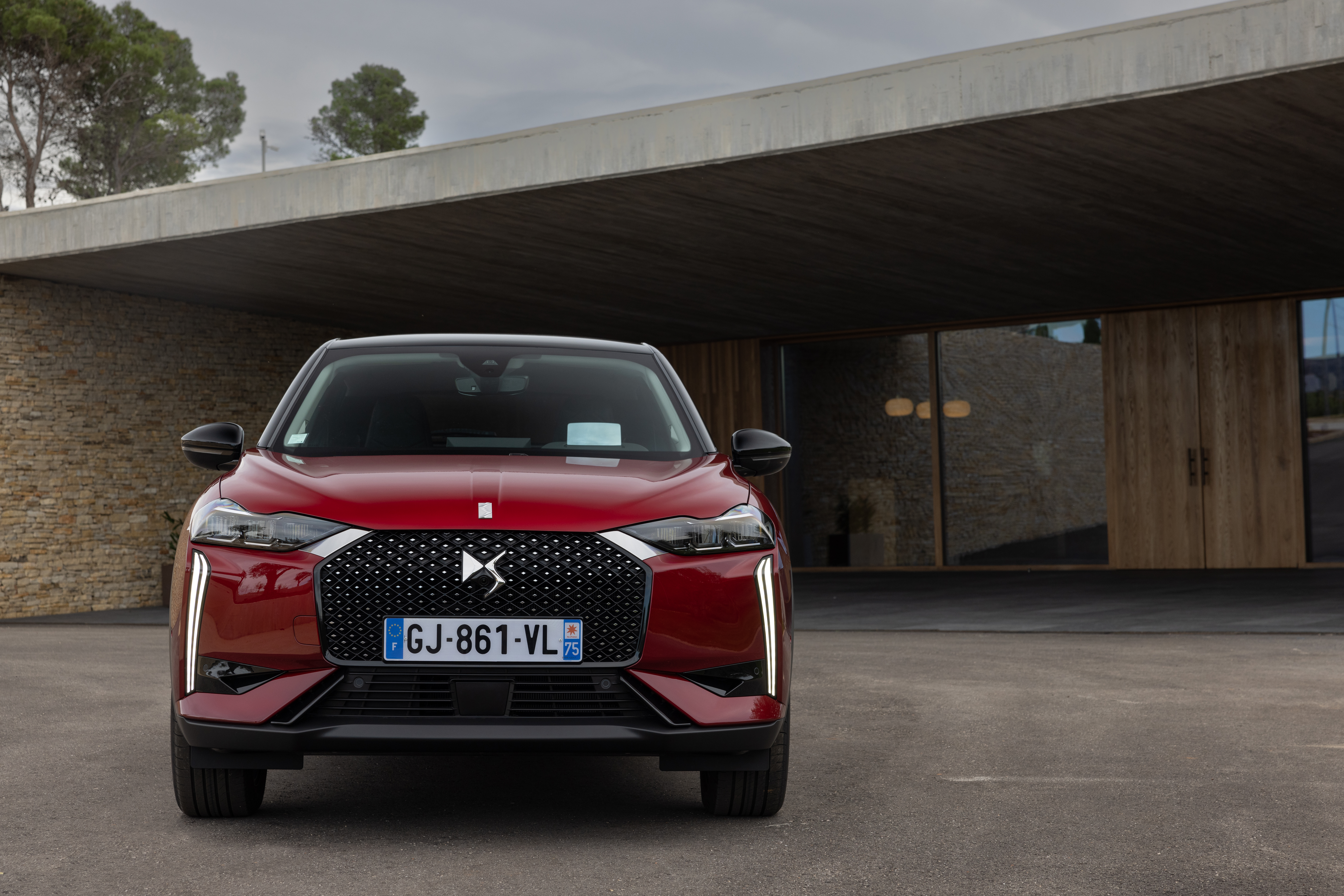 DS may still feel like a relatively new car firm, but it has actually been with us for a number of years now. The DS 3 has always been a core model for the luxury-orientated firm and it's one which has evolved and changed as time has passed. This new electric model, which ditches the 'Crossback' name to become just 'DS 3' has now been updated with a tweaked exterior but, more importantly, some considerable changes to the battery and electric motor.
But the EV segment is a hotly contested one, which means that the DS 3 has to hit the ground running if it wants to hack it against rivals.
What's new?
You'd be hard-pressed to work out what has changed if you took the DS 3 at face value. As we've mentioned, it has dropped the 'Crossback' term, but now this crossover-shaped model gains a slightly more aggressive front-end design and some interior tweaks.
It has also been given the new DS Iris infotainment system which sees a 10.3-inch screen included as standard on all models. In typical facelift fashion, we've got a series of new exterior colours and alloy wheel designs to help keep things fresh.
What's under the bonnet?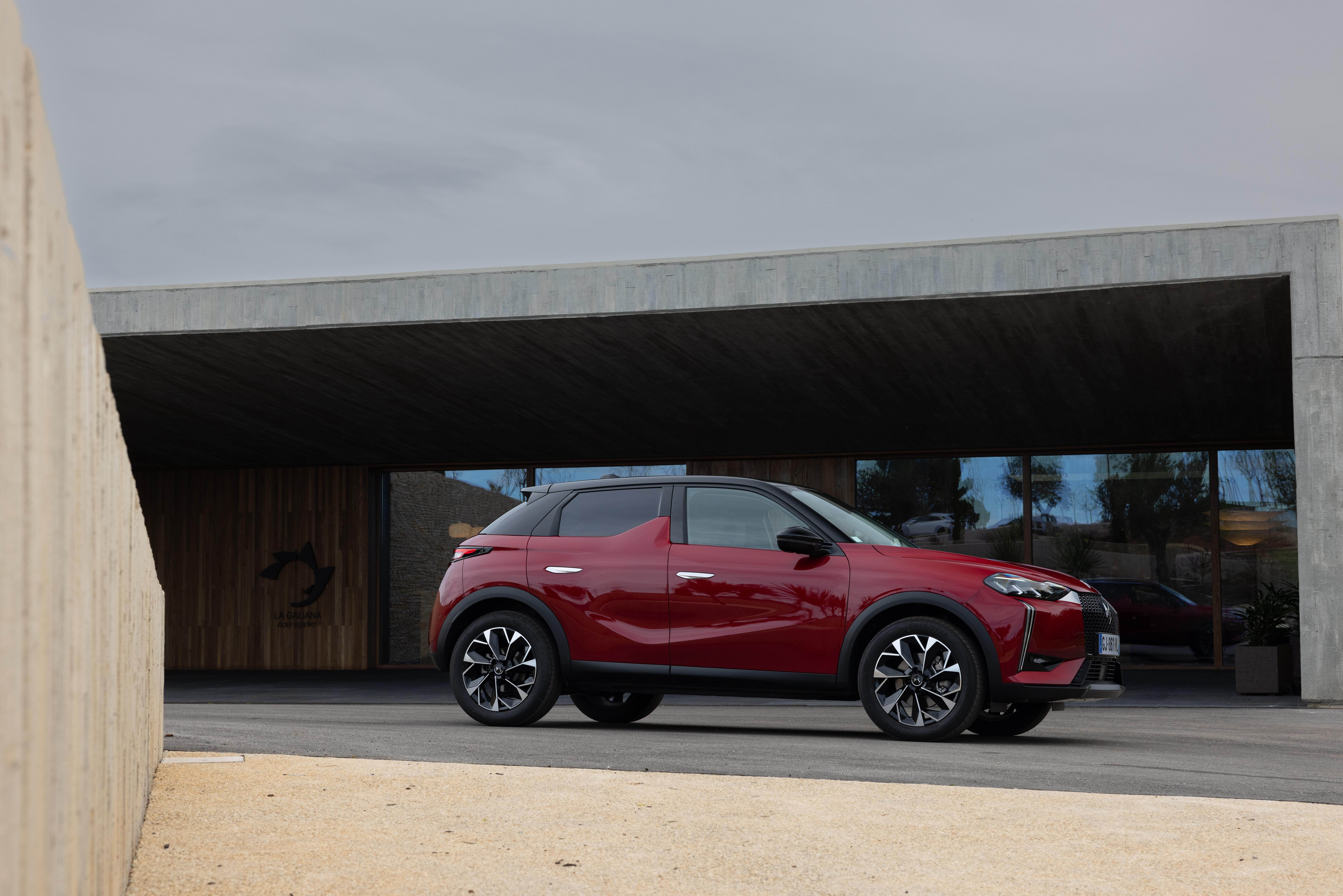 Though petrol versions are also available, here we're driving the electric 'E-Tense' version, which utilises a new battery-powered setup which aims to bring added efficiency and more power than the car it replaces. The battery, for instance, now has a usable capacity of 51kWh while the electric motor has 154bhp to offer.
Compared with the DS 3 Crossback E-Tense launched in 2019, the new car boasts 52 miles more range at 251 miles in total, yet the charging time associated with it remains the same – it'll take 30 minutes to take it from 10 to 80 per cent charge with a 100kW rapid charge, or eight hours via a standard 7.4kW home charger. These efficiency gains haven't come just through a new battery and motor, but also thanks to added aerodynamic cleverness – the whole car is 10mm lower than before, for example.
What's it like to drive?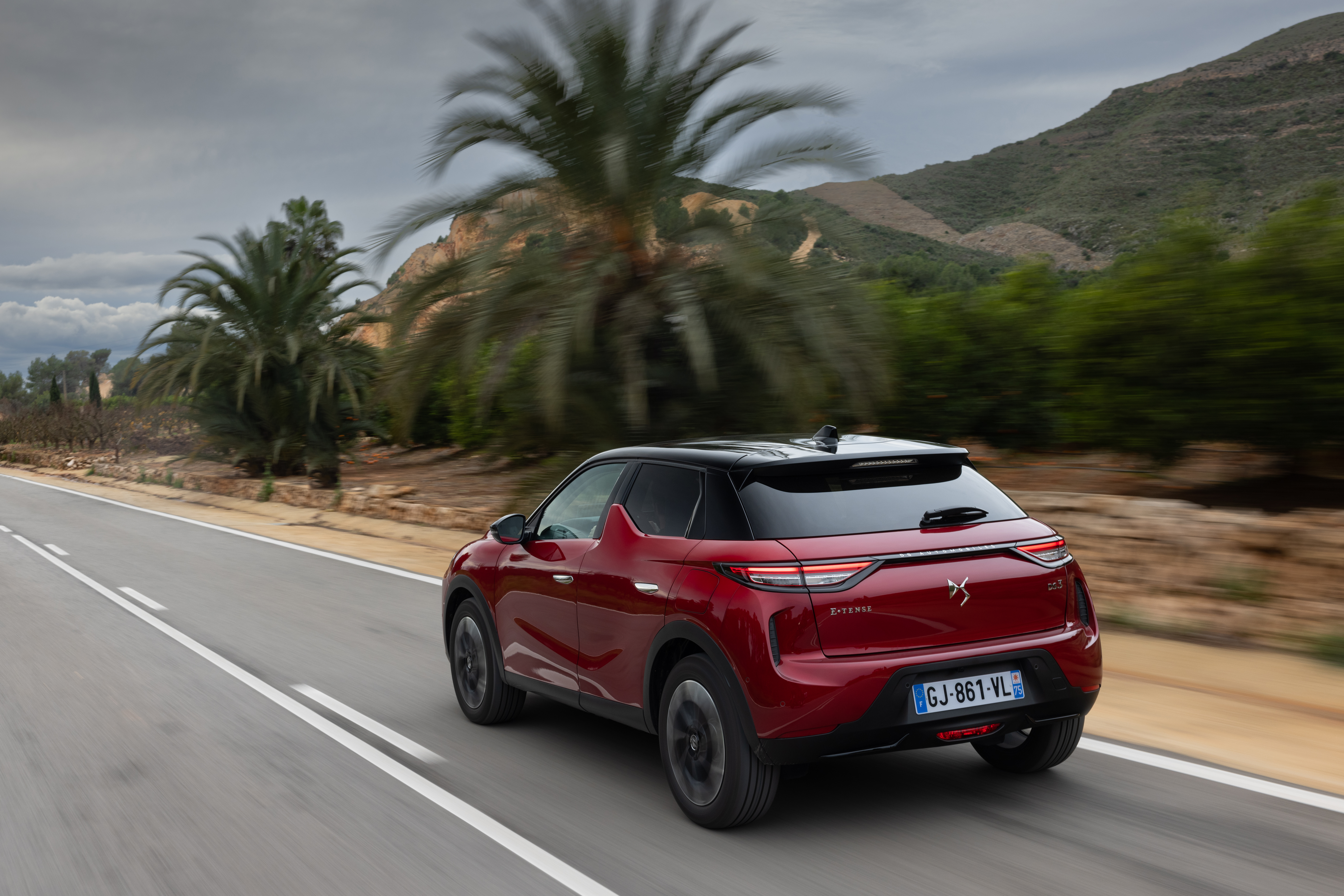 The DS 3 isn't an overly large car despite its chunky design, so it's not difficult to get familiar with. The seating position is good and gives a great view of the road ahead, while the seats on our Rivoli-specification car were comfortable. In fact, comfort is one of the things you really notice with the DS 3 – the ride quality is excellent and helps to make the whole car feel refined at speed, while exterior noise is very well isolated, with only a small amount of wind noise from the wing mirrors interrupting things.
We'd like a sharper brake pedal – it feels really spongy most of the time – but thankfully the regenerative braking is something you rely on to bring the car to halt instead. The DS 3 does suffer from a fair bit of pitch when slowing down, mind you; heavy braking will cause the nose to really dive.
How does it look?
The look of the new DS 3 plays really close to that of its predecessor. How to differentiate them? Well, at the front, the LED running lights have been moved further to the edges of the car to give a wider, more imposing impression, while the main headlights are now LED as standard too. Much of the original DS 3's chrome has been ditched, too, replaced by black or grey elements instead.
It's an upright-looking car, too, but we'd argue that it remains one of the more unusual-looking cars in the segment and, against many rivals, looks pleasantly different to our eyes at least. The door handles, which fit flush when not in use, are a really premium touch too.
What's it like inside?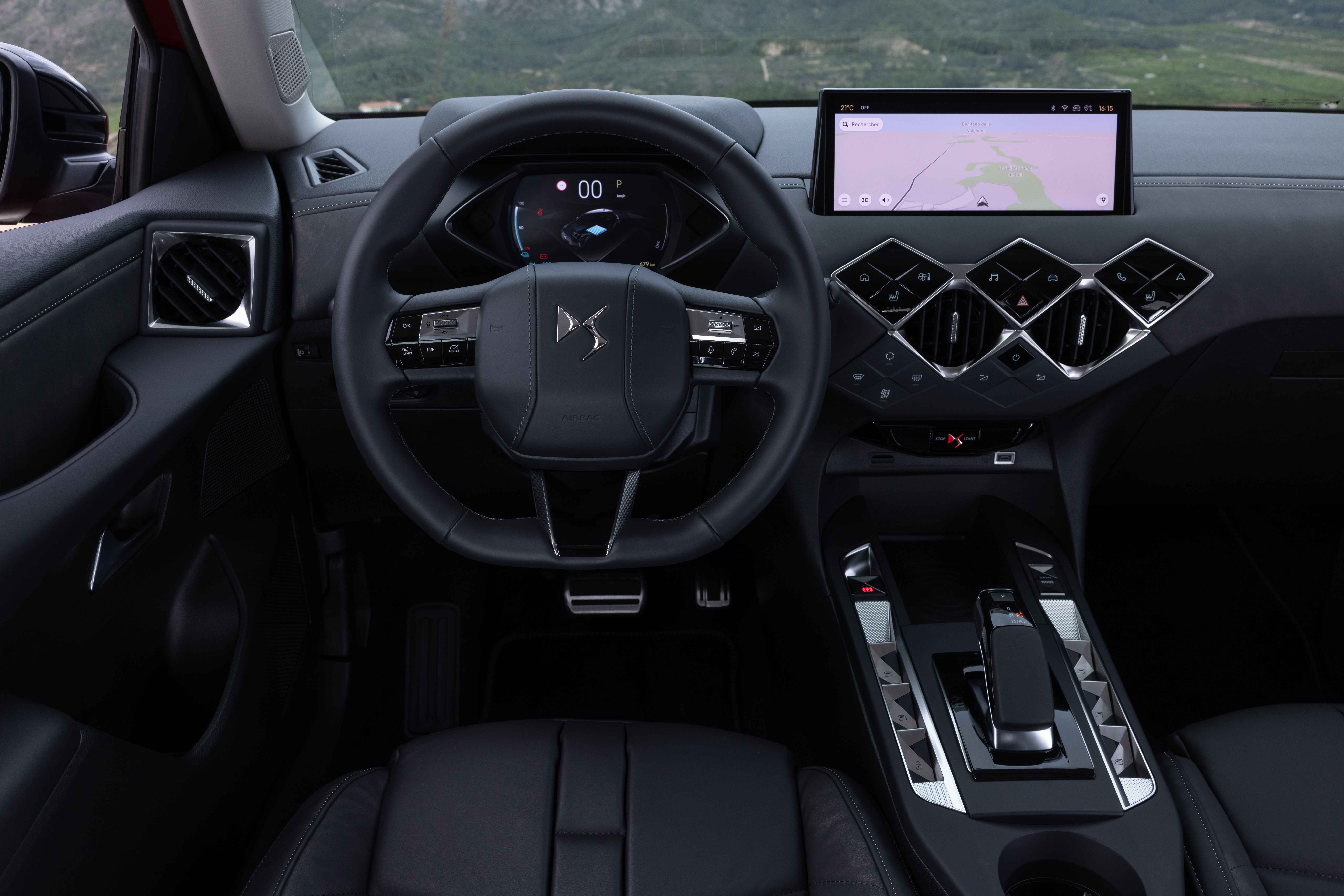 The interior of the DS 3 is something of a mixed bag. If you're after a cabin which looks like nothing else on the market, then you're in luck, but if you're wanting the best possible ergonomics then you may want to look elsewhere.
The diamond-pattern dashboard feels somewhat cluttered and clumsy to use, while the buttons surrounding the switchgear are frustratingly tricky to use. They're all the same colour, shape and positioned in a row, so even an action as simple as trying to lower the windows feels needlessly complicated. It's a bit like someone sneezed buttons, in truth.
But there are some decent quality materials throughout, while rear-seat leg and headroom are adequate enough.
What's the spec like?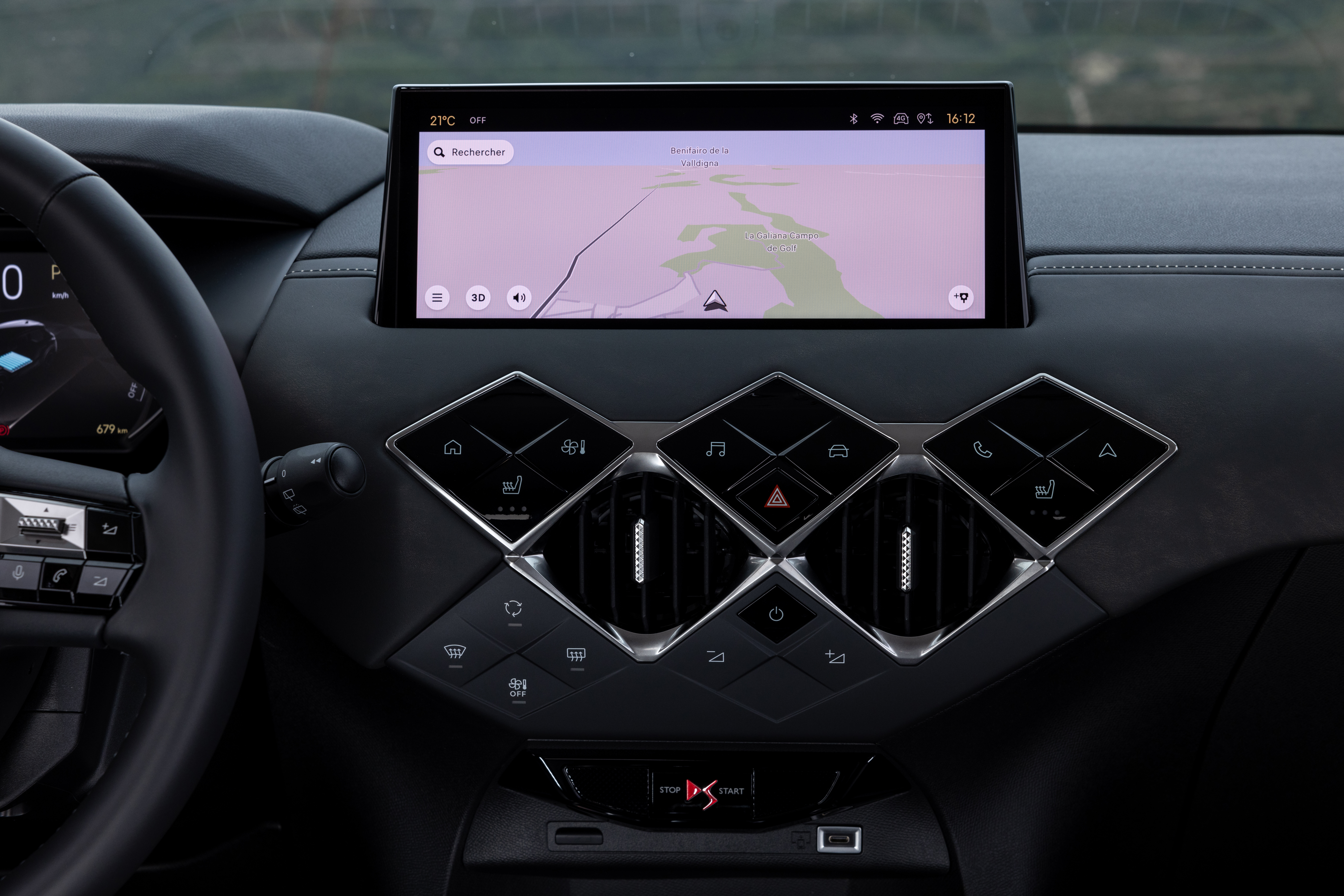 Prices for the DS 3 E-Tense line-up kick off from £37,200, at which point you're getting an Alcantara interior, 17-inch diamond-cut alloy wheels and a black leather steering wheel with contrast stitching, among other features. As we've mentioned, all cars get the new DS Iris infotainment system and it's among one of the better ones around thanks to decent functionality and clear graphics. However, we did have a few momentary glitches with our car's navigation.
Our test car came in Rivoli spec, which bumped the DS 3's price to £39,700, at which point it starts to look like quite the expensive proposition. Opt for the top-tier Opera specification and the DS 3 heads to £42,700, which is out of proportion for what you'd expect for a car of this size and type. Tesla's Model Y, for example, which is considerably larger, quicker and has a much better range, is only a few thousand pounds more than this top-spec car/
Verdict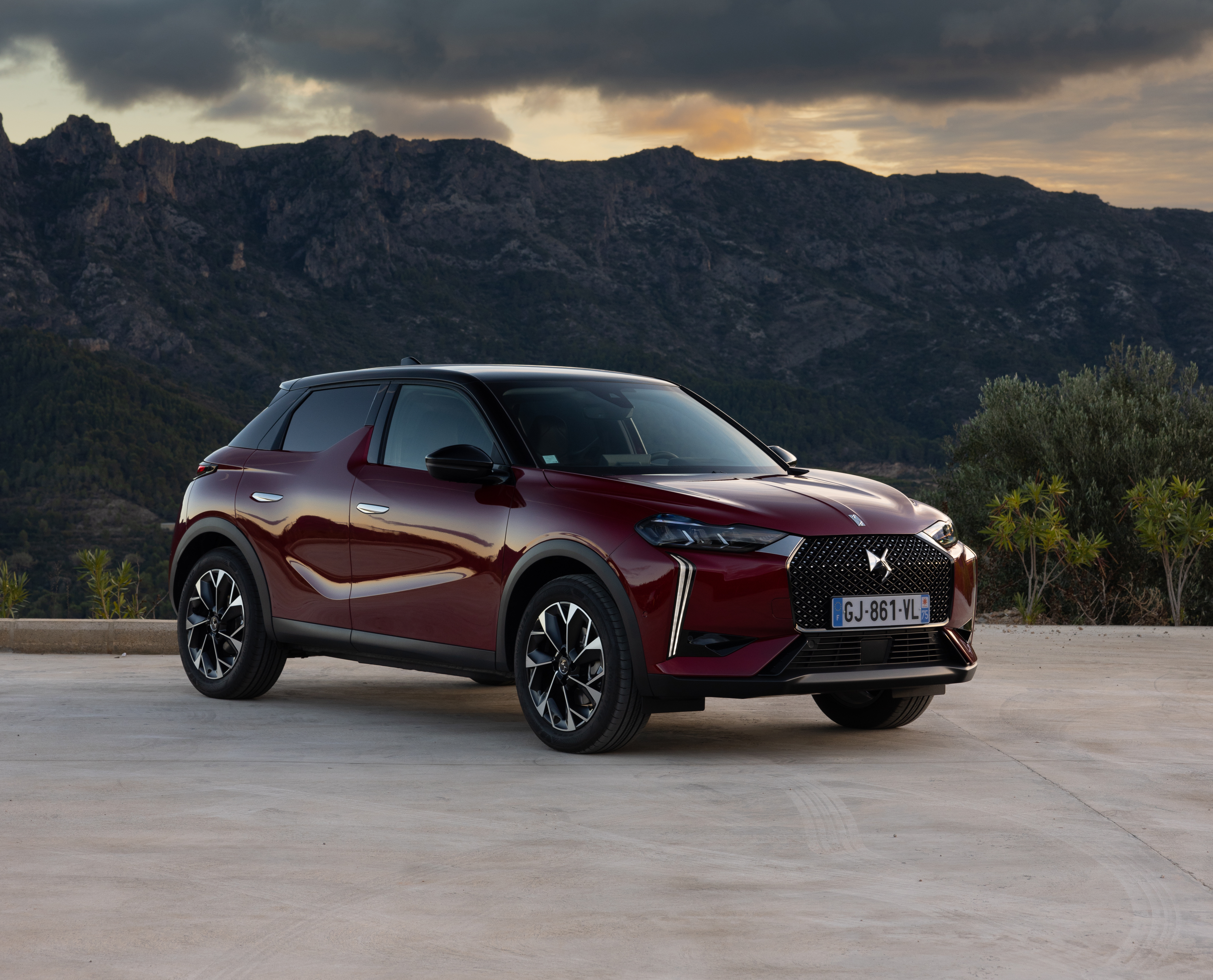 The DS 3 is an attractive proposition in what is becoming a very crowded market. We like the way it rides, with this car's comfort and impressive refinement separating it from its rivals. The on-board tech is good, too, and the exterior design is refreshingly different to others around it.
But boy does that price scupper things. At its base level it's somewhat reasonable value, but higher up the specifications the DS 3 just costs too much and makes its mixed ergonomics and somewhat spongy brake pedal issues that you can't really let go.