What is it?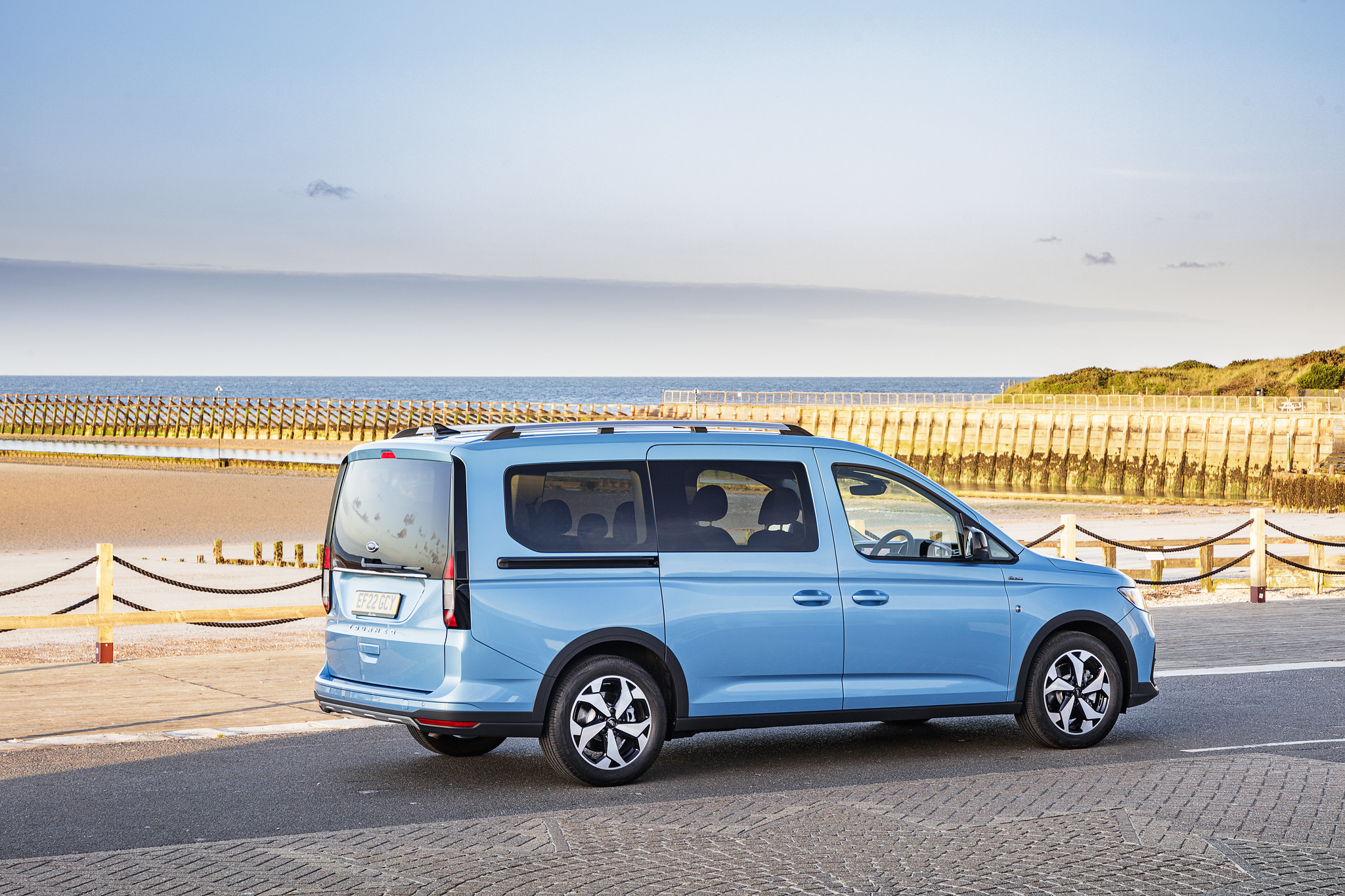 >
Designing and developing new cars costs a lot of money. It's for this reason many carmakers join forces to spread those costs, and one of the most recent alliances is between Ford and Volkswagen. The German giant has become an early leader in electric cars, meanwhile Ford is the unquestioned top dog when it comes to commercial vehicles.
This new partnership will see Ford getting access to Volkswagen's electric car platform among other things, while Volkswagen will be able to have its own versions of Ford's commercial vehicles, such as the Ranger (to create the new Amarok). The first child in the happy new marriage is the Tourneo Connect – a five- or seven-seat people mover that focuses on practicality and versatility in a world of high-riding SUVs.
What's new?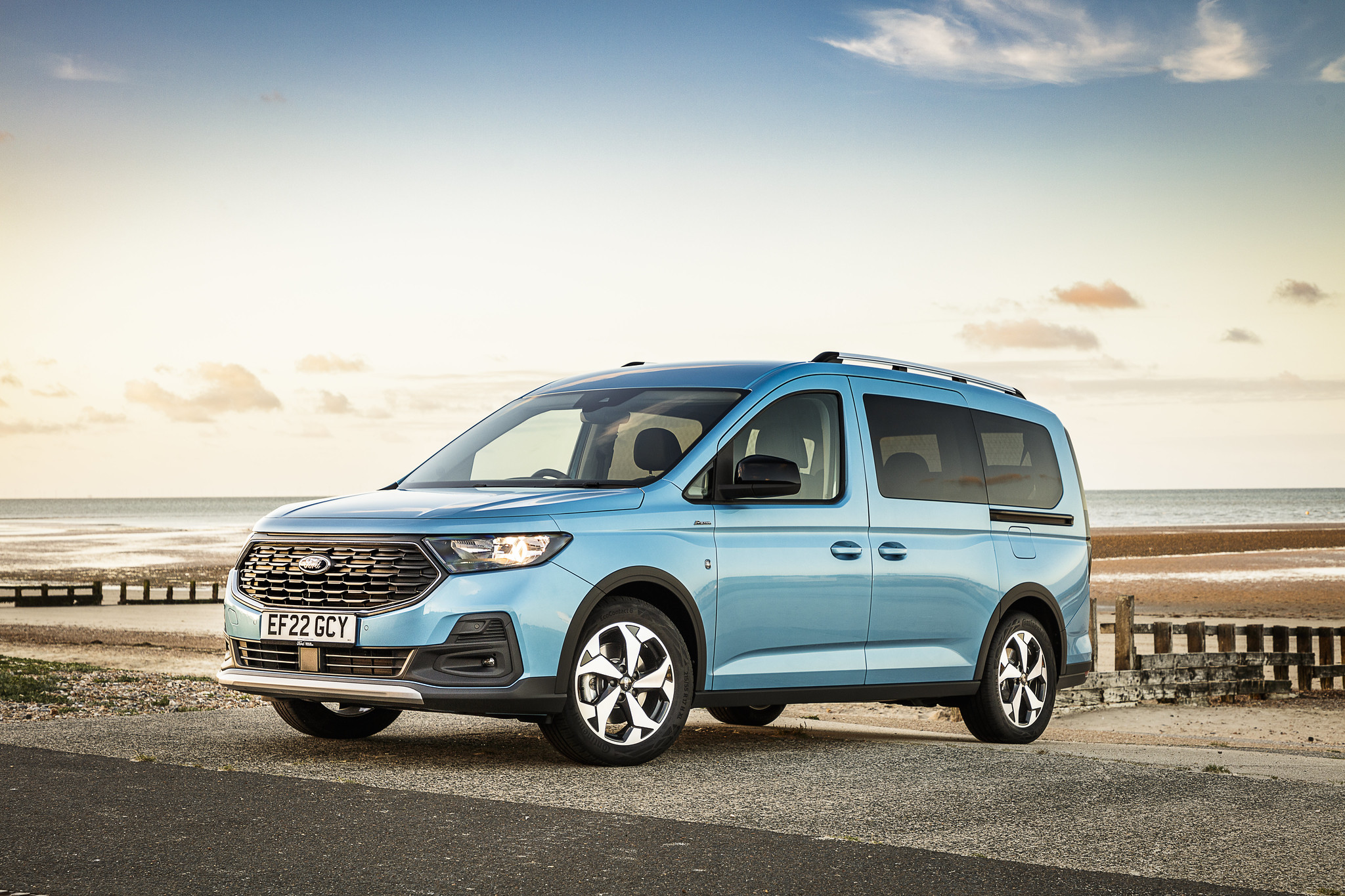 >
Ford has long offered a Tourneo Connect, but this new one is essentially a rebadged Volkswagen Caddy rather than a bespoke in-house offering like previous versions. So, there are different lights at the front, a set of different badges and a large Ford grille – even the interior is essentially the same as the Caddy's.
Volkswagen has happily switched the Caddy over to its famed MQB platform (which underpins the current Golf), promising it and the Tourneo Connect a more car-like feel to the way they drive. There's also the choice of two bodystyles – the regular Tourneo comes as a five-seater with an option to add two seats in the boot, or a Grand Tourneo that gets seven seats as standard.
What's under the bonnet?
>
The engines may well wear Ford's 'EcoBoost' and 'EcoBlue' branding but they are in fact, you guessed it, rebadged Volkswagen units. They comprise a 112bhp 1.5-litre petrol and a 2.0-litre diesel with 102bhp (arriving later in 2023) or 120bhp, which are all available with six-speed manual or a seven-speed DSG dual-clutch automatic gearboxes, with drive going to the front wheels.
Our Grand Tourneo Connect Active test car was the version which will likely prove most popular to buyers – the higher output diesel paired with the automatic gearbox. Ford quotes 53mpg on the combined cycle, which isn't too far off the 48mpg figure we achieved in 600 miles of driving, while CO2 emissions come to 140g/km.
What's it like to drive?
>
The Tourneo Connect's blocky dimensions don't bode well for a fun driving experience, but there is pleasure to be had behind the wheel. Thanks to that MQB platform the family-friendly Ford rides and handles remarkably well, with relatively sharp and well-weighted steering. The suspension can get a bit floaty at higher speeds, but all in all, this is a comfortable people mover that is surprisingly hushed with little wind noise, and it doesn't bang, creek or rattle over potholes either.
The 120bhp 2.0-litre diesel provides more than enough punch, and while the seven-speed DSG 'box can be a little hesitant to change gears at very low speeds, it's generally smooth and quick to change the rest of the time and is a good option for this type of practical vehicle.
How does it look?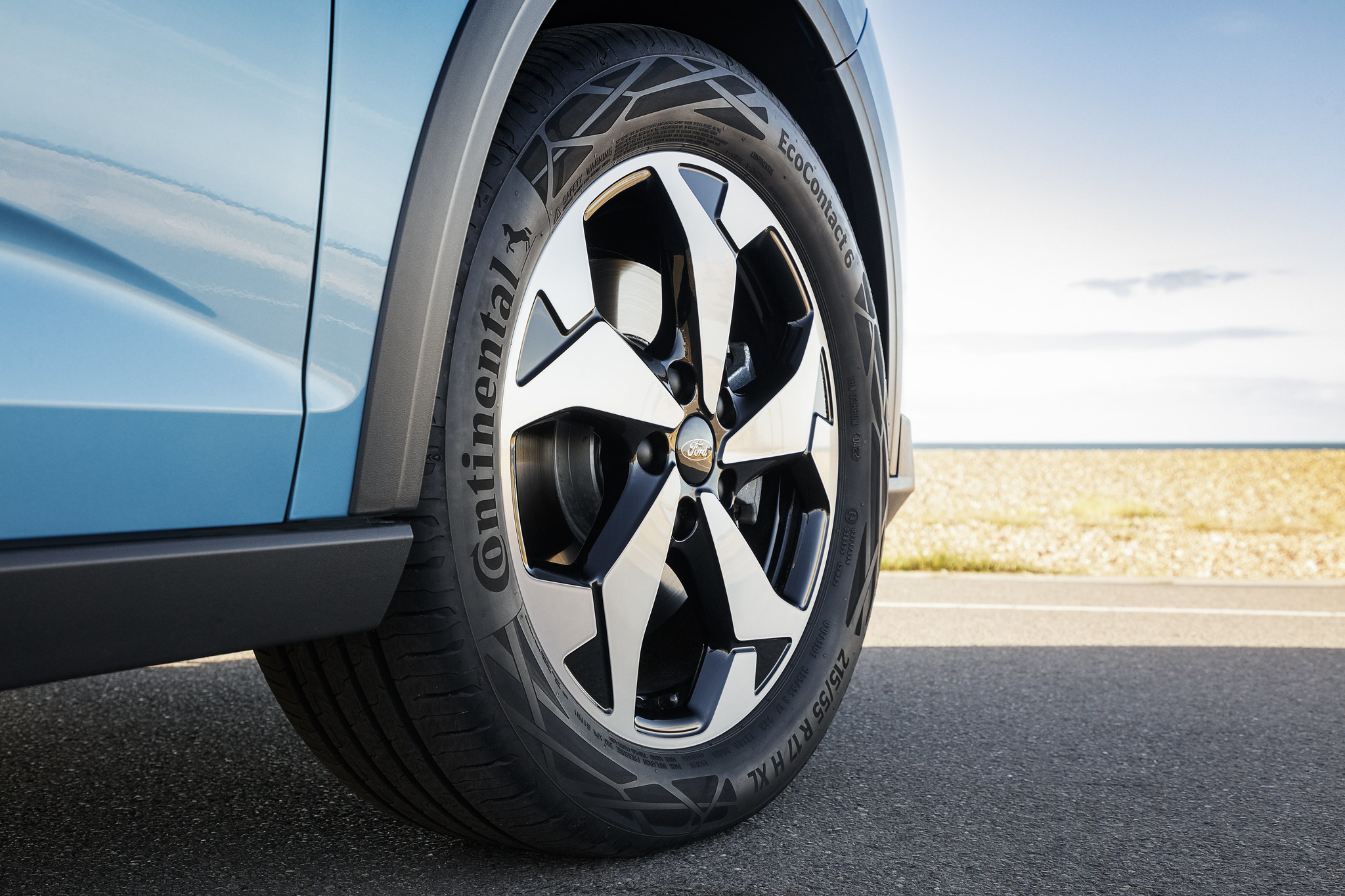 >
Style is very unlikely to feature high on potential buyers' list of requirements when it comes to van-based people carriers, but Ford has tried to add a little interest to the Tourneo Connect's styling. The overall shape does look very Volkswagen compared to the previous Tourneo Connect – which was an in-house Ford design – but in mid-spec Active or top-spec Sport trim (the latter even coming with twin racing stripes) there's enough Ford flare going on.
The Active trim, as tested, adds some grey body wheel arch cladding and silver-painted skid plates to give an off-roader vibe, but this is very much a road-biassed vehicle.
What's it like inside?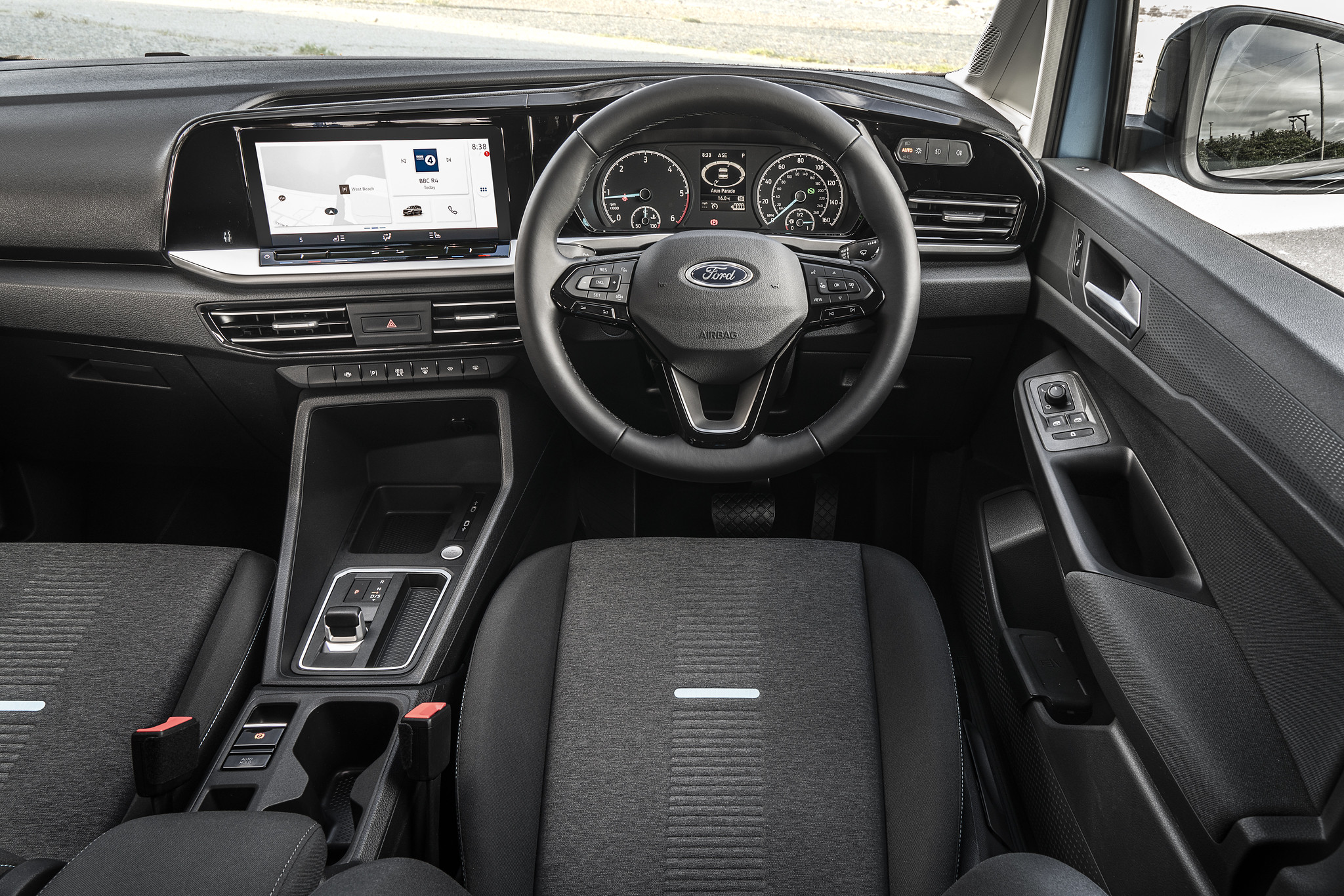 >
The Tourneo Connect gets the Caddy's interior too, save for a few trim alterations and changes to the placement of certain switchgear. That means a modern-looking dashboard and while there are plenty of hard plastics used, the interior is solid and feels like it could withstand family life. But the same could be said of the Dacia Jogger, too, and Dacia has done its best to liven up the interior with different fabrics and materials.
The standard-length Tourneo Connect is roomy for five, though we question why buyers would ever specify the optional two extra seats in the boot when the Grand Tourneo Connect comes as a seven-seater as standard. Middle-row passengers get a comfy bench seat with folding tables, and the rearmost seats are good for children and teenagers. There's even a decently-sized boot with all the seats in place; with them removed there's (unsurprisingly considering its origins) van-like room. The twin sliding doors make loading and unloading a breeze, too.
What's the spec like?
>
There are three versions on offer with base-spec Titanium offering alloy wheels, heated front seats, keyless entry, roof rails, sat-nav and Apple CarPlay/Android Auto smartphone connectivity. Active adds the off-road styling pack while Sport gets LED taillights and digital dials. The price jump from the standard wheelbase Tourneo to the long-wheelbase Grand is a very reasonable £960.
The Tourneo Connect is better equipped than its VW brother, and while that's certainly a good thing on the whole, when it comes to the infotainment system it really isn't a plus point. That's because the Tourneo features VW's larger touchscreen as standard, which relies on fiddly, touch-sensitive 'sliders' to adjust volume and heating. And while there's a Ford reskin to the infotainment's software, it's still VW-derived and therefore quite laggy. Our Grand Tourneo Connect Active test car fitted with 120bhp 2.0-litre diesel and seven-speed automatic gearbox seems good value at just over £32,500.
Verdict
It's great to see vehicles like the Ford Grand Tourneo Connect still being offered by carmakers, as while seven-seat SUVs no doubt play the fashion card better, for outright practicality a van-based MPV cannot be beaten. Due to the new alliance between Ford and Volkswagen the Tourneo Connect does inherit the German firm's frustrating infotainment system. But, that aside, the Ford is cheaper than its VW brother.
With the Citroen Berlingo, Peugeot Rifter and Vauxhall Combo sisters recently going pure-electric, outdoorsy families looking for a flexible petrol- or diesel-powered MPV now have less choice. The Dacia Jogger has risen to the top in this sector, but for those who crave a bit more space and sliding doors, the Tourneo Connect is an excellent all-rounder and one we'd recommend.