What is it?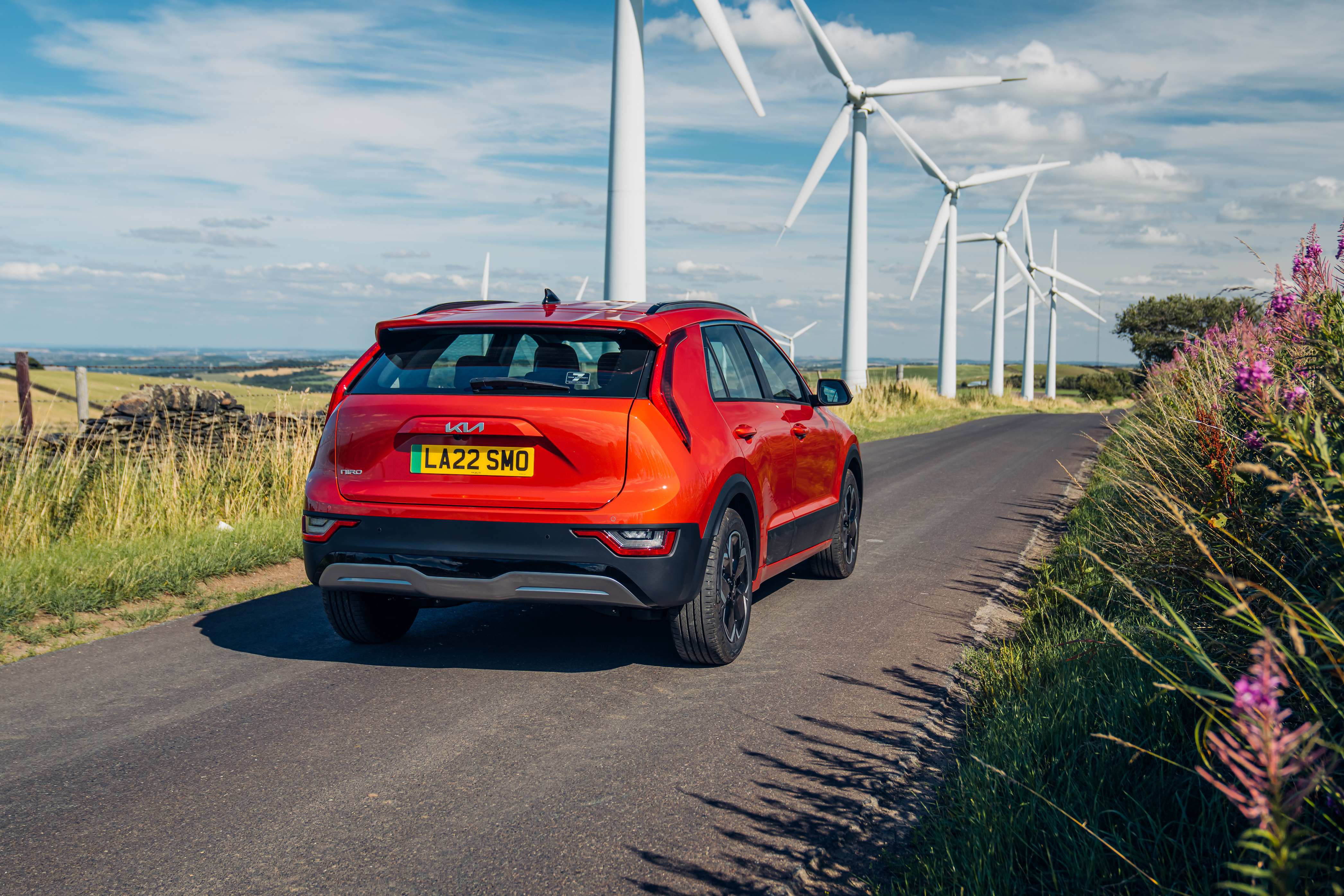 >
When we look back on the history of EVs in the future, it will be Kia's e-Niro that will be seen as a turning point as one of the first affordable electric cars to offer a credible range of more than 250 miles. It has sold impressively well as a result, and alongside hybrid and plug-in hybrid versions, the Niro is now Kia's second most popular car in the UK, after the Sportage.
But the pace of progress in the electric car world is fast, which is why Kia is now back with a new, overhauled second-generation version of this crossover. But is it set to help the Niro's success further?
What's new?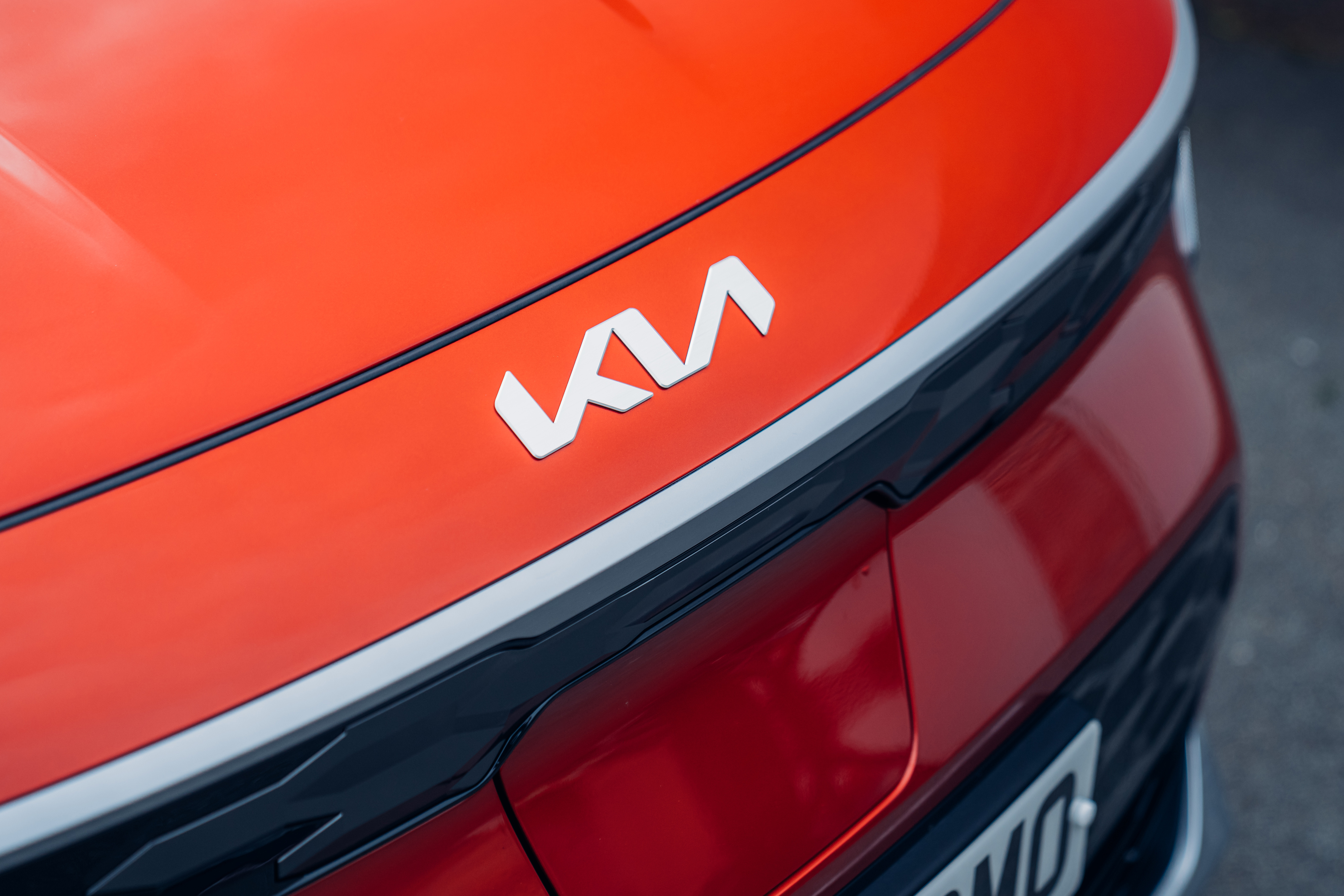 >
The big changes on this new Niro EV – note it's no longer called the e-Niro – affect the way it looks and the interior. While the last model was rather bland to look at, this new model is a big improvement. But more on that later.
Kia has worked to give the Niro's cabin a more modern and upmarket feel, using technology seen on the latest Sportage and EV6, while its increased size helps to free up a lot more space for passengers – particularly for those sitting in the back.
What's under the bonnet?
>
While Kia continues to offer hybrid and plug-in hybrid versions of the Niro, our focus here is purely on the EV model. Interestingly, for all the changes elsewhere, the powertrain is virtually the same as it was when it debuted four years ago.
Kia has dropped the entry-level powertrain, with all new Niro EVs now using a 64.8kWh battery paired to an electric motor producing 201bhp and 255Nm of torque. Drive is delivered to the front wheels, too.
Getting from 0-60mph takes 7.6 seconds, and it could keep on going to a top speed of 103mph. In terms of range, the Niro EV can achieve a claimed 285 miles on a charge, still a decent figure, but no higher than its predecessor. Rapid charging speeds aren't the quickest, either – Kia says a 10 to 80 per cent charge will take 43 minutes.
What's it like to drive?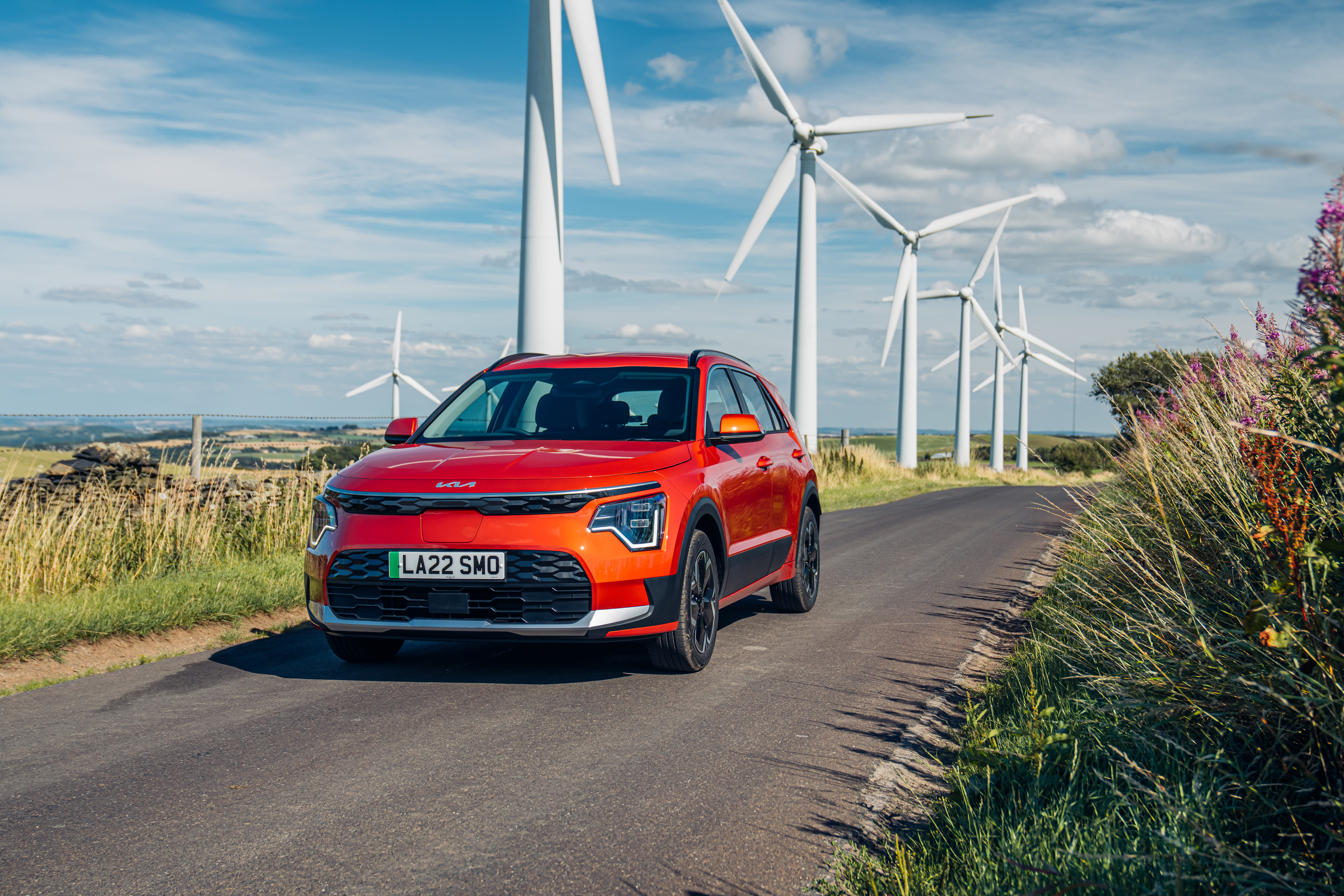 >
The Niro EV is a model that majors on ease of use. The drive mode on the steering wheel makes it easy to flick between settings, but even in 'Eco', the pace is plentiful, but in 'Sport' with your foot to the floor, this unsuspecting Kia is particularly zippy.
You can also use the paddles on the steering wheel like a brake pedal to accurately control the regen – holding down for longer will make the car brake harder and longer, and it works remarkably well. There's hardly a need to touch the brake pedal itself.
Our low-spec '2' test car, riding on 17-inch alloy wheels, is very comfortable and supple, while the refinement at speed is impressive. It's not as enjoyable to drive as a Cupra Born, for example, but this is a very comfortable steed that would be brilliant on a daily basis.
How does it look?
>
Inspired by the 2019 'Habaniro' concept, this latest Niro is a huge step up from a design point of view. We've mentioned how bland the old Niro was, which only makes this model more eye-catching.
There are the smart 'heartbeat' LED daytime running lights that add real presence, while around the back the rear boomerang-shaped lights extend to the side of the car, and look fantastic, particularly at night when you appreciate them the most. One small complaint is that the front charging flap looks like a bit of an afterthought in the front bumper, while it also kept sticking with our test car, making it hard to open. We hope this is just a fault with our particular vehicle.
What's it like inside?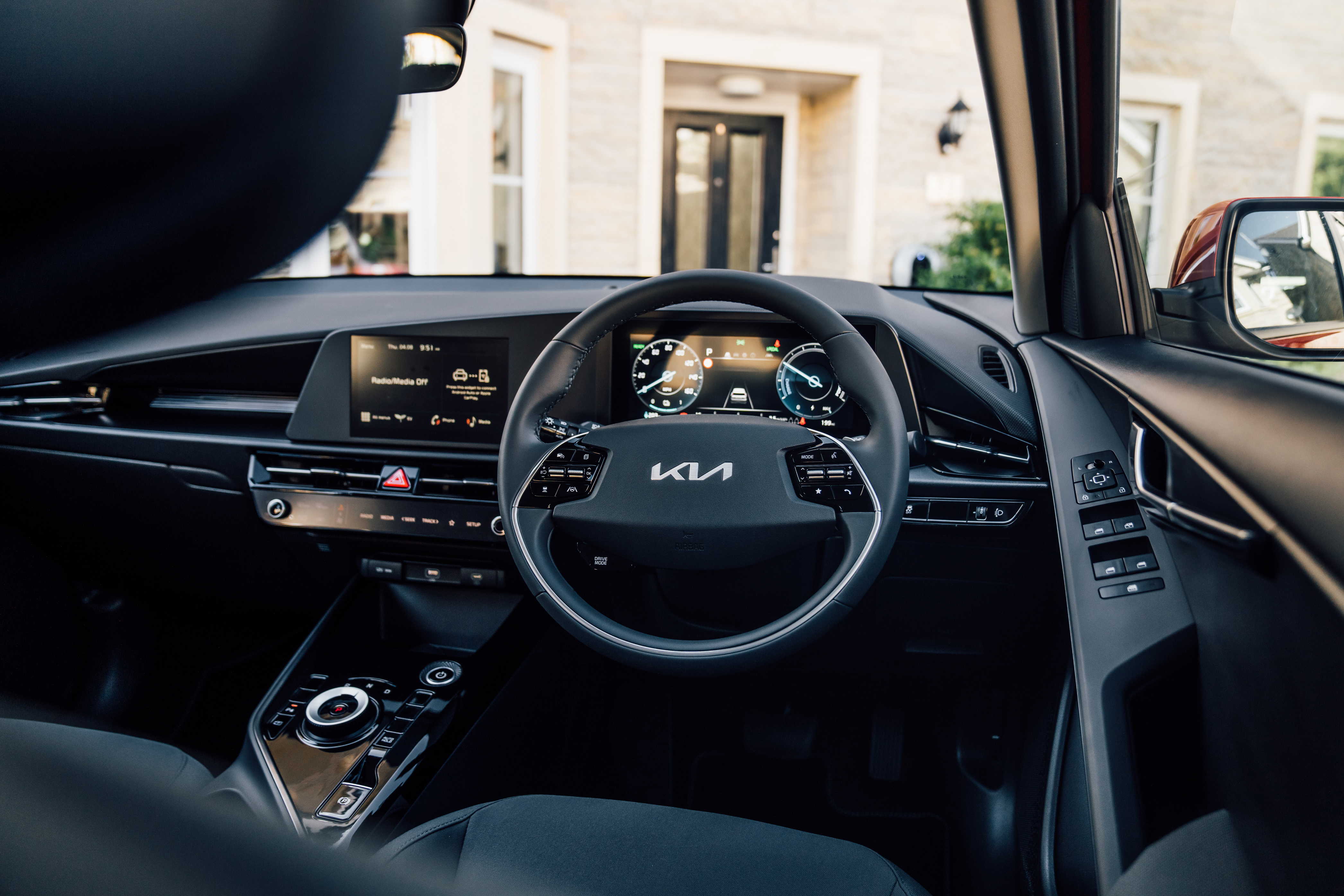 >
The interior of the Niro is another area that is much improved, particularly from an aesthetic point of view. There's the cool two-spoke steering wheel, while a single panel houses both the digital dial display and touchscreen.
Other neat touches include the dual-purpose button panel below the hazard light symbol, which can switch between climate settings or traditional media functions. While it looks noticeably more upmarket, it doesn't always feel it. Particularly cheap areas like the door cards and parcel shelf are a disappointment considering the advances made in other departments.
But where we can't find criticism with the Niro is when it comes to the space inside. While it's grown in size, the Niro is not a huge vehicle (it takes up a similar footprint to a Nissan Qashqai), but the room in the rear is fantastic – even tall adults can sit comfortably behind a front seat well back. The 475-litre boot is large too, and actually bigger than hybrid versions.
What's the spec like?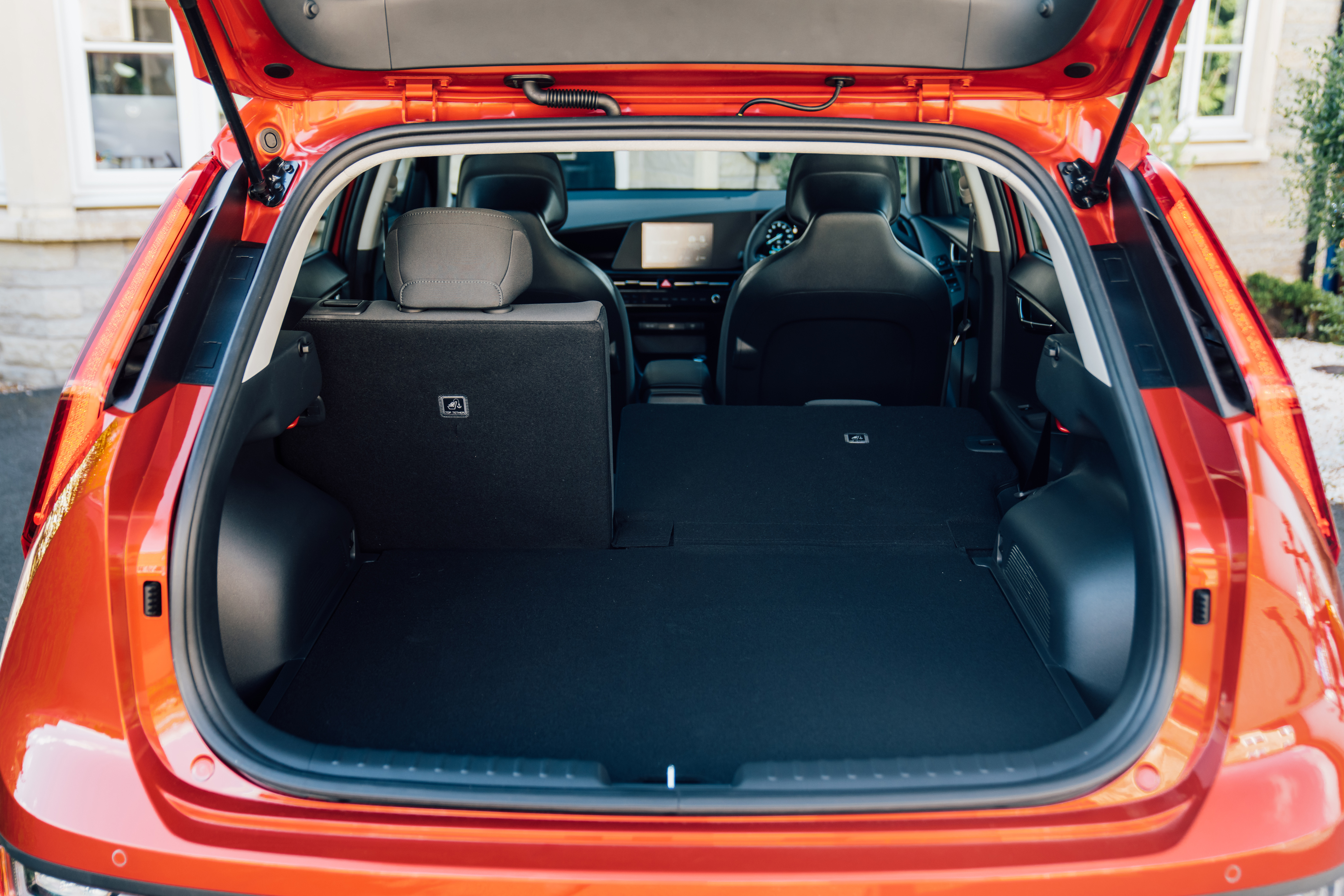 >
The Niro EV comes in three easy-to-remember trims – 2, 3 and 4.
We suspect most will have what they need with the entry-level 2 grade, though – priced from £36,795. Highlights include automatic LED headlights, an eight-inch touchscreen with Apple CarPlay and Android Auto, a 10.25-inch digital instrument cluster, adaptive cruise control and 17-inch alloy wheels.
The 3 model brings electric folding mirrors, a 10.25-inch touchscreen, heated front seats and a heated steering wheel, with prices from £39,545. At the top of the line-up, the 4 grade is packed with equipment, including a head-up display, ventilated vegan leather seats and an electric boot, though is quite pricey at £42,295.
Verdict
This latest-generation Kia Niro EV makes this electric crossover more appealing than ever. No longer just notable because of its range and powertrain, it now has the interior and more interesting styling to go with it. Combined with vast cabin space and generous equipment levels, this is perhaps one of the easiest electric cars to live with.
The only trouble with this new Niro EV is that it's not quite such a stand-out choice as its predecessor was when it first debuted. Though it's still a seriously credible EV, fierce competition and development in the electric car world means the almost matching electric range to its predecessor and average charging speeds mean it's not as groundbreaking as it was in the past.