Writers announce 'tentative agreement' to end strike
The Writers Guild of America has been on strike for nearly five months.
Union leaders and Hollywood studios reached a tentative agreement on Sunday to end the screenwriters' strike after nearly five months.
The Writers Guild of America (WGA) announced the deal with the Alliance of Motion Picture and Television Producers (AMPTP), the group which represents studios, streaming services and producers in negotiations.
Announcing the deal in an email the members, the union said: "WGA has reached a tentative agreement with the AMPTP. This was made possible by the enduring solidarity of WGA members and extraordinary support of our union siblings who joined us on the picket lines for over 146 days."
The terms of the three-year contract agreement — settled on after five marathon days of renewed talks by negotiators WGA and the AMPTP and not revealed — must be approved by the guild's board and members before the strike officially ends.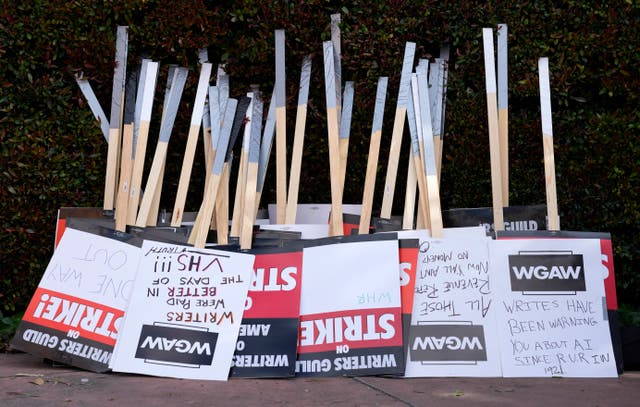 The agreement comes just five days before the strike would have become the longest in the guild's history, and the longest Hollywood strike in decades.
As a result of the agreement, nightly network shows could return to the air within days.
Talks have not yet resumed between studios and striking actors.
The proposed solution to the writers strike comes after talks resumed on Wednesday or the first time in a month.
About 11,500 members of the Writers Guild of America walked off the job May 2 over issues of pay, the size of writing staffs on shows and the use of artificial intelligence in the creation of scripts.
Actors, who joined the writers on strike in July, have their own issues but there have been no discussions about resuming negotiations with their union yet.