Kemi Badenoch criticises Lord Goldsmith for opposition to climate plans
The Business Secretary said the Tory peer had 'way more money than pretty much everyone in the UK'.
Kemi Badenoch has criticised a Conservative former minister for his harsh words against the Prime Minister's decision to weaken key UK climate commitments.
The Business Secretary said former Foreign Office minister Lord Goldsmith had "way more money than pretty much everyone in the UK", as she emphasised Rishi Sunak's plan was "right for the UK".
Mr Sunak said he was acting to avoid public backlash against green policies, because of their potential costs for the public.
Lord Goldsmith, a Tory environmentalist who resigned in June from the Government in protest at a perceived apathy towards climate issues, was among several high-profile Conservatives who publicly criticised the plans.
He claimed the Prime Minister was attempting to "turn the environment into a US-style political wedge issue" and went as far as to demand a general election.
Asked about Lord Goldsmith's comments by LBC, Ms Badenoch said: "You have chosen negative comments, there are a lot of Conservative MPs who are speaking very positively about this. You are only giving one view.
"Zac Goldsmith is someone who cares very much about the environment, he is a friend of mine. But the fact is, he has way more money than pretty much everyone in the UK.
"This is not how we make decisions, we need to make decisions based on what the facts are."
Asked whether the Prime Minister was also out of touch because of his wealth, the Business Secretary said: "They are doing quite different things.
"The point I am making is that Zac Goldsmith is one person who has one opinion. He is a friend of mine, I have had arguments with him about this.
"But the key thing is that you can't cherry-pick comments and say they are reflective of the entire Conservative Party. That is just simply not the case."
Among the measures announced by the Prime Minister was a five-year delay to the ban on selling new petrol and diesel cars, pushing it back to 2035.
He also watered down the plan to phase out gas boilers by 2035.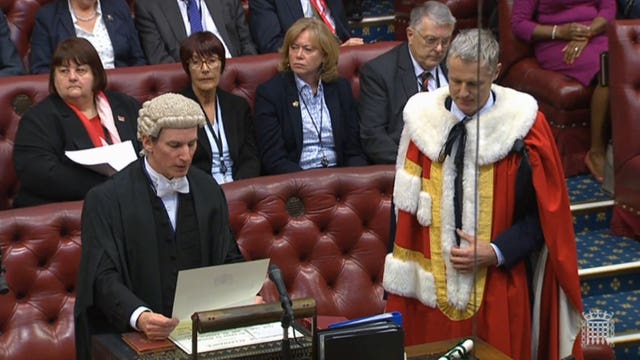 Ms Badenoch defended the announcement, telling Sky News: "We need to make sure that what we are doing is right for the UK. This is not some sort of cynical ploy.
"I have been the Business Secretary now for almost a year. I know what businesses are saying. This is not just about big business, there is small business to think about.
"This is the right thing to do and I fully support the Prime Minister."
In a speech laying out the plans on Wednesday, Mr Sunak also claimed he had halted plans to tax meat, and make car sharing compulsory, among other restrictive measures which were not Government policy.
Lord Goldsmith described these claims as "cynical beyond belief".
On X, formerly known as Twitter, he wrote: "The PM is pretending to halt frightening proposals that simply do not exist.
"He is doing it to turn the environment into a US-style political wedge issue – something the UK has avoided all my political life."