Half-price meals will be offered to diners eating out every Monday, Tuesday and Wednesday during August, the Chancellor has announced, in a bid to boost the hospitality sector.
Rishi Sunak said the "Eat Out to Help Out" scheme would provide 50% off – up to a maximum of £10 per head – meals at participating businesses across the UK.
Restaurants, cafes and pubs have been severely affected by the coronavirus lockdown, with many staff placed on the Government's furlough scheme.
But in a bid to encourage customers to return, Mr Sunak told the Commons during his economic update: "I can announce today that, for the month of August, we will give everyone in the country an 'Eat Out to Help Out' discount.
"Meals eaten at any participating business, Monday to Wednesday, will be 50% off, up to a maximum discount of £10 per head for everyone, including children. Businesses will need to register, and can do so through a simple website, open next Monday.
"Each week in August, businesses can then claim the money back, with the funds in their bank account within five working days."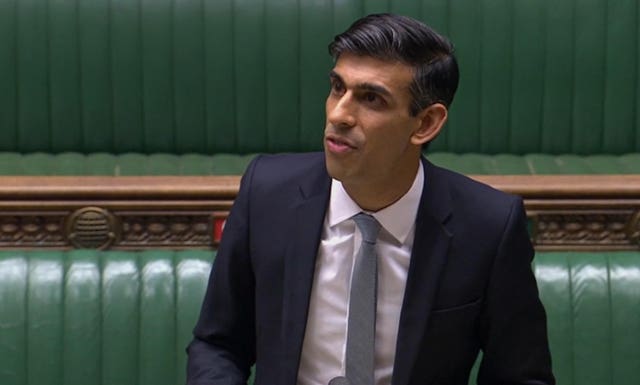 A Treasury document said the discount can be used "unlimited times".
It will be valid from Monday to Wednesday on any eat-in meal – including non-alcoholic drinks – at any participating restaurant, cafe, pub or other eligible food service establishment across the UK.
Establishments will then be reimbursed for the 50% discount, the document said.
Shares in restaurant companies moved higher following the announcement, with shares in Wagamama-owner The Restaurant Group moving 2.6% higher shortly after the Chancellor's statement.
Mr Sunak visited a Wagamama restaurant at the Royal Festival Hall in central London where he served some customers their lunch later on Wednesday.
Speaking in the Commons, the DUP's Sammy Wilson (East Antrim) joked: "I think the clothes shops might welcome it as well, as once we've eaten our way through a month's half-priced meals, we might all be visiting them."
The Chancellor replied: "Perhaps alongside 'eat out to help out', we can make progress on reopening our gyms so at the same time we can deal with that side of the equation."
Tory former minister Tim Loughton added the Government's message should be "eat out to help out to work out".
Mr Sunak said: "I wholeheartedly agree with him about gyms and hopefully, as the Prime Minister has indicated previously, he's keen to see progress made there as well."