UK Drive: Hyundai's Ioniq 6 arrives to turn heads in the EV market
The Ioniq 6 might look like nothing else on the road, but what else does it have to offer? Jack Evans finds out.
What is it?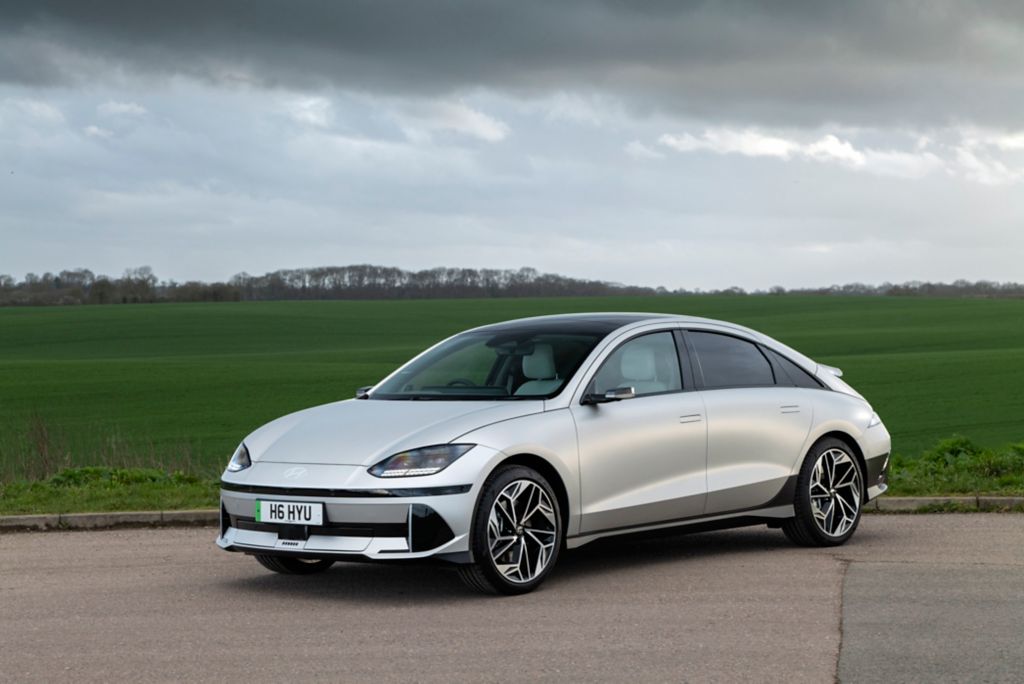 Boy, that electric car segment doesn't stop growing, does it? We've got new models cropping up from manufacturers across the board, while companies that have already established a solid foothold in the market are now taking things further and pushing the envelope wherever possible.
Take Hyundai, for example. It has already wowed the sector with its futuristic Ioniq 5, but is it stopping there? No way. We're here with the new Ioniq 6, which is an EV that looks like nothing else on sale today. Is it all show and no go, though? We've been driving it in the UK to find out.
What's new?
Dubbed a 'streamliner' by Hyundai, the Ioniq 6's design has been shaped by its need to be bar-as-soap slippery through the air. Less drag means more range, after all, which is why the 6's look is as smoothed-out as it is. It's underpinned by Hyundai's E-GMP modular platform which you'll find tucked under a variety of the groups' EVs, too, such as the Genesis GV60 and, of course, the Ioniq 5.
Inside, we've got some clever tech – including 'digital' wing mirrors which replace mirrors with screens – and super-speedy charging that means a ten to 80 per cent charge can be conducted in as little as 18 minutes.
What's under the bonnet?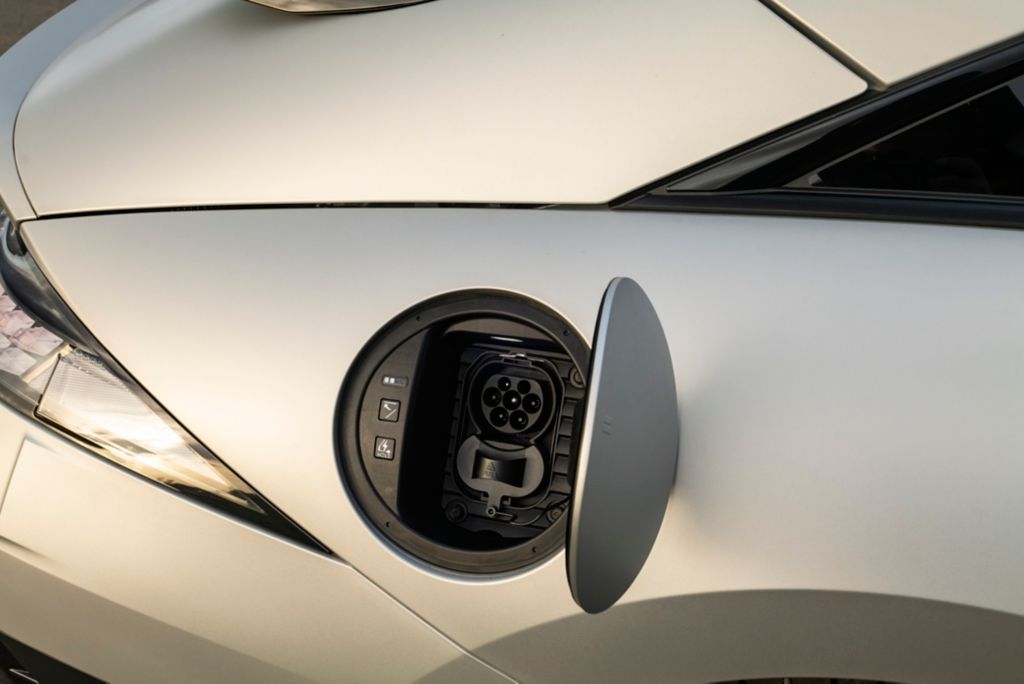 You can get the Ioniq 6 in two different flavours, with either rear- or all-wheel-drive available. Regardless of which of these you opt for there's a 77.4kWh battery underneath, though the all-wheel-drive version – which we're driving – does bring considerably more power at 320bhp over the other's 225bhp. There's not too much to split the two in terms of range, however, with Hyundai claiming up to 339 miles of range in the rear-wheel-drive and 322 miles in the all-wheel-drive.
The all-wheel-drive doesn't half get a move on, mind you, with zero to 60mph being achieved in 4.9 seconds. You're able to switch it to rear-wheel-drive-only mode, too, which can help boost the amount of range you get.
What's it like to drive?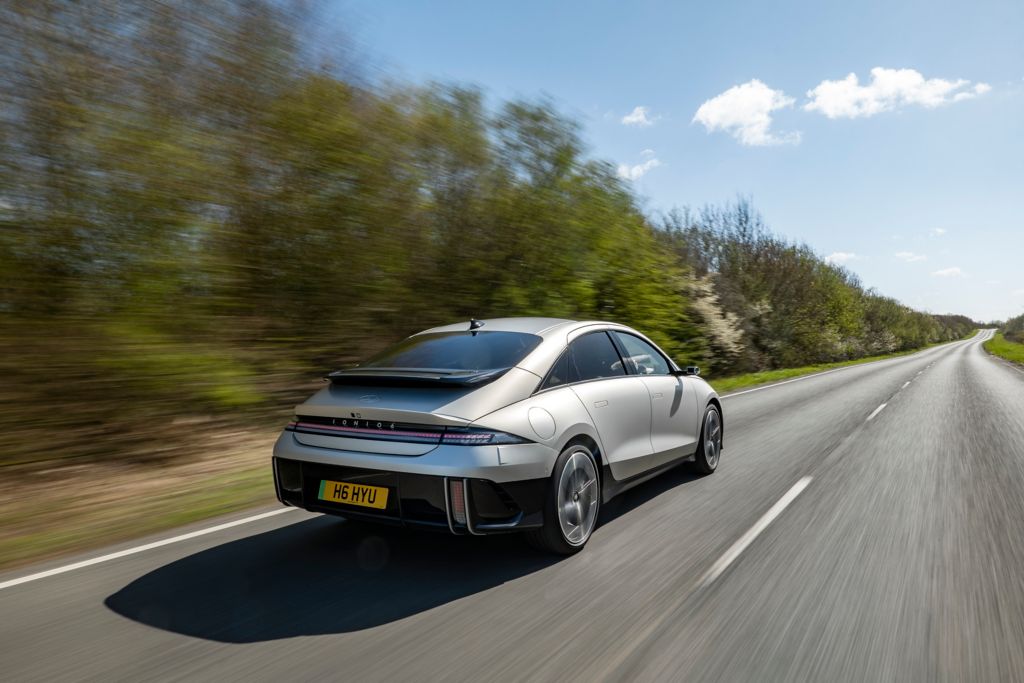 >
From the very start, the Ioniq 6 feels like a car designed to encourage a little bit of calm and serenity. Of course, there's some real performance on offer if you're in the mood to delve a little bit deeper into the throttle pedal's travel, but for just mooching about the 6 feels very fine indeed. Body control is good, too, though we'd like to be able to sit a little lower – it's easy to feel a bit 'perched' even with the seat in its lowest setting.
It does feel particularly fast, that's for sure, but the Ioniq 6's abilities lie in its more 'general' characteristics. It's going to be a great alternative to a traditional petrol or diesel saloon, that's for sure, while also bringing a sprinkling of character to boot.
How does it look?
>
As we've already touched upon, the Ioniq 6's design is a really standout part of the whole car. Of course, looks are a very personal thing but we think the aesthetic of the 6 is superb, with its sleek lines and smoothed edges really helping to give it a feel that is fresh and new.
How will it date? Only time will tell on that front, of course. We think that the uber-modern design may show its age rather quickly, but, again, it's only as the years roll by that we'll be able to find out.
What's it like inside?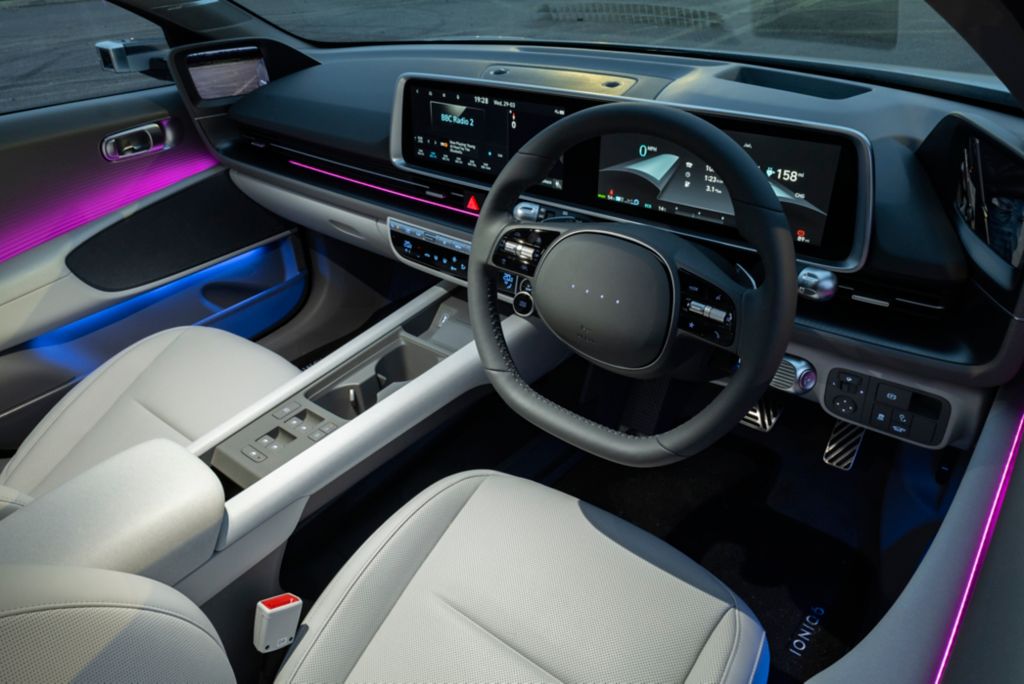 >
There's a nice combination of space and good build quality inside the Ioniq 6. For starters, despite the sloping roofline there's more headroom than you might imagine while legroom for those in the back isn't bad either. Everything has a nice logical placement, too, while vehicle-to-load technology means that you can power domestic appliances via a proper plug below the rear seats of the car.
In terms of boot space, there's a very respectable 401 litres available, while you also get an extra 45 litres of room in the 'frunk' underneath the bonnet. This area is, however, quite shallow, so it can't really be relied upon for storing larger items.
What's the spec like?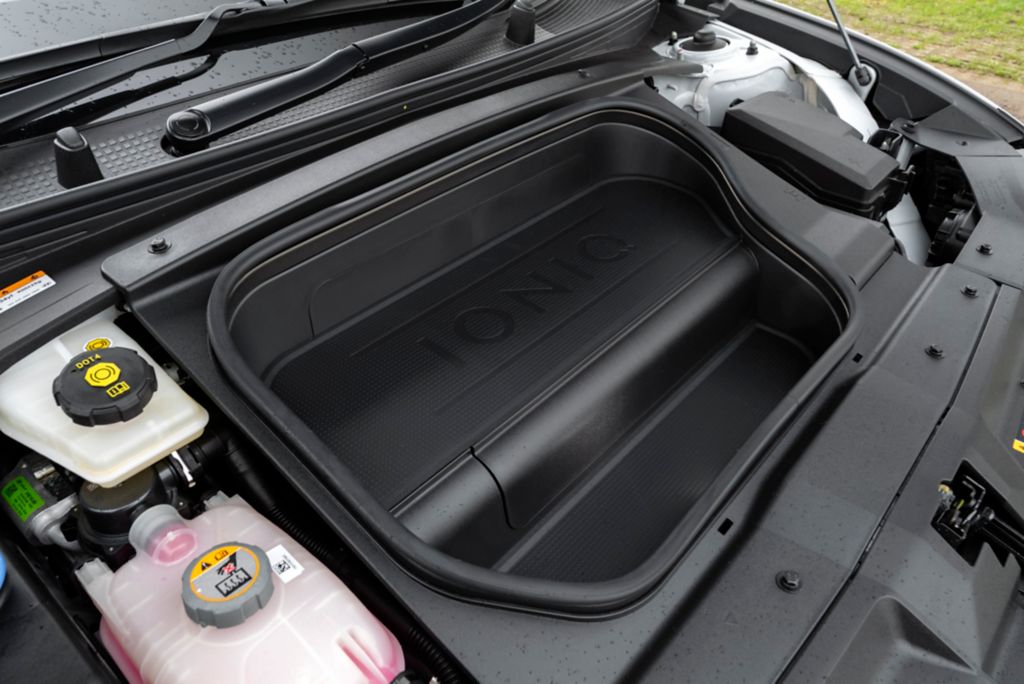 >
There are two main trim levels available for the Ioniq 6 – Premium and Ultimate. There's also a run-out First Edition model, but it's those two 'regular' specifications which will be a core part of the Ioniq 6's make up. Prices kick off from £47,040 for a rear-wheel-drive model in Premium specification, but these models still get dual-zone climate control, heated front seats and a 12.3-inch infotainment display with a digital cockpit of the same size.
Prices do crank up considerably when you opt for Ultimate spec, with a dual-range version with 'digital side mirrors' chiming in at £55,035. However, we reckon that most drivers would be more than happy with the spec of the Premium version.
Verdict
The Ioniq 6 feels like a car to showcase a company which is on a roll. Hyundai has really been knocking it out of the park of late and with the 6 it's only furthering that achievement. This is an EV which is desirable and well-executed, combining elements which are sometimes lost on electric cars.
At the top end it feels a bit too expensive, but in more regular trims the still well-appointed Ioniq 6 stands as a very accomplished electric car.