Dudley patient dies after testing positive for coronavirus
A Dudley hospital patient has died after testing positive for coronavirus - bringing the number of deaths in the UK to eight.
The patient, in their 70s, was being treated at Russells Hall Hospital for an underlying health condition.
It means two people in the Black Country have now died after testing positive for Covid-19. A patient in Wolverhampton died on Monday.
Two more people were also diagnosed with Covid-19 in Wolverhampton today, bringing the total number of cases in the city to five.
Diane Wake, chief executive of the Dudley Group NHS Foundation Trust, said in a statement on Wednesday: "The trust can confirm that a patient in their 70s being treated for underlying health conditions has died. The patient had tested positive for Covid-19.
"The family has been informed and our condolences and our thoughts are with them at this difficult time.
"We will not be commenting further and ask that everybody respects the family's privacy."
Key developments:
President Trump bans foreign citizens entering US from Europe for 30 days - excludes Britain, Ireland and other countries outside the European Schengen passport-free travel area.

WHO officially designates coronavirus as a pandemic.

Global infections are now over 126,000.

A 53-year-old British woman has become the eighth UK citizen to die after contracting coronavirus. She died in Bali, according to Indonesia's health ministry

Tom Hanks and his wife Rita Wilson are in isolation in an Australian hospital after testing positive for coronavirus.

The start of the UK peak of the coronavirus epidemic expected within a fortnight, with "many thousands of people" contracting the virus
Another person died in Nuneaton, Warwickshire, on Thursday after they tested positive.
The new cases in Wolverhampton were confirmed as the Department of Health said 456 people have tested positive for coronavirus in the UK as of 9am on Wednesday, up from 373 at the same point on Tuesday.
This is the largest day on day jump in cases, with cases more than doubling in just four days.
A second case was also confirmed in Birmingham, with a retired person testing positive after returning from Italy.
Only one case has so far been confirmed in Dudley and none have been reported in Walsall or Sandwell. Four people have tested positive in Staffordshire.
More on coronavirus:
Sue Ibbotson, Centre Director at Public Health England West Midlands, said: "Public Health England is contacting people who had close contact with the latest confirmed cases of Covid-19, two of whom are residents of Wolverhampton.
"Close contacts will be given health advice about symptoms and emergency contact details to use if they become unwell in the 14 days after contact with the confirmed case. This tried and tested method will ensure we are able to minimise any risk to them and the wider public."
Today the Chancellor promised to give the NHS "whatever it needs" in terms of funding to tackle the virus in his Budget statement.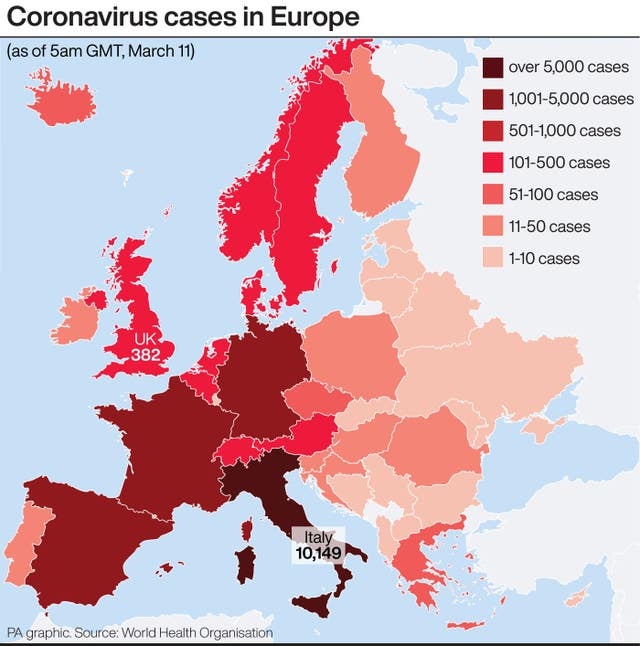 It comes after a woman in her 70s died at New Cross Hospital in Wolverhampton on Monday having tested positive for the virus.
She had underlying health conditions and is thought to have caught Covid-19 in the UK.
Testing began at a drive-thru centre off Stafford Road in Wolverhampton on Wednesday morning.
WATCH: Testing begins at city drive-thru centre
John Denley, Director of Public Health at Wolverhampton Council, said: "I'd like to reassure people that the risk to the general public remains low and that we are working with health partners at a regional and national level to do everything we can to stop the virus spreading and ensure the people of Wolverhampton are protected.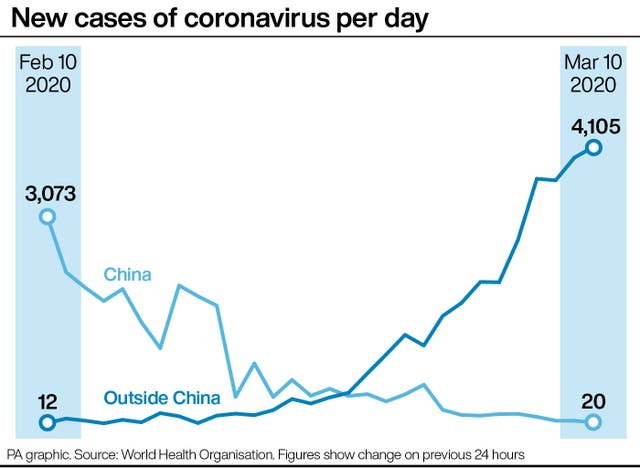 "Good hygiene is the best prevention and there are some simple steps you can take to protect you and your family by washing your hands regularly and thoroughly using soap and water for at least 20 seconds at a time and, if you cough, to cover your mouth and nose with a tissue and dispose of it immediately."
In other local coronavirus news, a primary school in Walsall has shut for three days after staff reported flu-like symptoms and panic-buying has left supermarket and cash and carry shelves empty.
Meanwhile Wolves' Europa League match against Olympiacos is going ahead behind closed doors on Thursday despite the club calling for it to be called off.
West Brom also announced plans to restrict fans' access to players in a bid to protect them during the outbreak.
The club is be shutting down daily access to its training ground facilities in Great Barr to all but essential staff.
"The coronavirus is obviously a developing situation which is causing growing concern not just in football but throughout society," said Albion's Sporting and Technical Director Luke Dowling.
"The last thing we want to do is spoil the natural engagement between the players and fans but we feel it forms part of our responsibility to try to help protect the well-being of the players, staff and our supporters."
Fans will be asked to refrain from having selfies with the players and some community and commercial appearances have been cancelled.
Mascots may also be restricted from meeting the first time on matchdays starting with Saturday's Sky Bet Championship match against Birmingham City.
Budget coronavirus measures revealed
Rishi Sunak set out plans for the health service in his Budget and pledged security and support for those who are sick and unable to work due to the spread of Covid-19.
The Chancellor said: "Whatever extra resources our NHS needs to cope with coronavirus it will get... Whether it's millions of pounds or billions of pounds, whatever it needs, whatever it costs, we stand behind our NHS."
He offered support to any workers who become too ill to work, with new measures including the ability to obtain a sick note by contacting 111 rather than having to visit a GP.
And he said those working in the gig economy or who are self-employed will get quicker and easier access to benefits.
Mr Sunak said he was setting aside a £5 billion emergency response fund to support the NHS and other public services, adding that he "will go further if necessary".
It comes after the Government said there were no plans to test any ministers, including Prime Minister Boris Johnson, for Covid-19 after health minister Nadine Dorries announced she had the virus.
PHE said it had assessed the risk of Ms Dorries' individual close contacts and only those with symptoms need to self-isolate.
For each Covid-19 case, a risk assessment is carried out and advice tailored to that group, a spokeswoman said.
Labour MP for York Central Rachael Maskell said she is self-isolating on the advice of 111 following a meeting with Ms Dorries last Thursday.
In other developments:
NHS England chief executive Sir Simon Stevens announced plans to "invite up to 18,000 third year undergraduate nurses to help out on the frontline" in the battle against coronavirus

England's cricketers have been instructed not to sign autographs or pose for selfies with fans during their test tour of Sri Lanka, while Manchester City's Premier League clash with Arsenal has been postponed as a "precautionary measure" over coronavirus fears

The NHS in England is "ramping up" testing facilities so that 10,000 coronavirus tests can be performed each day

Cambodian health authorities are testing people on a cruise boat docked in Kampong Cham, Cambodia, after a British passenger was reported to be infected with Covid-19. The vessel had sailed from Vietnam.

British nationals from the Grand Princess cruise ship in the port of Oakland, California, will land in Birmingham on Wednesday evening and will be asked to go into self-isolation

The Bank of England announced an emergency cut in interest rates from 0.75 per cent to 0.25 per cent in response to the economic impact of coronavirus.
A 53-year-old British woman is reported to have died from Covid-19 in Indonesia.
She was ill with other health conditions, including diabetes and lung disease, the Indonesian government said.
A Foreign Office spokeswoman said it was offering support, adding: "Our sympathies and thoughts are with her family at this difficult time."
Another British man died in February after becoming infected on the Diamond Princess cruise ship in Japan.
Six other people have died in UK hospitals.
Meanwhile, Britain's fiscal watchdog has slashed its outlook for UK economic growth this year to its lowest level since the financial crisis – even before an expected "significant" hit from coronavirus.
The Office for Budget Responsibility (OBR) said it expects growth to fall to 1.1% in 2020, down from 1.2% last year.