The coronavirus outbreak has led to people rushing to buy hand sanitiser with some parents even packing it into their children's school bags.
Sales of hand sanitiser in those supermarkets more than tripled last month as worried customers flocked to protect themselves from coronavirus.
More coverage:
Parents have also been stocking up their children's backpacks and bags with sanitiser so they can stay hygienic at school.
Worried father Ryan Challenor said he gave his children hand gel to take to Trinity CE Primary School, in Heath Town, Wolverhampton – only to be told pupils were not allowed to bring sanitiser with them.
He said: "My kids' school wouldn't allow them to have hand gel in school with this virus going on.
"I'm scared that my kids don't wash their hands enough so I gave them this to help keep them clean."
A spokesman for the school said hand sanitiser was already in place at the site and was available to students "at all times" – which is why they had asked children not to bring their own bottles in.
Boots, the UK's largest chemist chain, has seen an increase in the sale of hand sanitisers, as have other major pharmacies Lloyds and Well.
At Boots there is currently a limit of two hand sanitisers being purchased per customer to ensure as many people as possible have access to the products they need.
And on Twitter, users have shared photos of empty shelves in Boots' branches as well as images revealing a shortage of hygiene products in some supermarkets.
In the House of Commons, health secretary Matt Hancock was questioned on dwindling supplies of hand sanitising gel and whether the UK will have enough supplies of paracetamol to cope with any large-scale outbreak.
He said: "Our no-deal planning and our no-deal stockpiles are playing an important part in making sure we are fully prepared and ready."
There are three confirmed cases of coronavirus in Birmingham and Staffordshire.
It is understood the first person to be diagnosed with coronavirus in Birmingham is out of hospital and back home self-isolating.
One patient was being treated at Royal Stoke Hospital but is thought to be from outside Staffordshire.
And a second person in the county is also being assessed.
At a press conference last night, Chief Medical Officer Professor Chris Whitty revealed that 18 people have so far recovered from coronavirus in the UK and 45 are being treated at home.
"We have moved to a situation where people have very minimal symptoms and we think they are clinically safe and they are able to self-isolate. We think it is actually safer for them, as well as more pleasant, if they can self-isolate in their own homes," he said.
"Anybody who needs hospitalisation will be hospitalised."
He had earlier warned that critical care beds in the NHS could come under intense pressure during a coronavirus epidemic, and told MPs the UK had mainly moved to the delay stage of tackling the virus.
This could include measures such as school closures, encouraging greater home working, and reducing the number of large-scale gatherings.
But the PM stressed it was important not to "fire your shots too early" in escalating measures to tackle the illness.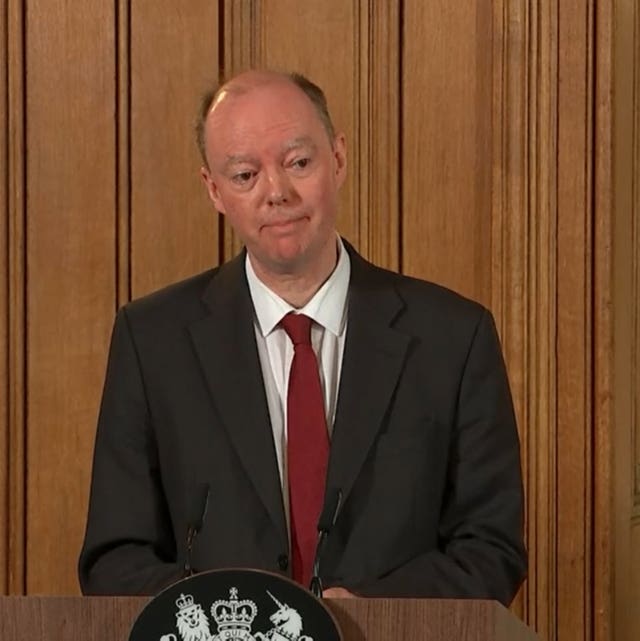 In terms of national prevention measures, Mr Hancock said Prof Whitty told him that stopping flights into the UK would only delay the arrival of the disease "by a matter of days".
He added that halting flights to the UK would also make it "much harder" to get medicines into the country because they are produced abroad.
Prof Whitty has said half of all coronavirus cases in the UK are most likely to occur in just a three-week period, with 95% of them over a nine-week period.