Fit-again Cam Redpath hoping to make an impact for Scotland
The Bath centre has started to enjoy an injury-free run this season.
Cam Redpath feels ready to start establishing himself in the Scotland set-up after a terrible series of injuries prevented him building on his memorable debut in the 2021 Calcutta Cup victory at Twickenham.
The 23-year-old Bath centre has been restricted to just three caps since his stunning start away to England – one as a replacement in last year's Six Nations defeat by Wales in Cardiff and two more in the recent Autumn Tests against Fiji and Argentina.
Having finally started to enjoy an injury-free run this season, Redpath – who is in Gregor Townsend's squad for the upcoming Six Nations – is hoping to start making his presence felt at international level.
"I definitely want to push on," he said.
"I've wanted to do that for a few years but I've been held back a bit with my body not being ready. Hopefully I can push on and play as much as I can.
"I think I've played 14 games this season and I think about 12 of them were for 80 minutes. At the start of the season I didn't expect to play this much rugby, I set myself the target to get 10 games under my belt.
"Having done that I'm trying to find a bit of form. I feel pretty good in some aspects of my game, though some aspects have been quiet.
"I definitely feel I'm trying to find my feet a little bit. To find some form at international level would be pretty cool but that's something I can work on."
Redpath – whose father Bryan won 60 caps for Scotland between 1993 and 2003 – signalled his recent upturn in fortunes when he scored his first international try in the team's last outing against Argentina in November.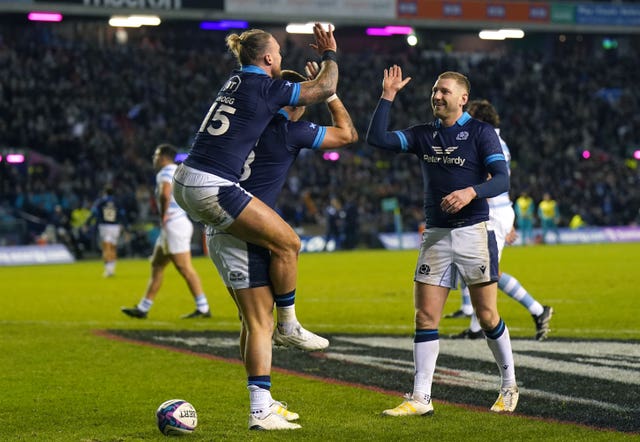 "It has been a tough couple of years for me so it meant a lot to me to get that try," he said.
"I didn't really do a lot for it – Finn (Russell) just kicked it and I dived on it. It wasn't one of the tries I loved, but at the end of the day a try is a try. I'll take it. I'm on the same as my dad now so I'm happy."
Scotland's first match of this year's Six Nations takes them back to Twickenham for the first time since Redpath's debut, which was played behind closed doors due to Covid-19, and he would love to be involved this time round in front of a full house.
"I have not had many caps with a full crowd so it would be pretty cool," he said.
"But I've got to work hard because there have been a lot of centres playing well and the competition is right up there. It's one I'd love to play in."
Recalling his debut at Twickenham, Redpath said: "It was weird with no fans and a first cap. It was strange, but overall it was a great day and a great memory that I will never forget so it is something I'm very excited to try and do again.
"I'd love to try and beat England with the full crowd this time, I think in the last few years Scotland have had the momentum and we've won two out of the last three, so it's an exciting time for Scotland and hopefully we can go and do it again."
Meanwhile, Glasgow assistant coach Pete Horne – who won 44 caps as a player – has been added to the Scotland coaching set-up ahead of the Six Nations, while former New Zealand assistant coach Brad Mooar will also join Gregor Townsend's management team on a consultancy basis.