Ukraine hosts defence industry forum seeking to boost weapons production
President Volodymyr Zelensky spoke at the opening of the International Defence Industries Forum.
Ukraine has hosted an international defence industry conference as part of a government effort to increase weapons production in the country to repel Russia's invasion and reduce foreign dependence on arms deliveries.
The event marked a new development in support of Ukraine, with the previous focus being on the delivery of weapons, repair of damaged equipment and military training of Ukrainian soldiers.
President Volodymyr Zelensky, speaking at the opening of the International Defence Industries Forum, said around 250 defence companies from more than 30 countries had gathered in Kyiv. Defence ministers and representatives of several countries also attended the event.
"Heroism alone cannot intercept missiles. Ukraine needs capabilities, high quality, high quantity, and quickly. There is no defence without industry," said Nato secretary general Jens Stoltenberg, who spoke by videolink during the forum on the day after his visit to Kyiv.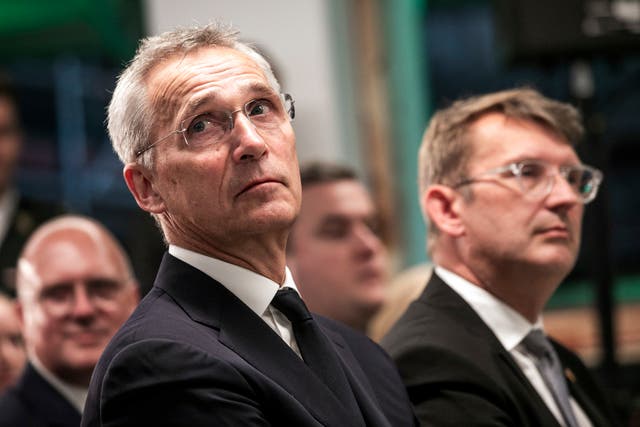 He said Wendy Gilmour, Nato's assistant secretary general for defence investments, was representing the transatlantic alliance at the event.
Mr Stoltenberg acknowledged that many allies have significantly depleted their stocks to support Ukraine, adding: "This was the right thing to do, but now we need to ramp up production, both to meet Ukraine's needs and to ensure our own deterrence in events."
Mr Zelensky disclosed the details of his recent trip to Washington, where he agreed with US President Joe Biden on "the establishment of a new industrial ecosystem that will strengthen both Ukraine and all the partners".
He described it as "one of the key outcomes" of his negotiations with Mr Biden in Washington.
Mr Zelensky's chief of staff, Andriy Yermak, said there will be meetings soon with representatives from the US "to determine the road map of co-operation with the partners about localisation of production, specifically in Ukraine".
During the forum, the Ukrainian leader announced the creation of the Defence Industries Alliance and added that 13 companies had already signed the corresponding declaration.
To support the co-operation and develop an industry complex, Ukraine plans to establish a special fund, which will be paid into through dividends from state defence resources and profits from the sale of confiscated Russian assets, Mr Zelensky said.
Foreign minister Dmytro Kuleba said the first talks about joint production with allies began last autumn. "At first, we were talking about repairs within Ukraine, and then about joint production. And now, this topic is prevalent everywhere," he said.
According to Mr Kuleba, in discussions with the partners, there is also interest in the experience and production capabilities of Ukrainian businesses.
"Just as we have benefited from western weapons, western arms manufacturers also gain unique advantages in the market to improve their models and create even more powerful weapons," he said.
Ukraine's recently appointed defence minister, Rustem Umerov, said the country must do everything possible to produce the military services and products in Ukraine for its army. The other priority is the development of defence technologies that now play an important role on the battlefield.
"Our vision is to develop world-class military products," Mr Umerov said.