Residents prepare to return to ruined homes seven weeks after Lahaina wildfire
The historic Hawaiian town was razed by fire on August 8, killing at least 97 people and destroying more than 2,000 buildings, most of them homes.
The first residents and property owners are being allowed to return to their devastated homes in the Hawaiian town of Lahaina, seven weeks after it was engulfed by wildfires.
The deadliest US wildfire in more than a century saw people race into the sea to escape the flames as the former capital of the once-Hawaiian kingdom burned.
As the first restrictions start to lift on the 17 zones and dozens of sub-zones of burned ruins, divided up by the government, residents have been told they will be accompanied on visits to their properties on Monday and Tuesday amid fears of toxic dust left behind by the fires.
Non-profit organisations will offer protective equipment such as masks and coveralls as the ash may contain asbestos, lead, arsenic or other dangerous substances.
Lahaina residents will also be provided with water, shade, medical and mental health care, toilets, washing stations and transportation if needed.
Interim administrator of the Maui Emergency Management Agency Darryl Oliveira said authorities plan to approach the first home visits delicately, allowing people space and privacy to grieve and reflect in the wake of the disastrous fire.
He said: "They anticipate some people will only want to go for a very short period of time, a few minutes to say goodbye in a way to their property.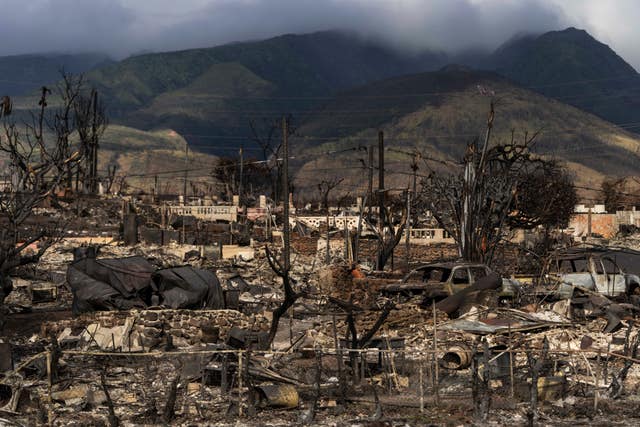 Mr Oliveira's comments echo those of Hawaii Governor Josh Green, made last week as the first residents were told they would soon be allowed home visits.
Mr Green said: "Others may want to stay several hours. They're going to be very accommodating."
The fire left at least 97 people dead and destroyed more than 2,000 buildings.
Officials originally thought the death toll to sit around 115 people but that number dropped after DNA testing.
Maui Police chief John Pelletier said 74 of the victims had been identified and confirmed the number of missing people had fallen from 41 to 31.