US to protect hundreds of thousands of Venezuelans amid pressure over border
The Homeland Security Department plans to grant Temporary Protected Status to an estimated 472,000 Venezuelans.
The US is granting temporary legal status to hundreds of thousands of Venezuelans who are already in the country, President Joe Biden's administration confirmed on Wednesday.
The move will quickly make them eligible to work as the administration grapples with the growing numbers of people fleeing the South American country and elsewhere to arrive at the US border with Mexico.
Along with promises to accelerate work permits for many migrants, the move may appease Democratic leaders who have pressured the White House to do more to aid asylum seekers, while providing grist for Republicans who say the president has been too relaxed on immigration.
The Homeland Security Department plans to grant Temporary Protected Status to an estimated 472,000 Venezuelans who arrived in the country by July 31 2023, making it easier for them to get authorisation to work in the US.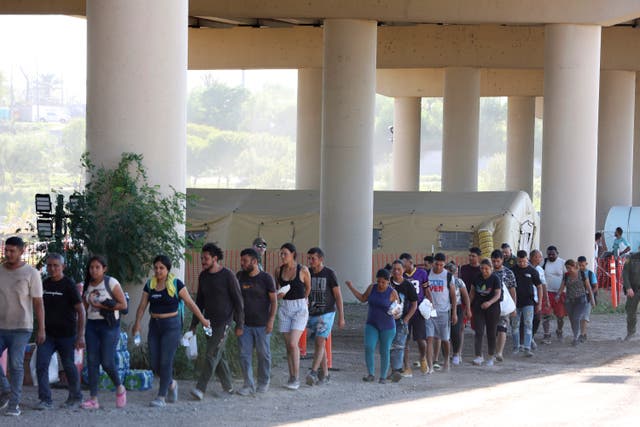 That has been a key demand of Democratic mayors and governors who are struggling to care for an increased number of migrants in their care.
About 242,700 further Venezuelans had already qualified for temporary status before the announcement.
The protections for Venezuelans are significant because they account for such a large number of the migrants who have been arriving in the country in recent years.
Venezuela plunged into a political, economic and humanitarian crisis over the last decade, pushing at least 7.3 million people to migrate and making food and other necessities unaffordable for those who remain.
The vast majority who fled settled in neighbouring countries in Latin America, but many began coming to the United States in the last three years through the notoriously dangerous Darien Gap, a stretch of jungle in Panama.
Venezuelans arriving in the US after July 31 will not be eligible for the protection. Those who are eligible have to apply.
Homeland security secretary Alejandro Mayorkas granted the expansion and an 18-month extension for those who already have temporary status due to "Venezuela's increased instability and lack of safety due to the enduring humanitarian, security, political, and environmental conditions," the department said in a statement.
The administration said it would accelerate work authorisations for people who have arrived in the country since January through a mobile app for appointments at land crossings with Mexico, called CBP One, or through parole granted to Cubans, Haitians, Nicaraguans and Venezuelans who have financial sponsors and arrive at an airport.
It will aim to give them work permits within 30 days, compared with about 90 days currently.
The promise of accelerated work permits does not apply to people who cross the border illegally and seek asylum, who, by law, must wait for six months to receive work permits.
Mayors and governors have been clamouring for President Joe Biden to figure out a way to get newly arrived migrants to be able to work legally, so they can support themselves.
Democratic officials in New York, Massachusetts, Chicago and elsewhere have complained about the strain newly arrived migrants are putting on their resources, especially in New York where the government is required to provide housing for anyone who needs it. The city is paying to house about 60,000 newly arrived migrants.