Two of Norway's top female politicians facing consequences of husbands' misdeeds
Foreign minister Anniken Huitfeldt and ex-PM Erna Solberg are being urged to quit after it emerged their husbands traded in shares behind their backs.
The political careers of two of Norway's most powerful women are under threat after it was revealed that their husbands had been trading in shares behind their backs.
Foreign minister Anniken Huitfeldt, of the centre-left Labour Party, and former conservative prime minister Erna Solberg are having to explain why they were making decisions in office that could potentially have enriched their spouses.
The cases of the two women on opposite sides of the political divide are separate but their defence is more or less the same: they say they did not know what their husbands were up to. And rivals are calling for both women to stand down.
Green Party politician Rasmus Hansson said the pair are damaging the reputation of Norwegian politics and urged them both to resign.
"Walk now. Please," he wrote on Facebook, adding that if they refuse to go, their parties should remove them.
The case against 62-year-old Ms Solberg is more serious.
During her two terms in office from 2013 to 2021, her husband, Sindre Finnes, made more than 3,600 share deals, many of which should have disqualified Ms Solberg from making decisions on running the country.
In interviews with Norwegian media on Thursday, Ms Solberg said: "I mean very clearly that I have responsibility, and I have explained why: I thought I had fulfilled my responsibility. I had no reason to believe that Sindre was deceiving me."
She said her husband "cannot engage in share trading if I become prime minister again".
In a statement issued through his lawyer, Mr Finnes admitted that he lied to his wife about his trades but he said he never acted on inside information, which would have been a criminal offence.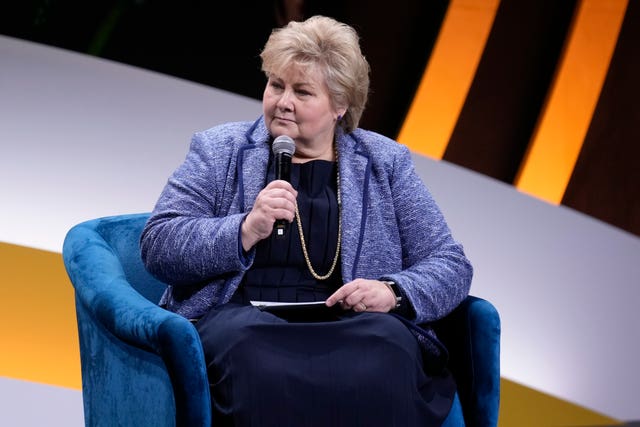 Even in Norway, where the route to the top of politics is considered smoother for women than other places in the world, the stereotype-busting image of Ms Solberg being too busy running the country to worry what her husband was doing at home has often been played for laughs.
"That would not have happened if it was the other way around. These men are being made fun of because they are men with powerful wives," said Berit Aalborg, political editor with the Vart Land newspaper.
"We like to think we have a high degree of gender equality in Norway. But this is a kind of sexism."
Mr Finnes' share trading came to light after foreign minister Ms Huitfeldt admitted that her husband, Ola Flem, had traded shares in companies her decisions could have affected.
After being scolded by her own government's legal department for failing to get to grips with her partner's "financial activities", she admitted in a statement that she "should have asked my husband what shares he owned".
The 53-year-old foreign minister said that, since she did not know about the conflicts of interests, her decisions were still valid.
Norwegian Prime Minister Jonas Gahr Store, the leader of Ms Huitfeldt's party, has backed her.
Ms Solberg, who has led the conservative Hoeyre party since May 2004, wants to be the lead conservative candidate for the national election in 2025.
On Thursday, she said she is willing to continue as leader but that it up to the party to decide.