Donald Trump's criminal case on charges of mishandling classified documents will initially be overseen by a federal judge who issued rulings favourable to him last year and expressed repeated scepticism about Justice Department positions.
The assignment of US District Judge Aileen Cannon, confirmed on Friday by a source, is a rare bit of positive news for the former US president in the face of an indictment with several criminal charges which carries the prospect of a years-long prison sentence.
Judge Cannon was criticised last year for granting the Trump legal team's request for a special master to conduct an independent review of the hundreds of classified documents seized from his Florida property.
The move, which temporarily halted core aspects of the Justice Department's investigative work, was overturned months later by a three-judge panel of a federal appeals court.
Meanwhile on Friday, two of Mr Trump's lawyers — James Trusty and John Rowley, who had handled the documents probe for months – said they had resigned their roles. Mr Trump said the case will now be handled by Todd Blanche, a lawyer representing him in a separate prosecution in New York, and other yet-to-be-named attorneys.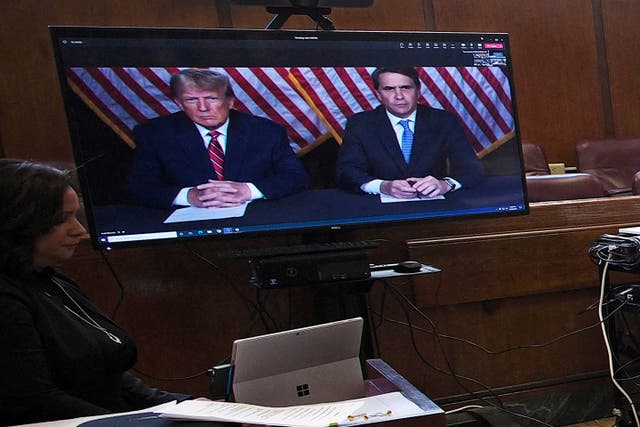 The Justice Department is expected to make public before Tuesday an indictment ahead of a historic court appearance next week in the midst of a 2024 presidential campaign punctuated by criminal prosecutions in multiple states.
Mr Trump's indictment carries grave legal consequences, including the possibility of prison if he is convicted.
But it also has enormous political implications, potentially upending a Republican presidential primary that Mr Trump had been dominating and testing the willingness of party voters and leaders to stick with a now twice-indicted candidate who could face still more charges.
And it sets the stage for a sensational trial centred on claims that a man once entrusted to safeguard the nation's most closely guarded secrets wilfully and illegally hoarded sensitive national security information after leaving office.
Two sources said the indictment included seven criminal charges, and one added that Mr Trump's lawyers were contacted by prosecutors shortly before he announced on Thursday on his Truth Social platform that he had been indicted.
Within minutes of his announcement, he began fundraising off it for his presidential campaign. He declared his innocence in a video and repeated his claim that the investigation is a "witch hunt".
He said he was due in court Tuesday afternoon in Miami, where a federal grand jury had been hearing evidence as recently as this week.
The case adds to deepening legal jeopardy for Mr Trump, who has already been indicted in New York and faces additional investigations in Washington and Atlanta that also could lead to criminal charges.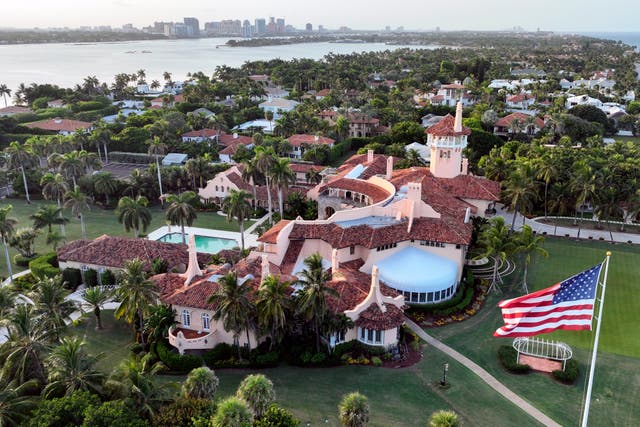 Legal experts and Mr Trump's own aides had long seen the Mar-a-Lago probe as the most perilous threat and the one most ripe for prosecution. Campaign aides had been bracing for the fallout since his lawyers were notified that he was the target of the investigation, assuming it was not a matter of if charges would be brought, but when.
Appearing on Thursday night on CNN, Mr Trusty said the indictment included charges of wilful retention of national defence information — a crime under the Espionage Act, which regulates the handling of government secrets — obstruction, false statements and conspiracy.
The case is a milestone for a Justice Department that had investigated Mr Trump for years — as president and private citizen — but had never charged him with a crime.
The most notable investigation was an earlier special counsel probe into ties between his 2016 campaign and Russia, but prosecutors in that probe cited Justice Department policy against indicting a sitting president. Once he left office he lost that protection.
The inquiry took a major step forward last November when attorney general Merrick Garland, a former federal judge who has long said that no person should be above the law, appointed Jack Smith, a war crimes prosecutor with an aggressive reputation, to lead the documents probe and a separate investigation into efforts to subvert the 2020 election.
The indictment arises from a months-long investigation into whether Mr Trump broke the law by holding on to hundreds of documents marked classified at his Palm Beach property, Mar-a-Lago, and whether he took steps to obstruct the government's efforts to recover the records.
Prosecutors have said he took roughly 300 classified documents to Mar-a-Lago after leaving the White House, including 100 that were seized by the FBI last August in a search of the home.
Mr Trump has repeatedly insisted he was entitled to keep the classified documents when he left the White House, and has also claimed without evidence that he had declassified them.