The European Union has stepped up its rule-of-law fight with Poland after the bloc's highest court confirmed that Warsaw had refused to comply with EU rules on judicial independence.
The European Court of Justice ruled on Monday that Poland's 2019 justice reform infringed EU law after the European Commission, the bloc's executive branch, warned that the Polish Supreme Court lacked the necessary independence and impartiality.
"By today's judgment, the court upholds the commission's action," a court statement said.
It added that "the value of the rule of law is an integral part of the very identity of the European Union as a common legal order and is given concrete expression in principles containing legally binding obligations for the member states".
It said Poland did not meet these obligations.
The disagreement over the functioning of the Supreme Court is one of several disputes that the right-wing government in Warsaw has with the EU institutions.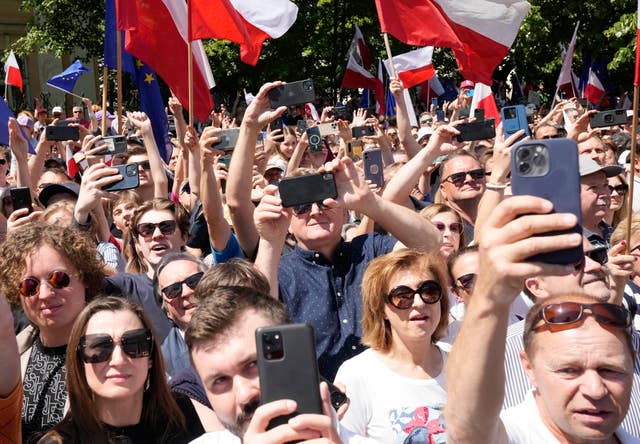 It claims the bloc is undermining Poland's inalienable rights to make independent decisions.
The EU institutions have insisted that Poland under the populist Law and Justice party has been on a slippery slope away from the EU's rule-of-law principles.
This dispute centres on the independence of Polish Supreme Court judges when they review EU law.
Only last week, the United States and the EU's top justice official criticised Polish plans for another law that could keep political opponents from holding public office without full legal recourse.
The EU threatened to take measures if it became fully clear such a law would undermine democratic standards.
The criticism does not only come from the EU itself.
Hundreds of thousands of people marched in an anti-government protest in Poland's capital on Sunday, with citizens travelling from across the country to voice their anger at officials who they say have eroded democratic norms and created fears that the nation is following Hungary and Turkey down the path to autocracy.
Organisers estimated that 500,000 people took part in the march, which was probably the largest of recent decades.
In the stand-off centring on Monday's ruling by the Luxembourg court, Polish authorities already have had to pay about 550 million euros in fines since October 2021, when the system of 1 million euros in daily fines started. The daily fines were halved in April.
After the collapse of the Soviet empire, Poland joined the EU along with other central and eastern European nations.
Since they emerged from autocracy, they were long expected to thrive to become models of Western liberal democracies. Critics now say that Poland and Hungary are slipping again towards one-party authoritarian rule.