Several Jewish groups, politicians and an alliance of civil society groups gathered for a memorial ceremony and a protest rally against a concert by Roger Waters in Frankfurt on Sunday.
They accuse the Pink Floyd co-founder of antisemitism, an allegation he denies.
Waters has also drawn their ire for his support of the BDS movement, which calls for boycotts and sanctions against Israel.
Frankfurt authorities had initially tried to prevent the concert, but Waters challenged that move successfully in a local court.
The concert is taking place in the city's Festhalle, where in November 1938 more than 2,700 Jews were rounded up by the Nazis, beaten and abused, and later deported to concentration camps.
"It's very frustrating" that the concert is going ahead as scheduled even though Frankfurt officials and many others tried to prevent it, said Elio Adler, the head of the Jewish group WerteInitiative which supports the protest.
"His words and imagery spread Jew hatred and are part of a trend: to normalise Israel hatred under the protection of freedom of speech or art," Mr Adler added.
Last week, police in Berlin said they had opened an investigation of Waters on suspicion of incitement over a costume the Pink Floyd co-founder wore when he performed in the German capital earlier this month.
Images on social media showed Waters firing an imitation machine gun while dressed in a long black coat with a red armband.
Police confirmed that an investigation was opened over suspicions that the context of the costume could constitute a glorification, justification or approval of Nazi rule and therefore a disturbance of the public peace.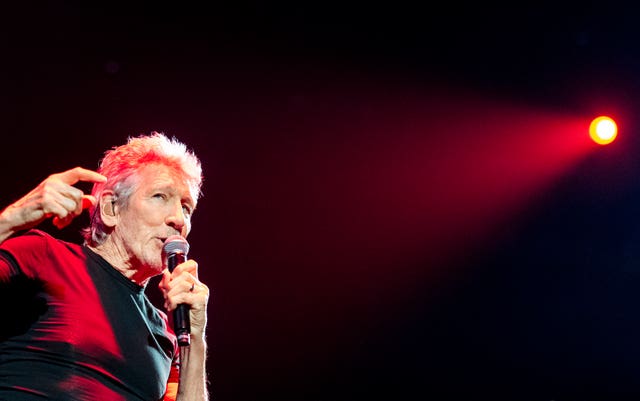 Waters rejected those accusations in a statement on Facebook and Instagram, saying that "the elements of my performance that have been questioned are quite clearly a statement in opposition to fascism, injustice and bigotry in all its forms".
He claimed that "attempts to portray those elements as something else are disingenuous and politically motivated".
During Sunday's ceremony, which took place in front of the Frankfurt concert venue before Waters' concert begins, protesters read out loud the names of 600 Jews who were rounded up at the Festhalle on November 9, 1939, the so-called Kristallnacht, the "Night of Broken Glass", when Nazis terrorised Jews throughout Germany and Austria.
The organisers also held a joint Jewish-Christian prayer for the victims of the Nazi terror in Frankfurt.
"Hatred of Jews is to be condemned everywhere in our city," Frankfurt mayor Mike Josef said, according to German news agency dpa.
"There is no reason to hate, insult and attack a person because of his religion."
In addition, some of the around 400 protesters handed out flyers to concertgoers and waved Israeli flags. Others held up banners with slogans such as "Israel, we stand with you" or "Roger Waters, wish you were not here" in reference to Pink Floyd's famous song Wish You Were Were, German news agency dpa reported.
Protesters in Munich rallied against a concert by Waters earlier this month, after the city council said it had explored possibilities of banning the performance but concluded that it was not legally possible to cancel a contract with the organiser.
Last year, the Polish city of Krakow cancelled gigs by Waters because of his sympathetic stance toward Russia in its war against Ukraine.