Palestinian killed after alleged stab attempt in West Bank – Israeli military
The Palestinian Health ministry confirmed the death and identified the man as Alaa Qissaya, 28.
A Palestinian man was shot and killed on Friday in the occupied West Bank after sneaking into a Jewish settlement and trying to stab a resident there, the Israeli army said.
In a statement, the military said the man attempted to stab a resident in the Tene Omarim settlement and was shot by an armed civilian. It said the incident had set off an alarm and soldiers were scanning the area.
The Palestinian Health ministry confirmed the death and identified the dead man as Alaa Qissaya, 28.
Security camera footage from the site shows a Palestinian male crawling in under a gate and walking into the settlement while holding a knife. The video does not show the alleged stabbing attempt or the man being shot.
The settlement is located near Hebron, a flashpoint city in the southern West Bank, which is a frequent site of friction between Palestinian residents and Jewish settlers.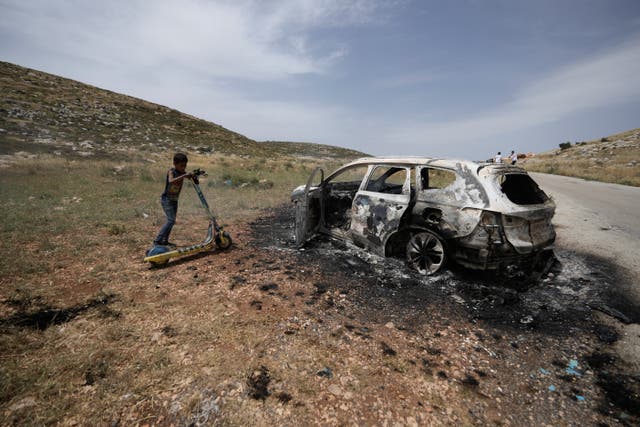 Meanwhile, Jewish settlers attacked Palestinian farmers and torched five vehicles at the village of al-Mughayyir near the city of Ramallah, the official Palestinian news agency reported.
It said five farmers were beaten and injured by the settlers. Israeli media reported that Israeli forces were sent in to bring the situation under control. There was no immediate comment from the military.
The incidents occurred as Jews were celebrating Shavuot, a festival marking the day that Jews believe the Torah was given to Moses on Mount Sinai in Egypt.
It was the latest in more than a year-long spate of violence in the West Bank. During that time, Israel has expanded near-nightly military raids throughout the area in response to an increase in Palestinian attacks.