Tribal leaders, scientists and conservation advocates have buried Southern California's most famous mountain lion in the mountains where the big cat once roamed.
After making his home in the urban Griffith Park — home of the Hollywood Sign — for the past decade, P-22 became a symbol for California's endangered mountain lions and their decreasing genetic diversity.
The death of the cougar, named P-22 because the animal was the 22nd puma in a National Park Service study, late last year set off a debate between the tribes in the Los Angeles area and wildlife officials over whether scientists could keep samples of the mountain lion's remains for future testing and research.
Some representatives of the Chumash, Tataviam and Gabrielino (Tongva) peoples argued that samples taken during the necropsy should be buried with the rest of his body in the ancestral lands where he spent his life.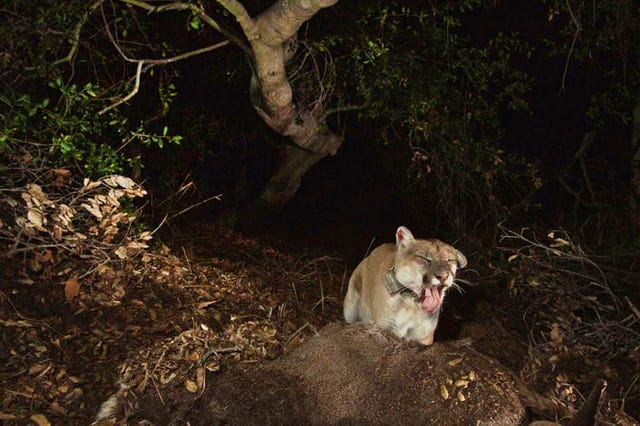 Some tribal elders said keeping the specimens for scientific testing would be disrespectful to their traditions.
Tribal representatives, wildlife officials and others discussed a potential compromise for hours in recent weeks, but it was not immediately clear on Monday what conclusion the group reached before P-22 was buried in an unspecified location in the Santa Monica Mountains on Saturday.
The traditional tribal burial included songs, prayers and sage smoke cleansings, according to Alan Salazar, a tribal member of the Fernandeno Tataviam Band of Mission Indians and a descendent of the Chumash tribe.
Mr Salazar, who attended the ceremony, said he believes P-22's legacy will help wildlife officials and scientists realise the importance of being respectful to animals.
Wildlife officials believe P-22 was born about 12 years ago in the western Santa Monica Mountains.
They think he left because of his father's aggression and his struggle to find a mate amid a dwindling population.
That drove the cougar to cross two busy motorways and migrate east to Griffith Park, where a wildlife biologist captured him on a trail camera in 2012.
A boulder from Griffith Park was taken to the gravesite in the Santa Monica Mountains and placed near P-22's grave, Mr Salazar said.