Elections shine spotlight on Tunisia's troubled democracy
Turnout was just 11% in the first round of voting last month.
Tunisia's president and the country's shaky, decade-long experiment with democracy are facing an important test as voters cast ballots in the second round of parliamentary elections.
Turnout was just 11% in the first round of voting last month, as many disaffected Tunisians stayed away and the influential opposition Islamist party boycotted the poll.
Sunday's run-off elections are being watched around the Arab world.
They are seen as a conclusive step in President Kais Saied's push to consolidate power, tame Islamist rivals and win back lenders and investors needed to save the teetering economy.
Voters are choosing politicians to replace the last parliament, led by Islamist party Ennahdha, which Mr Saied suspended in 2021 and later disbanded. He then had the constitution rewritten to give more power to the president and less to the legislature.
Analysts note a growing crisis of confidence between citizens and the political class since Tunisia's 2011 revolution unleashed Arab Spring uprisings across the region, and led Tunisians to create a new democratic political system once seen as a model.
At a Tunis food market ahead of Sunday's vote, few people seemed to think a new parliament would solve their problems. Vendors struggled to sell their wares as shoppers lamented rising prices.
Polls opened at 8am (0700 GMT) on Sunday, except in restive regions near the Algerian and Libyan borders where authorities are limiting voting hours for security reasons.
The turnout rate – an important sign of the elections' legitimacy – is expected to be announced on Sunday evening, and the election results in the ensuing days.
In the first-round elections, 23 candidates secured seats outright in the 161-seat parliament, either because they ran unopposed or because they won more than 50% of the vote.
In Sunday's run-off, voters are choosing among 262 candidates seeking to fill 131 seats.
No candidates bothered to run in seven other constituencies, with electoral officials saying those seats will be filled in special elections at a later date.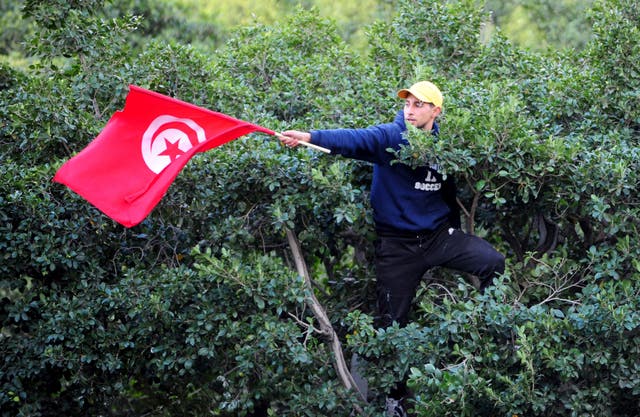 Mr Saied and his supporters argue that his overhaul of Tunisian politics was needed to end political deadlock seen as worsening economic and social crises.
Unemployment tops 18%, the soaring budget deficit has led to shortages of staples, and the International Monetary Fund has frozen talks on a much-awaited new loan for the Tunisian government.
Mr Saied's popularity has sunk since his election in 2019, as evidenced by a video shared online of an impromptu visit he made to a cafe in Tunis amid campaigning earlier this month.
"God willing, we will provide you with everything you need … as long as you have hope," he told a group of young people.
One retorted: "We don't have hope."