Andrew Tate's phones and laptops being searched as he says 'there's no justice'
The 36-year-old social media personality was initially detained in late December amid an organised crime and human trafficking probe.
Andrew Tate's mobile phones and laptops are being searched as Romanian prosecutors look for evidence as part of an organised crime and human trafficking probe, an official has said.
The 36-year-old British-US citizen, who has almost five million Twitter followers, was detained in Bucharest in late December alongside his brother Tristan and two Romanian women.
On Wednesday, both Tates were escorted in handcuffs from a police van to the capital city offices of the country's Directorate for Investigating Organised Crime and Terrorism (Diicot).
Ramon Bolla from Diicot confirmed Tate's devices are being forensically examined.
Responding to a journalist's questions as he arrived at the offices, Tate said "the case file is completely empty" and "there is no justice in Romania".
Tristan Tate was heard saying: "For my money. That is why I am in jail. I have money that they are going to steal."
Both brothers will be detained until late February after a judge on Friday granted prosecutors a request to extend for a second time their detention by 30 days.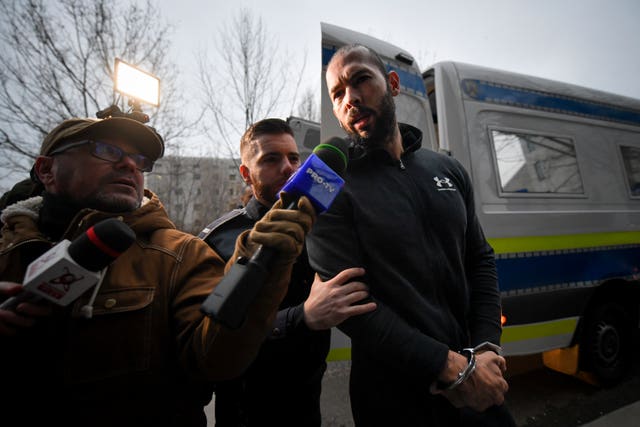 It is not clear whether the Tates have appealed the ruling.
As the Tate brothers left the DIICOT offices on Wednesday, a lawyer representing them, Eugen Vidineac, told journalists that "they want the truth to be found out as soon as possible".
"Their general state is that of any man being held in arrest for about 30 days," he said, adding that "they're confident in their defence … they have a detailed statement, they're collaborating, we believe that (their) defence is getting better".
Andrew Tate, a former professional kickboxer who has reportedly lived in Romania since 2017, was previously banned from various prominent social media platforms for expressing misogynistic views and hate speech.
After the Tates and women were arrested, Diicot said it had identified six victims subjected to "acts of physical violence and mental coercion" and sexually exploited by members of an alleged crime gang.
Victims were lured with pretences of love but later intimidated, kept under surveillance and subjected to other control tactics while being coerced into engaging in pornographic acts for substantial financial gains, the agency said.
Late on Tuesday, a post appeared on Andrew Tate's Twitter account saying: "My case is a political operation designed to degrade my influence. Throughout history, unjust imprisonment has been used to silence empowering people. The game hasn't changed."
Earlier in January, Romanian authorities descended on a compound near Bucharest and towed away a fleet of luxury cars, including a blue Rolls-Royce, a Ferrari and a Porsche.
They reported seizing assets worth an estimated £3.16 million.
Prosecutors have said that if they can prove the owners gained money through illicit activities such as human trafficking, the assets would be used to cover the expenses of the investigation and to compensate victims.
Tate also unsuccessfully appealed the asset seizure.