Prosecutors to decide if killer nurse Lucy Letby will face retrial
Letby was convicted of seven murders and six attempted murders but a jury could not reach a verdict on six further counts.
Prosecutors will decide on Monday whether to seek a retrial for child serial killer nurse Lucy Letby on a number of outstanding allegations.
Letby, 33, was sentenced to a whole life order after jurors convicted her of the murders of seven babies and the attempted murders of six others at the Countess of Chester Hospital's neonatal unit in 2015 and 2016.
However, the jury in her trial at Manchester Crown Court was unable to reach verdicts last month on six counts of attempted murder in relation to five children.
A hearing is due to take place at the same court on Monday when the Crown Prosecution Service will outline its intentions.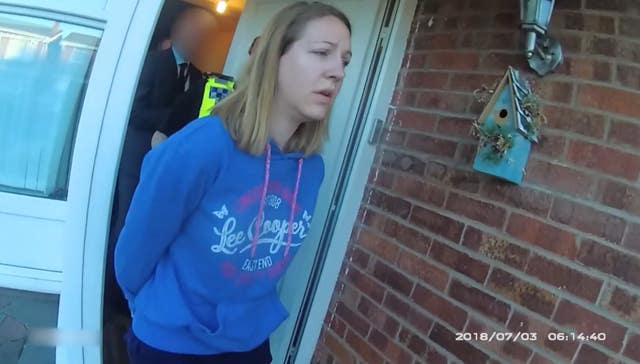 Letby, from Hereford, denied all the offences and formally lodged an appeal against her conviction at the Court of Appeal earlier this month.
The jury of seven women and four men in her trial could not reach verdicts on allegations that Letby attempted to murder three baby girls, known in court documents as Child H, Child J and Child K.
She was cleared of two other counts of attempted murder.
The jury also decided it could not reach verdicts over two counts of attempted murder against Child N, a baby boy, and an allegation she tried to murder another male infant, Child Q.
Letby was found guilty of one count of attempted murder against Child N.
The Countess of Chester Hospital saw a significant rise in the number of babies suffering serious and unexpected collapses in 2015 and 2016.
Letby's presence when collapses took place was first mentioned to senior management by the unit's head consultant in late June 2015.
Concerns among some consultants about the defendant increased and were voiced to hospital bosses when more unexplained and unusual collapses of babies followed, her trial at Manchester Crown Court heard.
Letby was not removed from the unit until after the deaths of two triplet boys and the collapse of another baby boy on three successive days in June 2016.
She was confined to clerical work but registered a grievance procedure, which was resolved in her favour, and was due to return to the unit in March 2017.
Letby was arrested at her home in Chester in July 2018 and charged in November that year. The trial began on October 4 2022 with the jury reaching its final deliberations on August 18 2023 and she was sentenced on August 21.