King wears new tartan and greets well-wishers in French on village visit
Charles visited Tomintoul, near the Balmoral estate.
The King met schoolchildren and chatted in French to some well-wishers as he visited the highest village in highland Scotland.
Charles, who is on his summer break at the nearby Balmoral estate in Aberdeenshire, visited Tomintoul in the Cairngorms National Park and was welcomed by primary school children and community stalwarts.
He wore a kilt made from the King Charles III tartan, which was first seen in public a couple of weeks ago.
Villagers flocked to greet the King and the Dufftown Pipe Band performed in anticipation of his arrival.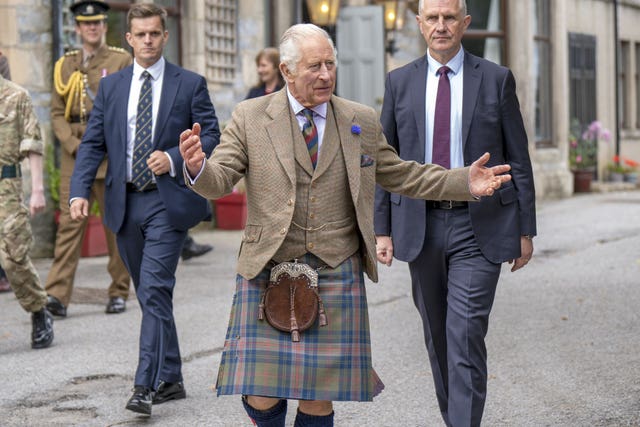 Tomintoul, which dates from the 1750s, has a history of whisky production but faced economic downturn in the 2000s.
As a result, the community pulled together to access grant funding and to promote tourism in the region.
It now has 750 villagers – nearly twice the population in 2012 – after the community worked to address socio-economic problems including lack of development, an ageing population, and unaffordable housing.
The Glenlivet Development Trust was formed to address the economic problems and instigated a £3.3 million energy-efficient housing development, the Auld School Close, on the site of a derelict school.
Charles visited the site, which now has 12 affordable homes built on it, and met residents, conversing in French with some of them.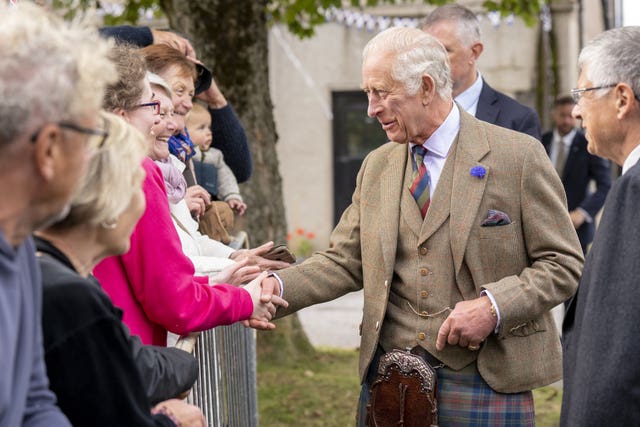 He was welcomed by local school and nursery pupils, who greeted him wearing homemade crowns and waving Scottish and British flags.
Charles said to one of the children: "You have been busy making things."
During a walkabout at the village green, an elderly man asked Charles to wish his wife a happy birthday.
A woman shouted: "We love you King Charles," and another woman showed him a blue manicure and asked: "Do you like my nails?"
Alasdair Sharp, 79, a member of the Glenlivet Development Trust board, wore a kilt for the visit of the King, whom he described as a neighbour.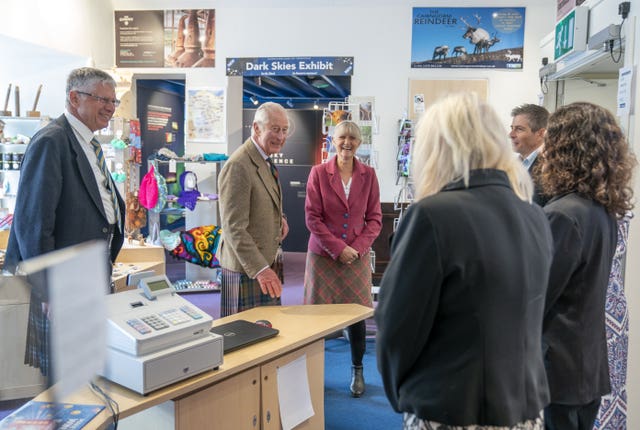 Mr Sharp said: "It's very good for the community that the King is visiting.
"He was at Braemar Games recently.
"To come to our little community is pretty important, we are neighbours.
"My family have lived here since 1910.
"There was a time after the war when there was two petrol stations, four pubs, six shops, but it's all been taken over.
"It's worked very well, we've pulled together, the affordable housing was a great success.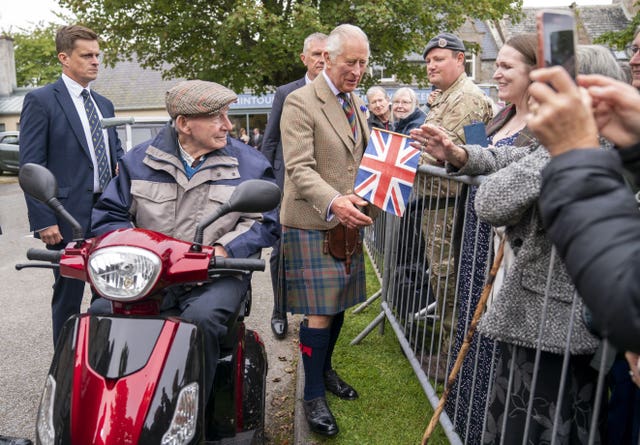 "We are now a Dark Sky Area, we are hoping to develop a camping and caravan site.
"It's amazing how, if you know who to ask for grants, you can get them for worthwhile projects."
In 2017, the trust bought a former museum and turned it into the Tomintoul and Glenlivet Discovery Centre, and last year a Post Office was saved from closure.
Charles was shown a coat believed to have belonged to an exciseman in the 1820s during the era of whisky smuggling and violent confrontations between customs officers and the illicit distilleries.
The coat, which has a high collar, deep cuffs and mother of pearl buttons, was found in the rafters of an old house in the village in 2003 and was thought to have been handed down to a servant.
Charles was told about the history of the Tomintoul Coat, and heard how the Northern Lights had lit up the region on Tuesday night.