The Government remains committed to building 40 new hospitals in England by 2030, the Health Secretary has said, although there has been a change to which hospitals are included in the programme.
Steve Barclay told the Commons the Government will meet its 2019 manifesto commitment to build 40 hospitals, although he acknowledged work may not be completed by 2030 for up to eight of the original group.
Instead, some hospitals at risk of collapse and in need of an upgrade will now be added to the programme.
However, Imperial College Healthcare NHS Trust said the announcement did not match its understanding of what was happening and there was a need for a "full rebuild of St Mary's Hospital" in London as well as major refurbishment and expansion at Charing Cross and Hammersmith hospitals.
There has been concern over future of several NHS hospitals in a bad state of repair, owing to the use of Raac (reinforced autoclaved aerated concrete) materials.
Mr Barclay told MPs the Government remained committed to eradicating Raac from the NHS estate, with seven hospitals either constructed entirely or in major part with the materials that are not "safe to operate beyond 2030″.
He said two of the schemes, West Suffolk Hospital and the James Paget hospital in Great Yarmouth, were already part of the new hospitals programme, but that the five others have now been added.
They are Airedale General in Keighley, Queen Elizabeth Hospital in King's Lynn, Hinchingbrooke near Huntingdon, Leighton Hospital in Cheshire, and Frimley Park in Surrey.
He said: "We accept in full the independent assessment that these hospitals are not safe to operate beyond 2030.
"And today I can confirm to the House that we will expand our new hospitals programme to include those five hospitals built with significant amounts of Raac."
He added: "Since 2020 we have committed to invest £3.7 billion by the financial year 24/25, and we expect the total investment to now be over £20 billion for the programme as a whole."
Mr Barclay said the existing schemes for hospital building "will all proceed, but the commitment to completion by 2030 applies to the 40 schemes set out today".
He added that this "meets our manifesto commitment to build 40 hospitals by 2030".
Some of the original hospitals earmarked under the programme will see work commence, but Mr Barclay confirmed "not all work" on those will be completed by 2030.
He justified the changing of which hospitals will be built by 2030, saying that since the manifesto pledge was made the Government has learned more about the safety issue at existing sites.
He said: "We now know that Raac has a limited lifespan, with difficult and dangerous consequences for the people who rely on or work in those hospitals."
Labour called on the Health Secretary to "come clean" and admit that all 40 new hospitals would not be built by 2030.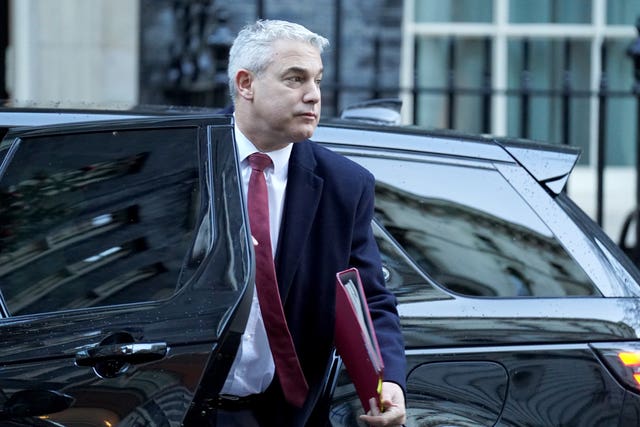 Shadow health secretary Wes Streeting said: "Turning to his wider promise, I genuinely expected that the Secretary of State might come to the House today and be upfront about the fact that whatever promises the former prime minister, the member for Uxbridge and South Ruislip (Boris Johnson), made in 2019, the pledge to build 40 new hospitals by 2030 is simply not going to happen.
"It was a straightforward commitment: 40 new hospitals. Except since then, we have become familiar with the idea that they weren't new and astonishingly they weren't even new hospitals."
Mr Streeting went on: "People in these places were made a promise, and the Secretary of State has the audacity to repeat that promise today when surely he knows that even if the will is there and even, if as he says, the money is there, practically I simply do not see or understand how he will be able to deliver 40 new hospitals by 2030.
"Will he now come clean and admit that this is just another example of the Conservatives overpromising and underdelivering?"
When the Conservative pledge was originally announced in 2019, there was some controversy about exactly what counts as a "new hospital".
NHS guidance suggests it can range from an entirely new building on a new site to a refurbishment or alteration of existing buildings.
Professor Tim Orchard, chief executive of Imperial College Healthcare NHS Trust said: "Today's announcement on the new hospital programme does not reflect our understanding of next steps on the urgently needed redevelopment of our hospitals.
"We are continuing to explore, with the support of the New Hospital Programme, a range of practical funding and design options to ensure a full rebuild of St Mary's Hospital – and a start on the major refurbishment and expansion schemes at Charing Cross and Hammersmith hospitals – by 2030.
"If we waited until 2030 to start building works at St Mary's, it would become impossible to continue to patch up our oldest facilities, many of which house key clinical services.
"As the provider of London's busiest major trauma centre and host of the NHS's largest biomedical research centre, that would be hugely damaging for the health and healthcare of hundreds of thousands of people."
Nigel Edwards, chief executive of the Nuffield Trust, questioned the £20bn funding, saying "it is unclear if the funding sums mentioned today represent new money added to the NHS capital budget."