Mother of murdered Ellie Gould calls for '25-year starting point for overkill'
Carole Gould said she hopes that recommendations made by Clare Wade KC in an independent review will lead to tougher sentencing.
The mother of murdered Ellie Gould has called for a "25-year starting point for overkill and for strangulation", after her daughter's killer was sentenced to a minimum of 12 years and six months in prison.
Thomas Griffiths, then 17, stabbed Ellie Gould, also 17, to death at her home in Calne, Wiltshire, in May 2019, after she ended their relationship, and then arranged the scene to make it appear as though she had inflicted the fatal wounds herself.
The Government this month announced plans for killers with a history of coercive or controlling behaviour against their victims to face tougher sentences.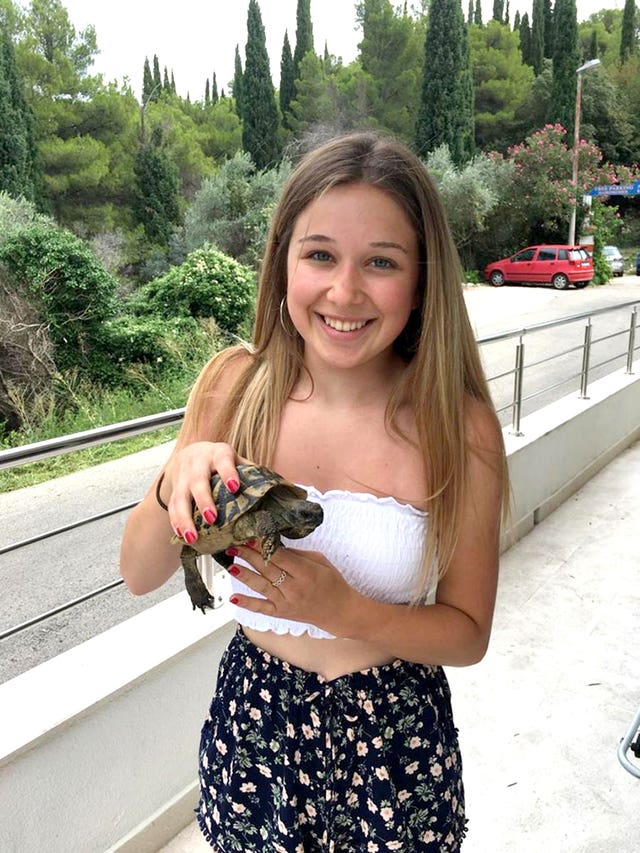 It said the use of excessive or gratuitous violence, sometimes referred to as "overkill", is also set to be made an aggravating factor in sentencing decisions for murder.
The law will be changed after recommendations made by Clare Wade KC in an independent review into domestic homicide sentencing, which was commissioned in 2021.
Ellie's mother, Carole Gould, who co-founded the campaigning organisation Killed Women after the death of her daughter, told Sky News' Sophy Ridge on Sunday programme: "My husband came home in the afternoon and found his beloved daughter in a pool of blood on our kitchen floor.
"It's horrendous and the sentence for that is 12-and-a-half years – 12-and-a-half years for the brutal murder of our precious daughter.
"That is the justice system when it comes to violence against women and girls.
"And, as a result of this Clare Wade review, we're hoping to push through much tougher sentencing, and what I'd be saying to the Government now and (Justice Secretary) Dominic Raab is 'You've not quite cut it yet' – just offering aggravating factors for overkill and for coercive controlling behaviour is not going to level up the sentencing.
"What we want and we will be asking (justice) minister (Edward) Argar to consult on is a 25-year starting point for overkill and for strangulation because we have to remember that this is very much gendered violence, and it's just not being recognised in the courts how dangerous these perpetrators are."
Ellie, a keen horse rider, bravely attempted to fight Griffiths off after he attacked her with a kitchen knife at her family home.
He put his hands around her neck before stabbing her at least 13 times.
Domestic homicide is defined as a death that occurs due to violence, abuse or neglect by a partner, ex-partner, relative or member of the same household.
Controlling or coercive behaviour was introduced as a criminal offence in the Serious Crime Act 2015 and can include economic, emotional or psychological abuse and threats alongside physical or sexual violence.
More than half (51%) of the murder cases looked at in the Wade Review involved controlling or coercive behaviour.
Earlier this month, Mr Raab said: "This Government will do everything we can to protect vulnerable women and keep in prison for longer those who attack or threaten them.
"The changes I am announcing today will mean longer jail sentences for those who kill women in the home by taking greater account of the specific factors involved, whether it is controlling and coercive behaviour or cases involving particular savagery known as 'overkill'."